The DECA chapter and their success
On December 16th, a group of Milford business students  traveled to Lawrence Tech College to compete in the DECA regional competition. DECA is a business club that competes in different categories and helps students grow their knowledge of the business world while in high school. The ultimate prize in DECA is receiving the famous glass awards and attending the international competition, which this year is at Disney, but making it to "the happiest place on earth" takes incredible effort and determination. The regional competition consisted of all high schools in the assigned districts going head to head for a spot at the state competition in March.
Not everyone in DECA competes at Regionals. Some people decided be evaluated based on a written test, which gives competitors problem and asks them to write 15-20 pages on the solution, and then present to the judges.  The unique thing about these written assignments  is that competitors wait until the state competition in March. There are other events too that involve personal selling, where competitors plan a presentation ahead of time and then present to a judge or stock market game. 
Other students choose to perform a role play as  an individual or with a partner. Competitors are given a scenario in a certain category and are given an objective to hit and a problem to solve. They have a certain amount of prep time(10 minutes as an individual, and 30 for a team). After the prep time, they present ideas to a judge and  they are scored in different categories for creativity, presentation, and execution. 
Kaye Sommer, business teacher and DECA adviser, is the leader of the DECA club, with additional help from president Ava Fischer and vice president Gigi Gondoly. Sommer Prepares her students by first helping them pick a category they are comfortable with. For example, if they work in a restaurant, she may sugges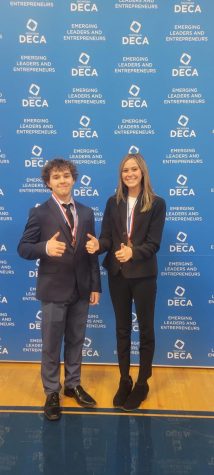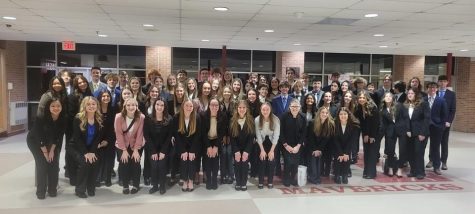 t  quick serve management because  it deals with the food industry. She then holds a pizza and practices for the week of the competition where she has parent volunteers as judges provide  the kids a real life practice. They are giving a role play example and the required prep time and then present it to a judge.¨ Then they get feedback and advice after.¨I love that Mrs. Sommers holds pizza and practice," Senior Brooklyn Wolcott said.eEven though I have done it before, it is a great way to practice how the real competition will go.¨This is beneficial to many newcomers as well to help get a good feel for the competition.
One the day of the competition, students  are split into two groups and two rooms– One for individual role plays and one for teams. They are unable to use any electronic devices in the waiting room, which allows them  to meet  lots of interesting people. Senior Meggie Martin said, ¨I love going around and meeting new people; everyone is super friendly and in the same boat as you.¨Once students are called to compete, they go to a prep room and from there, are walked to the judges' room to compete.¨Making a good role play is thinking on our feet and being as creative as possible to stand out from the other competitors,¨ Martin said. 
After competing, students are given a free meal and can hang out until everyone has competed and awards begin. They have tons of fun activities to do while waiting for awards like magic shows, movies and board games.¨One of my best memories of DECA was playing Uno last year with people we had just met," Senior Phoebe Stark said. Clearly, there are so many fun aspects of DECA besides just competing. 
Around 1 pm the awards will start and all the schools and students sit in anticipation to hear their names called, based on their associated events, which are called in alphabetical order. ¨I was not surprised at how well people did given the kids I had this year," Sommer said. "They are all amazing. "Most kids who competed in the regional competition made it to State, and if not, definitely tried their best. ¨I feel so accomplished and proud since I want to go into business in the future,¨ Martin says. 
The next step for the kids who advanced is the state competition in Detroit comes in  March. Those who do a written will also compete at this competition as well. States is much bigger than Regionals, so it starts to feel more real there. ¨I love seeing kids' faces when they walk in the first night,¨said Sommer. There are so many different schools from all over and the competition to get to Internationals is much tougher. Those lucky enough at the end of the weekend will receive the famous DECA glass trophy and punch their ticket to Disney for the international competition.