Does the Grinch have the right idea?
How to be more green this Christmas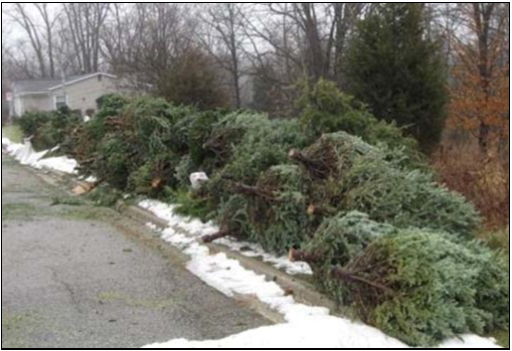 In the beloved 2000 film How the Grinch Stole Christmas, as the title character steals trash from the Whos, the Grinch says, "One man's toxic sludge is another man's potpourri." As gross as that sentiment is, the Grinch would be horrified that we, Christmas lovers, should find some advice in his words.
The Christmas season generates an astonishing amount of garbage: every year, thousands of pounds of wrapping paper, toy boxes, or decorations get tossed into the trash instead of recycled or saved. Between Thanksgiving and Christmas, Americans generate about 25% more trash than any other time of the year (Stanford University).
While many Americans don't quite get to a Whoville-level of Christmas cheer, there are many ways that students can recycle and make it a green Christmas this year. The Grinch may repurpose trash by eating it, but there are better ways to recycle and make this Christmas the greenest you can.
Recycle your wrappings.
This is the big one: according to Stanford University, if each American family reused 2 feet of gift wrapping ribbon this Christmas, we could tie a bow 38,000 miles long around planet Earth. If those families wrapped 3 presents apiece in reused paper, it would save enough paper to cover 45,000 football fields. All that pretty red and green paper looks a lot less festive in landfills.
When your family is opening gifts, keep a recycling bag nearby and collect the wrapping paper as it's discarded. If you're careful, you can recycle this paper next year. It's even easier to reuse gift bags — those don't get shredded in the excitement of unwrapping a present.
When you're wrapping gifts this year, you can also consider packaging them in reusable boxes, baskets, and bags, or wrapping them in interesting materials (such as old maps, magazines relevant to the receiver's interests, comic strips, or cloth ribbon).
Don't trash your tree.
If your family opts for a live tree for Christmas, there's the issue of disposing of it. Many people are unaware of the proper procedures to get rid of their trees at the end of the holiday season. Home Depot's website advises checking with your local sanitation and garbage collection services to refresh yourself on requirements for disposing of your tree, but they also provide suggestions for other things you can do with it:
•If your tree still has roots, it can be transferred to your yard and serve as a landscape update, bird feeder, and keepsake of the Christmas of 2022 for years to come.
•If you plan to recycle your tree, avoid using materials like flocking
spray, which can render the tree unrecyclable.
•Double-check that you removed all ornaments, tinsel, and lights before disposing of the tree.
•Rent a wood chipper and turn your tree into mulch to be used in flower beds or gardens in the spring and summer (do this responsibly).
Give green gifts.
Get creative with your shopping! This Christmas, try to avoid buying your friends and family the latest fads — whether it be whatever gadget, fashion trend, or gag gift that'll be "out" by New Year's.
Instead, focus on buying or making a gift for your loved ones that they'll cherish for a long time. You can gift them an experience over a material gift, too, such as event tickets, subscriptions, or memberships.
Handmade gifts are also just as good as store-bought! Baked goods, photo albums, and ornaments are always appreciated, especially by close family members. Gifting this way cuts down on waste and the amount of unused items that end up in landfills.
Lunch on your leftovers.
It's no secret that food waste is an immense problem. According to the Food and Agriculture Organization of the UN, the
world as a whole ends up throwing away about a third of all the
food produced.
Christmas dinner is no exception — how many containers of mashed potatoes, rolls, or Christmas turkey (or the Whos' famous "roast beast") get tossed? One of the best ways to reduce waste is to use up leftovers. Any number of sandwiches, mixed-up bowls, or creatively revamped meals can be made from the remains of a
family holiday dinner.
If we each remember these cardinal rules of an eco-friendly holiday season, we can make it the most environmentally conscious Christmas yet.
As the Grinch famously said, "It came without ribbons. It came without tags. It came without packages, boxes or bags!" The ribbons, tags, packages, boxes, and bags are nice for making the season more festive, but they aren't a very nice Christmas gift to Mother Earth.
This Christmas, let's try to ditch the fast-consumerism of the holidays that the Grinch hated so much and that causes so much waste. Have a green and very merry Christmas, Milford!