Milford alumna Natalie Kerwin begins new job at Bally Sports Detroit
The opportunity to sit down with a professional athlete is many sport lover's dream, but for Milford High School alumna Natalie Kerwin, that's just another day on the job. As a sports reporter and host for Bally Sports Detroit, Kerwin covers all aspects of metro-Detroit sports.
Kerwin's love for sports and writing began as a student at Milford High School from 2012-2016. "Gosh, I loved my time at Milford," Kerwin said. "I had so much fun as far as clubs and activities and sports and all of that. So, because I'm a sports journalist, of course, I was involved with sports growing up." As a member of the volleyball, ski and lacrosse teams, Kerwin was a passionate athlete throughout high school.
This love of sports was coupled with Kerwin's aptitude for English and Writing. "I had Mr. Hamilton, two of my four years and he was fantastic," Kerwin said. "And then at that point, I still didn't know what I wanted to do." After considering several different careers in business and law, it was not until Kerwin's senior year that she was introduced to the field of sports journalism. As a part of a senior composition class, Kerwin had the opportunity to job shadow with Channel Seven in Detroit.
"There's a lot of different avenues [in journalism]," Kerwin said. "You can go into politics, you can do general news, you can do weather, you can do sports. [Sports has] been such a big part of my life. So I thought, why not combine my two passions, writing and speaking, with journalism and sports, because you know, English was always my best subject in school. So why not do something with it."
Kerwin continued her education at Michigan State University where she majored in journalism and minored in Spanish. After graduating from Michigan State University, Kerwin worked for WILX Channel 10 News in Lansing as a sports and news media journalist. In this role, Kerwin handled editing, pitching stories and interviewing all on her own. "You kind of are like a one-man band really," Kerwin said. "It wasn't easy at times, but I did that for two years and got to cover all things Michigan State, a lot of high school sports, you know, things in the community. When I did news, I had to cover crime and politics. I mean, really, I did a whole wide range of topics."
Kerwin first saw the job opening at Bally Sports on social media. "I thought, oh my gosh, this is my dream job," Kerwin said. "I'm from metro Detroit. I've lived in Milford my whole life. I would love that job. I'm passionate about Detroit sports, all of that." Kerwin connected with a producer at Bally Sports through a contact with the Detroit Lions.
"My friend forwarded me those emails and said, 'Okay, reach out to these people and see if they're going to hire'," Kerwin said. "I sent a couple emails out and I sent them my resume. I told them who I was and what I wanted to do. And you know that I wanted the job. And I also sent them a highlight reel. They ended up emailing me back and saying, 'hey, you know, we'd love to meet with you. We'd love to talk and do an interview just to see' and I said 'oh my gosh, this is awesome.'"
She ended up meeting with producers and had a strong interview.
"I felt really relaxed , which was nice. I usually get pretty nervous for those things, especially when it's a job that you want. But I thought, you know what, this is my one chance to make an impression. So I went into it and felt prepared and kind of studied just what I wanted to say. And then I got a call the very next day, 24 hours later, and they called me with a job offer."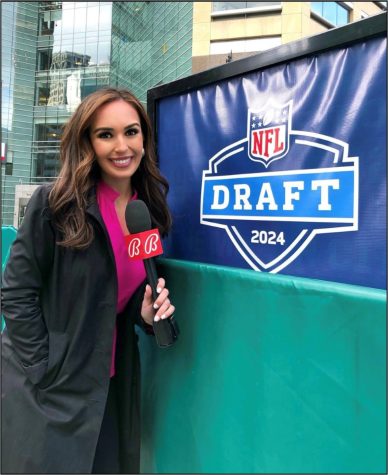 In this role, Kerwin worked in the digital department as a digital reporter and host as well as a sideline reporter. "Every day is different, which is what I love, right?" Kerwin said. "It's not a 9-5 desk job, where it's just the same stuff every day or for the most part every day is different." Kerwin will meet with a producer and the social media team who she works with to plan out some of the content for the Bally Instagram and Twitter feed. Typically at the beginning of the week, Kerwin will map out the interviews and stories they want to cover.
Kerwin discussed her schedule for the week of May 9-13. "The NHL draft lottery was this week, so the Detroit Red Wings are part of that," Kerwin said. "Come July, the Red Wings get to pick their next players that are going to be playing on their team next year. So it's kind of a big deal. People want to know: 'Oh, who are they going to pick?' 'What are they going to do?' So that was the big topic this week."
Kerwin brought in a well known sideline reporter Jon Paul Merosi, who covered hockey and baseball games. "I interviewed [Merosi] yesterday actually just asking about the Red Wings what he thought and he's kind of a national insider for hockey and baseball, which is cool," Kerwin said. "So he came in and talked with me in the studio."
Kerwin fluctuates between recording in-studio and physically recording at the various Detroit sporting events. "Maybe I'm going down to Comerica Park, the ballpark where the Tigers are at, and doing an interview there or going down to Little Caesars arena, which is where the Pistons and the Red Wings play, and they're shooting a story," Kerwin said. "Every day is just so different, which is what I love. It makes it fun."
One of Kerwin's most incredible experiences at Bally Sports was hosting a Red Wings show. Bally Sports has a set crew for Tigers, Red Wings and the Pistons, but when one of the reporters fell sick, Kerwin was asked to fill in.
"It's like a month into the job for me," Kerwin said "I had no preparation. This was a 12-hour notice, right? So I'm like, oh, okay, sure I can do it. Even though on the inside I'm like 'oh my gosh.' So anyway, as far as like a big exciting, crazy moment, that was a huge one for me, because a month into the job. I'm already getting the opportunity to host a show that's on national television. Like that is crazy, right?"
Looking to the future, Kerwin is optimistic about her future endeavors with Bally Sports "I mean, that's the fun part is there's probably endless opportunities of things that come up here," Kerwin said. In a new show Kerwin hopes to develop titled Anything Goes, viewers would see athletes outside of the usual, formal interview setting.
"So I may take someone on the Tigers and go and do something fun with them out in the community and have a cameraman filming us," Kerwin said. "This would be a fun, informal interview to get the player out of the game in a way. Because that's the kind of stuff people enjoy watching. They're so used to seeing an athlete do the same thing and play their game, but you would never know if maybe one of these guys has a secret talent, lives in a crazy house, or he's actually better at another sport that he's not even famous in."
Make sure to look for Kerwin on Bally Sports newsfeed and social media sites. "If you're passionate about it, you know, it doesn't feel like work," Kerwin said. "For me, I just absolutely love journalism. And I knew it from the minute I took senior comp at Milford that I would love it."