After two tough losses, JV team bounces back
JV girls basketball finished a spectacular season with a record of 18-2. The girls are coached by Milford High School's behavioral interventionist, Tommy Hipple.
Hipple used a mix of shouting, sarcasm and strategy to lead the team to victory.
At the beginning of the season, Hipple was fearful that the girls wouldn't be able to tolerate him for five months and understand the level of his expectations.
The team consisted of 15 girls, all from very different backgrounds, yet all of them bought into a team philosophy of working hard first, then having fun, and knowing the meaning of family.
Each team member scored and contributed, causing a high level of competition at practices.
Sophomore Anna Adkins stated, "Being yelled at and pushed to do our best paid off. He gets in your head in a good way, making you want to do better for yourself and the team."
Early on in the season, the team suffered a devastating loss to Walled Lake Northern, losing 43 to 21.
The team followed that up with another loss to South Lyon East, 61-35.
The Mavs later faced both teams again. Leading up to South Lyon East, the girls worked harder than they had the whole season.
The game started off with an amazing first quarter lead, 7-0. The game ended with a buzzer beater to win the game, made by Freshman Brooklyn Wolcott.
With a final score of 31 to 29, the Mavs had beaten South Lyon East.
As the buzzer went off, both varsity and JV stormed the court, coming together truly demonstrating their family values. Soon after, the Mavs and Coach Hipple were partying in the team room, celebrating their victory.
They did not face Walled Lake Northern again until the last game of the season. At halftime, Milford led, 27 to 2. Milford defeated Northern with a final score of 40 to 13.
Rivalry games are always fun, especially when they are won. The team defeated Lakeland not once, but twice. First at Lakeland, Milford won with a score of 37-22.
A couple weeks later, the Lakeland Eagles traveled to the Mavs home and were defeated, 44-10.
Overall, the most impressive factor of the Mavs success was the team's defense. With speedy and fundamental defensive skills, the Mavs held teams to an average of 17.3 points a game.
Coach Hipple often changed defenses during transitions, keeping the other team on their toes.
The Mavs also scored a total of 789 points during the season.
The scoring was led by Freshman Gigi Gondoly with a total of 230 points.
As the season came to a close, Coach Hipple reflected on the season and began to think about next year. He stated, "Next year is a new beginning, every year is different on the lower l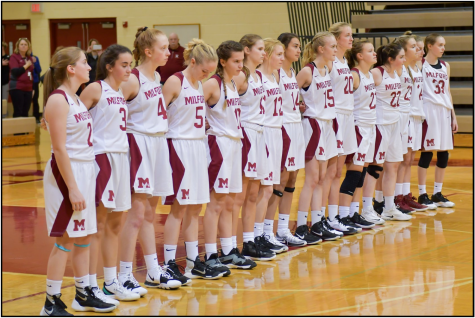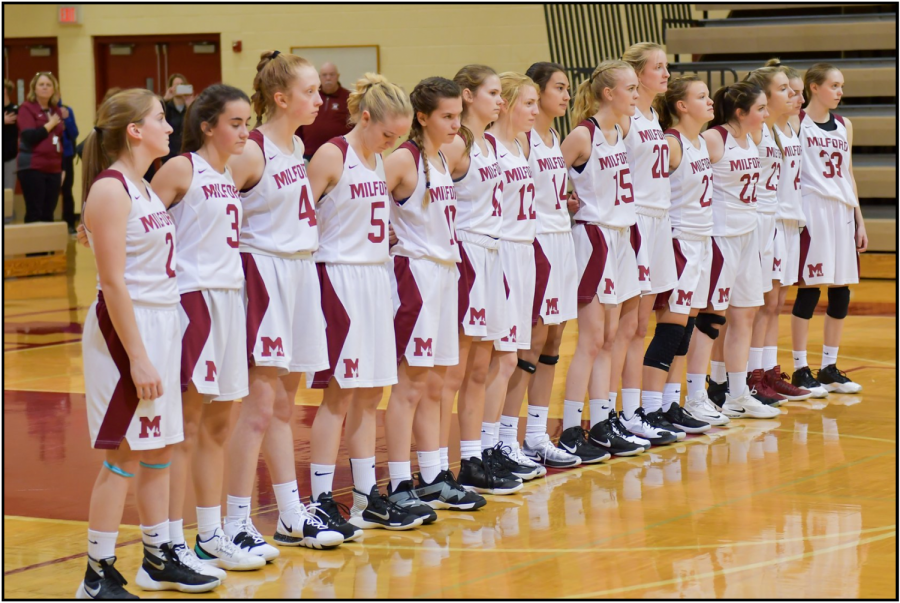 evels and the incoming freshmen have some big shoes to fill."