Nearly 30 Milford athletes commit to play in college
Nearing the end of the school year, seniors finish making their decisions for college. This also marks the time juniors begin looking into what they will do after high school. For student athletes, they choose whether they want to pursue their athletic career and play at the collegiate level. This decision is extremely difficult, as there are many aspects to it, and it is quite a commitment.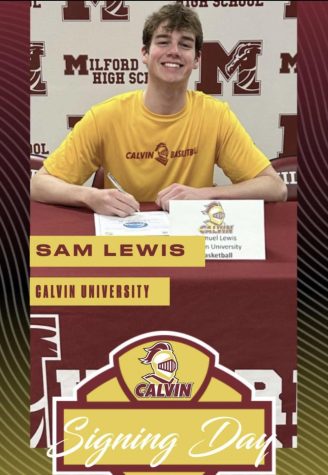 MHS has had many students in the past commit to play in college, and this year we have multiple seniors, as well as some juniors, that have committed to a college. There is a wide variety when it comes to college sports that creates a handful of opportunities for high school athletes.
Senior Sam Lewis recently committed to Calvin University where he plans to play basketball. "I am very excited for my next step," said Sam. "I am forever grateful for how well prepared Milford made me for the next step in my journey." Sam has had many accomplishments for the boys basketball team where, not long ago, he led his team to an LVC title and was the third ever to reach 1,000 points at MHS.
The girls soccer team already has had four girls commit to play in college. Senior, Ashley Hughes, plans to attend Schoolcraft college in the fall where she will play soccer. "Choosing where to play was not stressful for me," said Hughes. "Ever  since my sister committed to Schoolcraft to play soccer, I knew I wanted to follow in her footsteps." It can be tricky when deciding if an athlete wants to move on and play at the collegiate level. Another senior, Coco Drew, committed to play soccer at Davenport University. "I knew I wanted to have the college athlete experience, and continue playing the game I love," Coco said. Then the soccer team has two juniors who have already verbally committed to colleges: Rylee Felton and Allison Hooks.
In previous years, many Milford athletes have moved on to play at the higher level. Matt Mrozinski was in the class of 2022 and now plays soccer at Hope College, "The biggest step of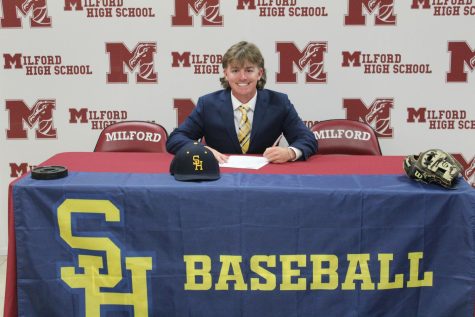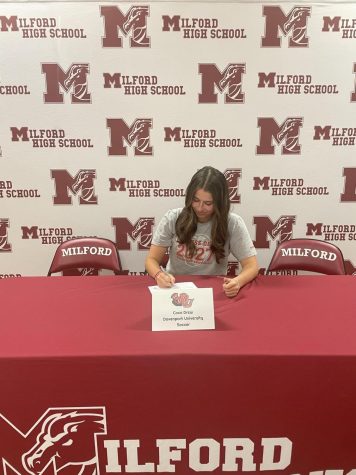 moving from high school level to college level is the physical aspect. Everyone is stronger and faster which makes it more challenging, but it's so much fun overall."
So how do athletes find the school that fits them? Senior, Alex Petrusha, has been playing lacrosse for about 5 years and is planning to play at Calvin University. "My biggest draw to Calvin was how much I loved Calvin's coaching staff, team environment and just the school's overall environment. I felt so welcomed and I could see myself being a student there," Alex explained. Many athletes will go on visits around different campuses as well as attend camps that colleges might be hosting to explore what options are available for them.
Milford has a variety of sports that athletes are going to school to play; sports like volleyball, cycling, basketball, track, and more. All around, Milford athletics have been very successful at producing skillful athletes and giving them the opportunity to go down a path of continuing their athletic career at the collegiate level.