Seniors extending college experiences with study abroad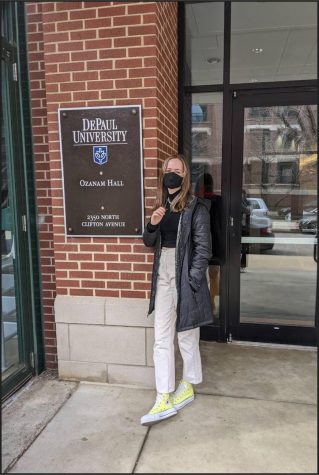 Growing up, many students dream of traveling. Spending their  days in another country, exploring the new horizons and all they have to offer. This upcoming fall, at least four Milford  2021 seniors are taking the leap of faith and heading abroad.
Senior Annabel Williamson will be doing more than spending just a single semester abroad, as she plans to take on her next four years at the University of Windsor in Ontario, Canada.
The University of Windsor checked all the boxes for Williamson.
"I always knew I wanted something different than [an in-state] school, but out-of-state is too expensive," stated Williamson, who is getting in-state tuition through the "U.S. Neighbor Rate" program. "I also wanted to stay close to my family but still feel like I'm starting a new life. It's the best of both worlds, as I can live how I want without leaving who I love for a long period of time." While in Windsor, Williamson will be majoring in criminology, with the intention of applying to the pre-law program in the summer to start her path to law school.
From location, to atmosphere, to possibilities, Windsor has it all for Williamson, but it wouldn't be fair to say she's leaving and never turning back. "I am obviously going to miss all my friends, but most of all my best friend, my little sister Kaitlyn.
As annoying as it is, I know I am going to miss her barging into my room asking me to drive her to Target, or all of the late night trips to Dairy Queen, just because we both didn't feel like doing [our] homework. I can bring my car to Canada, but it's going to be weird without her in the passenger seat," said Williamson. "I am also going to miss the repetitive cycle of not knowing what to do on a Friday night, then ending up at Target, Kroger or a gas station. As boring as it gets, some of my best memories were created on drives just to pass time and random parking lots. Always having something to do in Windsor is exciting, but it will never beat the charm of doing the same thing with your best friends every Friday night, but making new memories each time and just enjoying each other's company."
Senior Bella Cutean has spent a large amount of time this year with Williamson by her side. The two have made it a tradition to play "Kilby Girl" by The Backseat Lovers every Friday morning on their way to school to celebrate being one week closer to graduation. While approaching their last week of high school, the pair has not forgotten where their friendship started, and the impact they have made on one another. It seems like for Cutean, the friendship began at the perfect timing. "I was in the midst of a lot of soul searching and introspection when I met Annabel, and our friendship developed quickly. She instantly accepted me for exactly who I was, and nothing was ever off limits with her. I have had some of the most depth-filled, powerful conversations with her, along with some of the funniest ones that I think I've ever had.
Annabel is one of the people who has helped me learn to love myself for who I truly am. Being accepted by someone wholly and completely is one of the underrated experiences in life that I have had the privilege of having because of the amazing human that Annabel is."
No doubt about it, as Williamson goes off and grows into her own, she is bound to do great things and create unforgettable memories.
Senior Riley Watts is Michigan State-bound this fall. Majoring in forestry, a study abroad program is actually woven into her curriculum. The experience opens a lot of doors for Watts. "I want to travel for my job, so this will be a good introduction to that," said Watts. "[I'm most excited to be able to] learn and live in a whole different country."
While studying abroad, Watts will not only be having the time of her life exploring the world outside of "Mav Nation" but the hands-on experience and insider perspective will be setting her up perfectly for what lies ahead for her when she finishes school and enters the workforce.
Watts will be saying some pretty hard goodbyes before next fall: "[I'm especially going to miss] the friends I have made and the places that have become special to me because of them."
Watts has spent this year accompanied by some of her best friends, including fellow seniors Annabelle Stewart, Kaleb Fields, Jenna Natwick and Williamson. As they all move into this next chapter of their life, it's uncertain what the future may bring their way, but the memories they have created during their time in Milford, MI is irreplaceable.
Between the forestry major and the general goodness and kindness Watts has at heart, it's clear going forward this senior will be making the world a better place in more ways than one.
Senior Sadie Guffy will be headed to school in Chicago as an incoming freshman at DePaul University. With a major in public relations and a minor in Spanish, as well as a possible double minor in Spanish and journalism, Guffy does not have a specific plan currently, but studying abroad is definitely something this senior is considering down the line.
"I know that if I choose to study abroad, this experience will be something that I remember forever. I feel that it would be incredibly eye opening to see things outside of the small town that I have grown up in," said Guffy.
Guffy has expressed a great value and interest in different perspectives worldwide and how they can broaden her horizon. "I hope to go somewhere in Europe, and I am most excited to experience different cultures and be outside of my comfort zone… I have been researching the different study abroad options that DePaul University offers. They have a pretty good selection for my major."
Guffy has spent the past four years creating a lifetime worth of memories with fellow Senior Tess Wyniemko. Freshman year, the two were introduced by Senior Aspen Snyder and formed a friendship fast.
"Just having Sadie by my side over the course of my high school experience is something that I am incredibly grateful for. She made me realize that I need to appreciate taking my time in life, since meeting her I feel like I have really learned to slow down my day to day life, and realized that it's okay to not be busy all the time," said Wyniemko.
As the two move into big cities, the positives of a small town life will not be forgotten. "Since we live close to each other, hanging out is a matter of a phone call and a five minute drive, and 70% of the time that's how it usually happens," said Wyniemko.
"There are times where I will be driving near her house and I call her and pick her up for no other reason than I could. So knowing that the option to just dial her up and see her won't be there next year is going to be something I am going to miss the most."
While they will be at two different schools, both seniors will be in Illinois for college. But before then, the two will spend all summer living the best life they possibly can and making a plethora of new memories together.
Guffy sends thanks to her family for their support as she makes the transition into college life.
"My mom has always encouraged me to travel a lot while I'm in college. Luckily, I have parents that are very enthusiastic about me traveling and experiencing the world while I am young," she said.
With the refreshing, optimistic perspective that Guffy consistently brings to the table, it's clear to everyone she has a bright, exciting future
These three seniors have quite the journey ahead of them these next four years. While they will certainly be far from our little community in Milford, Mich., they will always have a place to come back to, and they will always have a place to call home.
No matter where these next four years may take them, we are beyond proud of our senior class this year, and happily waiting to see where life may take them.