Some fans believe Juicewrld faked his own DEATH!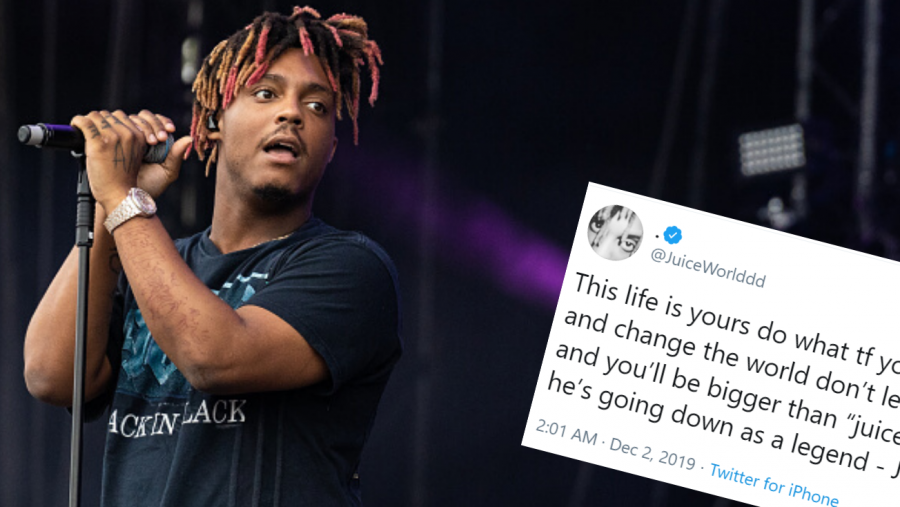 For those who do not know Juicewrld a famous singer died in the Chicago airport from an accidental overdose on December 8, 2019. But, according to many people, including myself, Juicewrld is ALIVE! You don't think so? Well, let me just state the facts within this story. 
Juciewrld started his career at the age of eighteen. Before he had graduated high school, he had uploaded one of his songs, "Forever", to Soundcloud and it had blown up tremendously with 11,000 plays in just two days. He got his first official offer with Interscope in 2018 and was offered $3 million for the net behind his soundtrack (Billboard). 
At the time of Juicewrld's death his net was worth 4 million dollars (Cheatsheet Entertainment). He had written over 2,000 songs within the years and had even set the new "Billboard Top 10 Songs" record with 5 songs charted in the top ten (Vulture). He was predicted to win "Artist of the Year" in 2019. He made it, he was at the top. Although, he consistently rapped about hating the fame, fighting terrible anxiety and struggling with the pressure. But, when you're as famous as him the only way to get out of the spotlight is to drop off the face of the earth. 
In 2017 JuiceWrld tweeted out, "My goal is to get overly famous, shine for a couple years..then fake my death." That is very ironic considering that he was the top emo-rap artist for a few years, then died… Fans clung on to this tweet when he died in hopes of him still being out there somewhere (Vice). 
He once said in his song called "Legends' ' that "What's the 27 club? We ain't making it past 21". How old do you think JuiceWrld was when he died? 21 (NPR). 
Another suspicious song reference is in his song "All Girls are the Same" where he states, "I'm a jealous boy, really feel like John Lennon". John Lennon was a well known singer and songwriter who died December 8, 1980. Juicewrld died on December 8th as well.  
So is it  just a lot of odd coincidences or is Juicewrld still alive?