The Ranch Review
"The Ranch" is a captivating show about a family in Colorado trying to keep their farm from going bankrupt. Ashton Kutcher, who is the main character, moves back to his family's farm after his football career bottoms out.
The show aired on Netflix, a website where you can stream hundreds of movies and TV shows, last April and has quickly became a popular Netflix Original. The show is directed by Jim Patterson and Don Reo. Patterson is known for writing Two and a Half Men, which starred Charlie Sheen and also included Ashton Kutcher at the end of the show. No wonder why Patterson chose Kutcher when creating a new show; they already had the chemistry they needed. Reo wrote shows like "M.A.S.H." and "Everybody Hates Chris," which have a ton of humor in them. This helped make "The Ranch" an extremely funny s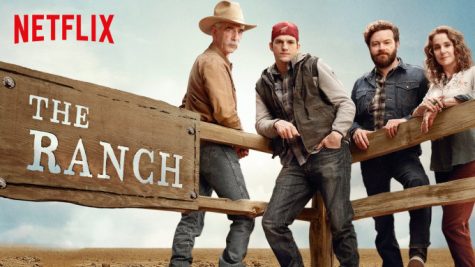 how that gained many viewers because of its one liners and hilarious dialogue.
"The Ranch" stars Ashton Kutcher as Colt Bennett. Kutcher has been in shows and movies such as "That 70s Show" and "Jobs." Kutcher's performance in Jobs was fantastic and people loved how well he portrayed his character; he also uses that element of acting in "The Ranch" to get into his character and build emotion with the cast. He also used method acting to get into the character of Steve Jobs and he did that very well and that help Kutcher get into his role as Colt Bennet. 
Kutcher also starred in That 70 Show as Michael Kelso and he was quickly loved on that show for his stupid humor and portrayal of the ¨dumb friend.¨He uses this humor in The Ranch to make people laugh and lighten the mood when things are tough for the family. You will not go more than 10 minutes without laughing.
Danny Masterson also stars in the show as Colt's brother, Rooster. Masterson also starred in That 70's Show with Kutcher and he was also a very quick-witted and funny actor. In The Ranch, he is a comic relief who jokes with Kutcher's character to make the audience laugh and get hooked to the show.
Also, the two actors have a great connection since they have worked together for so long. This makes their jokes and dialogue a lot more realistic and does not seem forced.
Other characters that have a smaller role, but are still seen a good amount include Sam Elliott, who plays Colt, and Rooster's Father Beau Bennett. Elliott had a small role in Parks and Recreation and he came off as a funny character that fit into the role very well. He fit in perfectly for The Ranch, because he pulls off the Western role and he is a funny character. The mother, Maggie Bennett, in the show is played by Debra Winger, who has starred in Law and Order and western movies like Urban Cowboy. She fits in with The Ranch, because she has done other shows that take place out west. She also connects well with the rest of the cast.
The producers and writers do a fantastic job of using the comedian actors to create a funny show that still has an emotional and connecting storyline. This show has became a popular show on Netflix quickly and I highly recommend it to anyone who loves a good laugh.