Riding to the Top
Milford Equestrian Team is heading to States again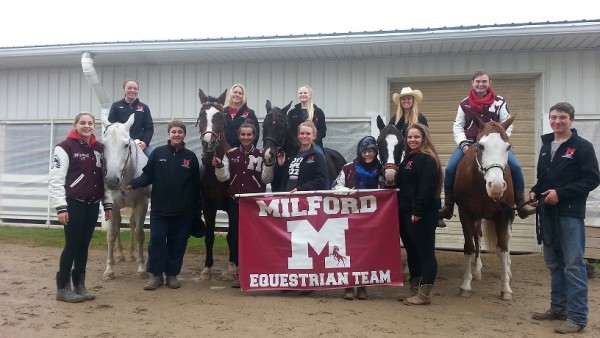 The Milford Equestrian team is heading back to States again this year after becoming Reserve Champions during an Oct. 3rd and 4th Regional Meet in Shiawassee. The weather was sunny for the equestrian team and the team rode well, placing second in the division and pulling ahead of Lakeland with 46 points.
The start of the season was not as beautiful. In the first meet, the weather was rainy and the Mavs brought home a second place.  The second meet was as rainy as the first and though the team brought home a first place, it was still tied with Lakeland. 
This year's team captains are seniors Madison Caswell and Angela Butkovich. The team has 16 riders this year; a little under what they've had previous years.
Ayliffe Allen, a senior on the team, has been riding horses for the past 15 years. In middle school, she rode on the team for three years, before joining the high school team her freshman year and continuing on for the rest of high school.
She rides in three classes: Saddleseat- with high arms and knees, and the horse's head up; Hunt Seat- with low arms and knees, and keeping the horse's head as low as possible; and Gymkhana (better known as speed)- where the rider has to pull a flag out of a barrel and  move it to the barrel across from it, while the horse is full out running.
"I joined the Equestrian team because I love riding horses. There's a certain feeling that you get when you're in the saddle," Allen explained.
Erin Galligan, another senior on the team, rides in nine different classes: Huntseat Showmanship, Western Showmanship, Saddleseat Showmanship, Trail, Western Riding, Western Eq., Barrel racing, Two-man and pole bending.
"I've been riding horses my whole life, it's time that I get more involved," Galligan stated. "It's my senior year, I have to make it count. The best part of joining the team is accomplishing the goals you make for yourself and placing in the classes." 
Allen agreed that the animals are fun.
"The best part of being on the team is getting to mess around on the horses," she said. "Each one has its own personality, some listen well and others are more stubborn. It's all part of the adventure." 
Galligan also added that there is a huge time commitment to being on the team, but it's well worth it, and Allen agreed.
The State Championship will be held this week from Oct. 15-18 at Midland County Fairgrounds.