How do students feel returning to school?
After a whirlwind year and a half, Milford opens its doors once again for the 2021-2022 school year. Students returned to class with a mask mandate set into place, several staff changes, and old faces seen half covered for the first time in a long time.
As expected, returning to school brought along the usual tired and stressed faces when walking through the school doors at 7 a.m. However, this year there was a hint of excitement in the air. Students in all grades were looking forward to finally returning to some form of normalcy. After 18 months of going back and forth between virtual and in-person instruction, a stable setting was greatly missed.
For the freshman class of 2025, it was daunting to come into high school when the last time they had a year-long, normal school experience was sixth grade. Taking the jump from starting middle school to venturing into the first year of high school would be a nerve-wracking journey for any student.
Finding the best route to each class, securing a good seat at lunch, having a friend in all your classes, and surviving the increased workloads are just some of the many things freshmen come to worry about every year.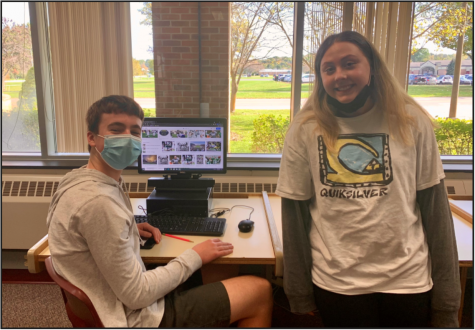 Freshman Jack Salvati had mixed thoughts about the transition. "My expectations for high school were sort of in the middle at first," he said. "I thought it was going to be very difficult, that I wouldn't find my way around the building, that I wouldn't have any of my friends in any of my classes, but none of those things happened, and even in the classes I don't have friends in, I managed to make new ones."
Although it can be stressful for underclassmen, high school can also be a fun-filled, positive experience. Nights spent in the student section cheering on classmates, joining one of the clubs and organizations students find comfort in, and forming new friendships with people you'd never once spoken to; those are only some of the things to look forward to throughout the year. When asked what he looked forward to the most, Freshman Ryan Timm answered, "Football games, they're like a reward for surviving each week." Salvati answered similarly, "I'm excited for sporting events. I think the student section is a really fun place."
Anticipation ran high among students coming back to school as it was unclear exactly what this year would be like. Five days before the start of school, it was announced that Huron Valley Students would be returning in face masks, which was disappointing for most students.
Following that announcement, a similar statement was released from the school about quarantines, easing up on what would require a student to stay home. All attempts by the Oakland County Health Department and the district to give students and staff as normal of a year as possible while still trying to ensure the safety of everyone and keep them in person. Students were excited to at least be back in person.
"[Virtual instruction] seemed to restrain my communication with a lot of people, especially some of my teachers because of the quarantines," said Ashley Spangler, a Junior at Milford.
When talking about the struggles of switching back and forth between virtual and in-person learning Spangler added, "I took it as it came, which made it stressful because of the amount of tests and worksheets I had to do once I got back." She was not alone with this sentiment. A majority did not hesitate to share how difficult it was to stay focused while staring at a computer screen for seven hours.
Hitting numerous deadlines while comprehending all of the information virtually was also difficult. Sophomore Hannah Bode, reaffirmed everyone's feelings, "I didn't really like it being online; it was extremely hard to learn and comprehend…it was way harder to keep up with everything." While completing virtual learning, students were given a little bit more leeway given the challenging and unusual circumstances, which resulted in more adaptable assessments as well as different ways of completing assignments for each class. Coming back to school has caused what used to be the norm to fade away as finals and assignments return to how they were in the past. "We don't get the extra slack we had last year," Bode commented on the situation. Even though being back has brought back the familiar stress everyone has grown accustomed to, it hasn't seemed to dull the excitement of having virtual learning put in the past.
For the senior class, this is their last chance at a "normal" high school experience. The last time Milford seniors had a full year of school in person was during their freshmen year, making them the only current grade to experience a full year at Milford High School before the pandemic. It is an odd realization for most that this is the last year they'll walk the halls and see the faces they grew up with every day.
"Coming back to school has been a very bittersweet experience," Senior Taylor Toth said, "I'm happy to be back in person with my friends, but being back reminds me that I lost half of my high school experience to COVID." Leaving halfway through their sophomore year, the senior class missed out on many typical high school events. The school is full of high hopes this year though as Milford is on track to have most, if not all, activities that usually take place during the year.
Seniors asked about what they're most excited for, did not hesitate to share with enthusiasm. "I'm excited for a lot of things, homecoming, tennis season, prom, graduation," Senior Kate Freed said. I'm excited to be here as a senior, and I can't wait to see where the year takes us." Morgan Timm agreed; "I am excited to go to prom and the Friday night football games where we all come together," she stated. Aside from the many activities creating enthusiasm, senior students are just happy to be able to be back in person to learn properly again. From taking rigorous AP classes to studying for the SAT and ACT, they endured many challenges and took in as much knowledge as possible from in front of a screen. "I am very happy that we are back in school," said Molly Weisberg. "When we were online, I felt that I was not learning nearly as much as I was when we were in person."
It's still unknown what is to come for this year. There is hope from every student alike that things can go back to a form of normal appropriate for these current times.
For now, students can look forward to spirit week, pep rallies, homecoming, charity week, prom, and most importantly for seniors, graduation. If anyone ever worries about the future of being a student back at Milford High, listen to the words of Senior Delaney Muncy; "Everything happens for a reason," she said. "Stay positive and try to make the best out of every situation."