Watch these rom coms for a fun, relaxing night
There is no better way to put yourself in a good mood than to watch a good romantic comedy (rom-com). They are fun, light hearted and an easy watch. After a long day, sometimes all you can deal with is a happy an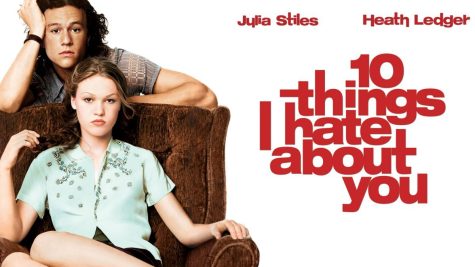 d mindless film. However, it can be hard to find a good rom-com that is both memorable and unique. After careful thought and consideration with a few of my friends, I have compiled the top five best rom-coms.
#1: 10 Things I Hate About You
Without a doubt, the best rom-com is 10 Things I Hate About You, a classic rom-com from the late 90s, based on the popular Shakespeare comedy The Taming of the Shrew. It tells the story of two sisters who have grown up with their single dad. The two sisters are polar opposites and Bianca Stratford (Larisa Oleynik), the younger sister, has been told that she can not date until her sister does. Kat Stratford (Julia Stiles) is smart but does not make an effort to fit in with her peers and she certainly does not date. In order for Bianca to get a date, elaborate plans were made to get Kat to go out with someone. The only boy who is willing to take on Kat's intense personality is Patrick Verona (Heath Ledger). The plot is exciting, elaborate, and it focuses on numerous story lines all at once. 10 Things I Hate About You also has strong female characters, which is something I personally love in a movie. This is a rom-com that just can't be beat. You can't get through the movie without having a good laugh and it never fails to put a smile on your face.
#2: The Proposal
Coming in not too far behind 10 Things I Hate About You, would have to be The Proposal, a 2009 rom-com starring Sandra Bullock and Ryan Reynolds. It tells the story of Margaret Tate (Bullock), a successful book editor in New York who is faced with deportation to Canada after her visa expires. In order to evade the immigration officials, Margret claims that she is getting married to her assistant Andrew Paxton (Ryan Reynolds). Andrew agrees with a few conditions. In order to prove to the immigration officials that they are a real couple, Margaret must fly out to Alaska to meet Andrew's family. Margaret and Andrew must do everything in their power to convince his family that their relationship is real. The Proposal is absolutely one of the funniest movies I have ever seen. The cast was incredible and they did a great job of combining the comedy with a unique and sweet love story.
#3: Crazy Rich Asians
Number three in the top five rom-coms list is Crazy Rich Asians. It is the newest out of the top five and it has everything you could want in a rom-com. Rachel Chu (Constance Wu) is invited to her boyfriend Nick Young's (Henry Golding) best friend's wedding in Singapore. Before their arrival, Nick fails to let her know that he is extremely wealthy and quite famous back at home. Rachel is quickly forced into the public eye and she must prove herself to everyone, most importantly to Nick's disapproving mother. This movie is absolutely hilarious and while Nick and Rachel are loveable characters, the side characters are what really add to the movie. It is a must watch rom-com for sure.
#4: Life As We Know  It
Next up in the top five rom-coms is Life As We Know It. Out of my top 5 list, Life As We Know It is probably the most serious and has the most conflict and drama. After one horrible first date, Holly Berenson (Katherine Heigl) and Eric Messer (Josh Duhamel) certainly don't get along, but they have to spend excessive time together because of their mutual goddaughter, Sophie. After the untimely death of Sophie's parents and Holly and Eric's best friends, Holly and Eric are forced to care for Sophie together. This movie is the perfect mix of humor, romance and drama. There are incredibly emotional moments, but it is balanced with humor.
#5: Legally  Blonde
Last but not least in the top five rom-coms is Legally Blonde. Out of the top five, Legally Blonde is the least romantic movie. It is more of a comedy with elements of romance in it, but because it is so iconic, it can't be left off the list. Elle Woods (Reese Witherspoon) is a fashion major and a sorority girl. What she wants most in life is to marry her boyfriend Warner (Matthew Davis).
However, he breaks it off with her before attending Harvard Law due to the fact that she is "too blonde." In an effort to win him back, Elle applies to Harvard Law and is accepted.. Throughout the movie, Elle realizes that she does not need Warner to be happy and finds love in other places. Legally Blonde is a fantastic movie and is something everyone needs to see at least once.
So next time you're in the mood for a movie, consider watching one of these incredible rom-coms. You will not be disappointed.