Milford's seniors of distinction are recognized for their achievements
Who are the Seniors of Distinction?
Each year Milford's administration chooses a group of seniors who have made a lasting impression throughout their four years. The class of 2019 has eight seniors of distinction: Gunnar Gustafson, Victoria Heiligenthal, Olivia Huszti, Connor Meadows, Olivia Mouradian, Sarah Nelson, Brien Smith, and Alex Youngblood. I interviewed each student with questions focused on being chosen, their futures, and how they feel Milford has impacted them.
Why do you think you were chosen as a Senior of Distinction?
Most of the seniors when asked this question struggled with the bragging this question requires in an answer, which is a small indication of the strong character they possess.
Of the answers, the majority dealt with academics, athletics, or extracurriculars and the wide range of involvement among the three. Sarah Nelson explained that she really has left her mark through her participation in both the Vocal Music and Theater programs at the school and how she's represented the school in those realms, while Gustafson and Heiligenthal both agreed that, regardless of the academic achievements they both possess, they were chosen primarily because of their athletic abilities.
How did you feel about being chosen as a Senior of Distinction?
The overwhelming majority of responses discussed feeling honored.  "It's just really awesome to be amongst the best people to represent our class,"  Heiligenthal said. Others focused on how awesome it was to be chosen and recognized for what they do. Mouradian talked about how she was impacted by the fact that she was chosen without really excelling in sport, or any one particular area of academics, while Nelson said she, "feels like the arts are something that doesn't get praise and so to be the person who gets to represent the performing arts shows that her hard work has paid off."
What do you think is your biggest accomplishment at Milford?
With this question I got a wide variety of answers as each of the seniors are involved in a lot and take pride in a lot of different things. Gustafson and Heiligenthal each knew right away what they consider to be their biggest accomplishments while going to Milford: breaking the school record for the 400-meter run in track and the 5k time for cross country, respectively. Huszti explained that she didn't really know what her biggest accomplishment was, but was proud of herself for being one of two state officers for DECA this year since there had only been one state officer from Milford prior to now. Nelson, who has a number of rather large achievements under her belt in the performing arts world, said her biggest accomplishment besides being one of two dance captains for Center Stage was playing a lead role in the school musical, Curtains. "It was fulfillment of my freshman year, little-kid dream of playing a lead in my senior year's musical." Mouradian's biggest accomplishment wasn't one thing she had done over her four years, but rather her participation in making so many events happen at the school her senior year. She clarified, "this was a collective effort on all our parts, but planning and organizing things like powderpuff and Senior Oscar night gave me the opportunity to leave my mark." Smith's biggest accomplishment happened just this March when he finished his Eagle Scout project, which was repainting at touching up the benches in the breezeway right across from Milford's media center.
What do you plan on doing in the future?
While some of the interviewees shied away from this daunting question or were just simply unsure, others were eager to explain how they plan to continue to leave their mark.
Youngblood is interested in going into medicine while continuing to waterski, Gustafson is set to go to Lawrence Tech University and play basketball, Smith plans to follow his passion for film and would love to direct, but would be happy doing other things so long as it involves film.  Nelson plans to get a Bachelors of Fine Arts (or BFA) in musical theatre, and she has decided to pursue this dream at the Cincinnati Conservatory of Music. Huszti's plans were very clear, she is "going to Detroit Mercy in their seven-year accelerated dental program," which means after that time, she'll be a dentist and possibly come back to Milford, she added at the end. Heiligenthal is planning on running for the University of Wisconsin Madison and studying mechanical engineering.
Meadows has decided to go into the United States Military, but hasn't decided between going to the Naval Academy or the Air Force Academy; he is no longer considering West Point as he had earlier because he wants to become a third generation pilot and at West Point "opportunities to fly are really slim." He feels at the other two academies he'll "have a better chance to do something memorable while also being a pilot." Mouradian, despite not knowing what she's going to do at the University of Alabama knows, "that whatever she decides will be something that she's passionate about and that she wants to genuinely do."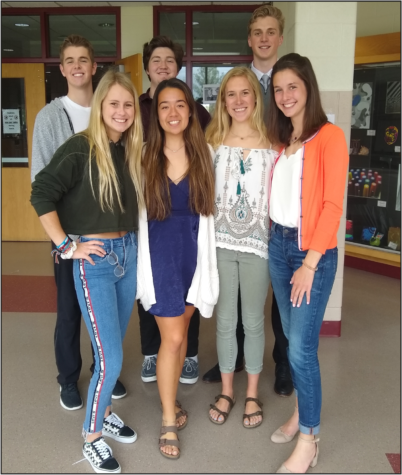 What are you going to miss most about Milford High School?
"The family atmosphere," "coming to a place I feel at home," "the community and the friends I've made." Every single senior had a number of responses like this to answer this question and not a single one had to think before listing them off. Meadows said, "I'm really thankful for all the lessons Milford has taught me and that I'll carry with me." Heiligenthal said, "It's just going to be weird going to a new place I'm not familiar with so I'm going to miss the whole pride of being from Milford and being able to call it my home."
Mouradian explained, "Mostly I'll miss the people. I will miss walking down the halls and knowing almost everyone. I'll miss the little minute idiosyncrasies that I don't think are a big deal but won't be there next year." While hearing all of the responses, it became clear that while these students clearly impacted Milford, Milford shaped them and gave them something they will hold on to.