Rowing the extra mile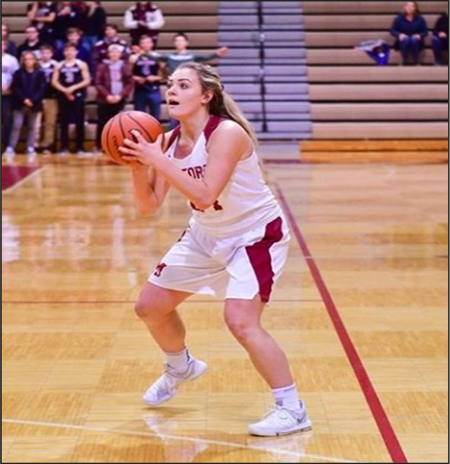 Alicia Warner, Managing Features Editor
March 8, 2018
Hang on for a minute...we're trying to find some more stories you might like.
Senior Megan Wallace has been playing basketball and volleyball since she was five-years-old, but her future in athletics will now focus on a sport in which she has never participated.
Wallace is your typical, outgoing, student-athlete at Milford High School, who was given an opportunity of a lifetime when she was offered a partial scholarship to her number one school at Michigan State University for rowing.
Wallace was at her club volleyball practice and while practicing, there were scouts in the stands not only for volleyball, but for rowing as well. Scouts typically go to volleyball practices to recruit rowers because they are in top shape and athletic enough for rowing.
"I was practicing when I saw a Michigan State coach there, and that was kinda unusual because we typically don't see those big schools there," said Wallace.  "After practice she gave me her card for rowing and that's when I first started taking rowing into consideration."
Wallace's entire family, through many generations have all gone to Michigan State University, so when she was given the chance to get a partial scholarship to her number one school, she was excastic about the opportunity.
"I really wanted to go to State and this was just such a unique way to go there and still participate in athletics, which is what I've been doing my whole life," said Wallace.
Wallace's family is proud and her fellow teammates and coaches are looking forward to her future endeavors.
"She's an amazing teammate and extremely reliable and I know she's going to do great," said MHS Senior and teammate Maddie Kobylski. "She's so strong and such a great athlete; she definitely deserves this."
Milford High School Head Coach David Brown. also had glowing remarks about Wallace.
¨I'm very proud of Meg," he said. "She has been the kid I've known since her middle school days. She is a dedicated hard worker and one of the most coachable kids I've ever worked with. Her rowing scholarship is from her own dedication and constant practicing."
While Wallace is incredibly exhilarated, nerves always come with such excitement.
"I'm a little nervous, it's going to be different for sure, but I'll be close to home and have a lot of support, so I'm grateful for that," said Wallace.
Everyone says practice makes perfect, but in this case, not practicing is better.
¨I went to one practice so far, but they don't really want us to use any rowing machines yet so we don't come in with bad habits and have to relearn everything the right way,¨ exclaimed Wallace.
Women's rowing is a growing sport that Michigan State and others schools are promoting each year while taking athletes from various schools around Michigan to make the team better than the previous year.
"We've got natural competitors on the team and they see what's happening in the fall," said Head Coach of MSU rowing team Matt Wesie stated in a press release. "It's contagious as the team feeds off the excitement and intensity that is in the department."
One thing that all athletes have in common is motivation and the willpower to strive. Wallace's background in volleyball and basketball will be to her advantage while starting a new sport that involves endurance, time, working hard and pure motivation.
"I think a lot of the movements involving certain muscle groups I've worked with in volleyball and basketball are going to translate over into rowing," said Wallace.  "I know what it takes, and with putting in some hard work, I think I'll be good."
Wallace's coach has also recognized her potential to transition to other sports.
"She is very well conditioned and has good total body strength. At first, I think it will be a challenge to transition to a new sport for her, but I don't think it will take her long to adjust," said Browne.
Overall, Wallace has had an outstanding academic and athletic achievements throughout her life and has many more to come. Not only does her coach unconditionally support her, her teammates do as well.
"If it gets challenging, don't lose hope," Kobylski advised her friend.  "It's something brand new; it might be confusing at first but you seem to catch onto things quickly, keep your hopes up,"
Wallace has many upcoming challenges and achievements heading her way and it's heartwarming knowing she has a support system back home to help her all the way.
"She comes from such a great family and they've all set good examples for her," said Browne. She is very confident and has a good head on her shoulders. If she keeps her work ethic and isn't afraid to look to her family and friends for advice when things get tough, she is really going to go far in life."