Girls volleyball is "hitting it off" this season
The Milford girls volleyball team has been "serving" good looks and scores during their games this season. From open houses throughout the summer and tryouts in early August, these girls were prepared to show the school what they had accomplished in training.
The team's talent is amazing. With captains Sarah Rand, Josie Duncan and Ashley Murray as well as new teammates, the girls are playing with excellent communication and organization. A team who has bonded and gotten to know each other more personally allows for a better playing environment. "My favorite thing about the team is how close all us girls are and how it always feels like a family,"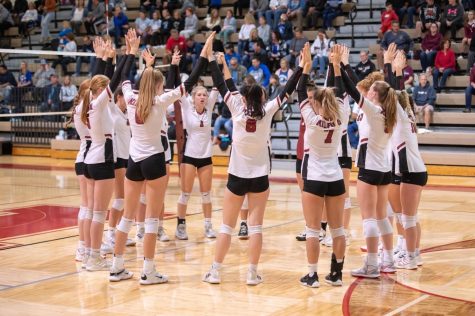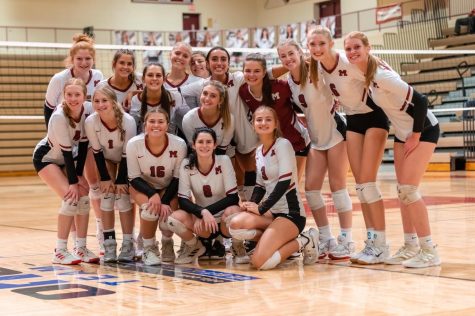 said Junior Elayna Charron.
The girls are also working hard on building the strength it takes for this strenuous sport. "I think this season is different from my past seasons because we have a brand new mindset of being determined and focused," Charron said.  "We are becoming not only physically strong this season, but also mentally strong."
Girls volleyball has gained popularity at Milford and has attracted its own student section called "The Block Party". Students from Milford go to the games and cheer the girls on. "Personally, I love when the student section is there," Rand said. "I feel like I have so much support for the game I'm playing and I feel like I play better when I have that support."
So far the girls have secured victories over Pinckney, Howell, East Lansing, Walled Lake Western, Walled Lake Kettering and South Lyon East.
The team is not only focused on making this season special; they are helping prepare future Mavericks.
During the off-season, toward the end of July, Milford volleyball hosted a three-day Youth Camp for girls in elementary to middle school who are interested in learning about volleyball or just enjoy playing. The camp coaches are the girls on the varsity volleyball team. At camp, the attendees learned new techniques and skills to apply when playing volleyball.
"It was really enjoyable for me because when I was little, and I wasn't very good at volleyball. It was hard for me to love playing it because I would get frustrated," said Senior Sarah Rand. "I had people who helped me start to love the sport and it felt good for me to be that person to other girls and just help them learn new things and grow."
The season is still in full swing with upcoming games. With this, the team will continue to work hard and push to be their best to secure wins over the next few schools. Varsity games almost always start at 6:30 and take place on Tuesdays and Thursdays at home or at the opponent's school. You can follow their Instagram, @milfordhsvb, to stay updated about gamedays!