Red Tide track club conquers winter challenges
In the winter, our first instinct is usually to curl up inside under a nice, warm blanket to avoid the cold. But that's not the case for members of the Milford High School winter track club — Red Tide. Starting in December (and for some late November), these runners embrace the harsh conditions of winter every day after school, tackling distances both long and short. Athletes of all different sports and skill levels meet, whether it be cross country runners continuing to run postseason, football and lacrosse players training and staying in shape for their next season or even those who are simply looking for a way to have fun and stay fit during the long Michigan winter. Everyone is welcome.
The Red Tide track club has been a long-standing program here at Milford. Head Coach Brian Salyers weighed in on the legacy of the program. "Even when I was in school in the 80s, we had winter track under the name 'Red Tide.'" The club's origin is heavily rooted in cross country, as many runners would use the program as a way to stay in shape and compete, even after their season had ended. In fact, the name "Red Tide" itself is derived from the cross country program. "It's really from Mr. Balawajder (a former athletic MHS director and coach)," Coach Sal said. "It's referring to a tide of red jerseys at the start line and on the field." Of course, athletes beyond just those on the cross country team are drawn to the program, resulting in the diverse group of athletes that make up the club today.
For years, Red Tide has been traveling to facilities all over the state to compete in weekly indoor competitions. A handful of members have given up a part of each weekend to compete in such meets. This year, Red Tide qualified four separate relay teams to compete in the Indoor Track and Field State Finals. These teams headed to Ypsilanti on Feb. 26 and faced off with teams from all over the state of Michigan. On the girls' side, qualifiers include a Sprint Medley R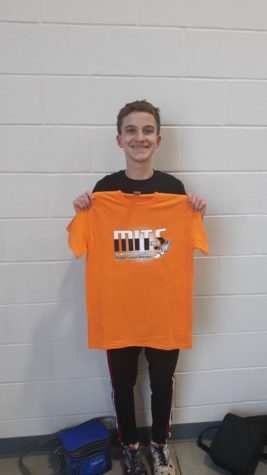 elay team made up of Junior Grace Harkenrider, Junior Audrey Verkerke, Junior Brooklyn Wolcott and Junior Jacie Remtema, and a Distance Medley Relay team made up of Remtema, Verkerke, Senior Emma Collison and Harkenrider. "It's something that not a lot of teams get to do," said Remtema, a key member of both relay teams. "And after just barely missing qualifying for States in outdoor track last year, it's really awesome to get to compete at that level."
The boys also qualified a Sprint Medley Relay team made up of Senior Reshaun Crawford, Senior Ian Gibson, Junior Curtis Hawkins and Senior Ryan O'Rourke, as well as a Distance Medley Relay team, made up of Kyle O'Rourke, Crawford, Senior Tyler Ristau and O'Rourke. Even runners who are not yet Mavericks can join the club. Kyle O'Rourke, an 8th grader from Muir Middle School, and state-qualifier in the DMR and middle school 1600, expressed his appreciation for the unique experience to run on the high school team. "It's kind of crazy," he said. "Being able to run on the same team as my brother even though I myself am not a high schooler is really cool. I'm grateful that Coach Sal and the team have welcomed me with such open arms." Each of the members who participated in the State Finals managed to earn medals, as well as All-State honors.
Of course, competition isn't the only thing that draws these runners out the door and into the snow every day. Many also enjoy the opportunity to spend time with friends and create lasting memories. When asked about her favorite aspects of winter track, Remtema replied, "Being outside and snowball fights." Others enjoy the opportunity to prepare for the future in a low-stress environment. "I run winter track to condition for the outdoor track season and for my future college track season." said Crawford, a sprinter, two-time state qualifier, and future collegiate athlete. Crawford looks forward to continuing his successes in the coming Track season this spring, as well as his career as a track runner at Lansing Community College. No matter what the reasons are for joining, anyone ready to embrace the challenges of winter running can find a place in Red Tide. "To see young people going out and making sacrifices and facing challenges is really gratifying," said Coach Sal. "Having greater challenges makes successes much more satisfying."