Experienced girls tennis team is ready for action
As winter slowly comes to an end, the Milford girls tennis team is looking forward to keeping the positive momentum from the 2021 season. With the loss of last year's senior singles players Grace Sarafa and Sloane Dietz, it is yet to be determined who will fill these top roles.
Having many solid players last season, the team is hoping to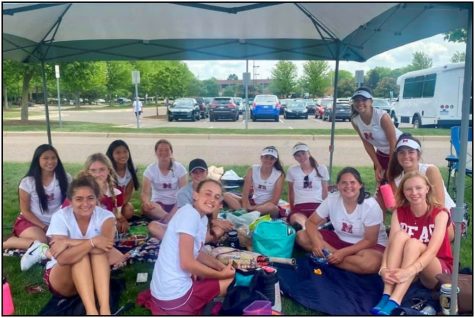 attract more talented players. Coach Kynast has been coaching tennis at Milford for 29 years. He tells what he hopes to see this season and what he is looking forward to. "I want this team to play at an even higher level than last year. I want improvement from all the players that are back and I want to see the new players get better from March to May." Kynast states. "I expect a very good season this year. We have a lot of senior leadership that I am counting on to provide leadership." Kynast states. The hope for this season is to have uninterrupted practices free from quarantines and to hopefully experience a normal season that hasn't yet for any player who is not a senior.
High school tennis often attracts participants because of the wide level of skills the team needs. A couple of benefits of playing tennis include that it is fairly easy to learn the game and can be a lifelong sport. Caroline Colt, a junior on the team, has been playing tennis for 11 years., "It is a mental sport as much as it is a physical sport," Colt said.
Some girls have been playing for a while and have always planned to be on the team, while others join and have never played before. Multi-sport athletes tend to improve quickly in tennis because they have good hand-eye coordination and footwork skills needed in the game.
Last season, the varsity team advanced to Regionals. This was remarkable because of the unpredictability seen throughout the season. Colleen McMillen, a senior on the team, said, "I liked every time I came back from quarantine and the bonds and friendships I made with everyone were special."
While a few practices were canceled and some girls were missing for matches, the team stayed flexible and optimistic to be sure to have a successful season. "What pushed us last season was the motivation we all had to make our season the best because we weren't really given the opportunity sophomore year," McMillen stated.
This year's seniors Dyana Rice and Erin Scheske won the LVC tournament for number one doubles as juniors. The girls were excited about their achievements.
Along with this, the team came through with victories against Brighton, South Lyon East, South Lyon, Hartland, and Waterford Kettering Highschool. As well as being well-rounded athletes these girls are academically motivated. Every player on the team last season qualified for LVC All-Academic honors making them named an All-State Academic team.
This coming season is going to be great for the Lady Mavs. With great leaders and a strong bond, they will get to enjoy their time as a team. These ladies are filled with dedication and hard work which shows on the court.