Possible changes coming to youth and N.C.A.A sports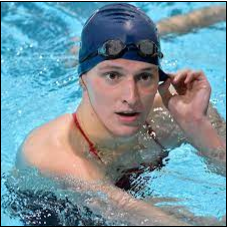 From the sport that tends to only make national headlines once every four years, usually when the names "Phelps" or "Ledecky" are involved, comes a heated national debate over inclusion and equality.
Lia Thomas, a transgender female swimmer hailing from the University of Pennslyvania, has been making quite the splash in and out of the pool. After competing  as a male by the name of Will Thomas for her freshman, sophomore, and junior years at Penn, she took off the 2020-2021 season to begin her transition from male to female.
After completing the N.C.A.A. required one year of testosterone suppression treatment, Lia was eligible to suit up as a member of the Penn Women's Swim Team for the 2021-2022 season as a senior.
Thomas was met with immediate, head-turning success in the pool. According to a popular competitive swimming publication, SwimSwam, Lia broke the Penn Women's program records in the 200 and 500-freestyles in an early season (November 20, 2021) tri-meet versus Cornell University and Princeton University. In the sport of swimming, it is uncommon to see records broken at the beginning of the season, so her outstanding performance in November sparked a conversation about the balance of fairness versus equality in sports.
A range of opinions flooded social media. Schuyler Bailar, known for being the first transgender Division 1 N.C.A.A men's athlete, shared his support for Lia Thomas in a December 23, 2021 Instagram post. He stated that "Lia has satisfied all of the NCAA regulations required to compete in the women's category" and that natural bodily differences in sports are crucial to maintain their competitive nature.
On the other side of the coin, 2020 Olympic swimmer Erika Brown shares that she believes transgender women should not be allowed to compete against biological women. She states that "even when she has transitioned, she still has the physiology of a male."
Thomas herself has not spoken very publicly about the controversy. The only interview she has done was with SwimSwam on Dec. 9, 2021; in which she mostly discussed her transition and how it has affected her physically, mentally, and emotionally.
In regards to swimming with the women's team for the University of Pennsylvania, she stated that her team has been "unbelievably supportive since the beginning." And that she is "treated like any other member of the women's team."
In the months since Lia Thomas first began making headlines, the N.C.A.A and USA Swimming have implemented new policies in an attempt to balance inclusivity and fairness in women's sports particularly. The N.C.A.A has decided to handle the issue on a sport-by-sport basis, and have assembled a temporary plan for this years' winter championship season.
Most sports will have a 4-week window before their respective N.C.A.A (winter) Championships for transgender female athletes to submit their testosterone level test samples. If the woman's testosterone levels are below 10 nmol/L, she will be eligible to compete. Women's Ice Hockey will require levels below 5 nmol/L. USA Swimming, which is a separate entity from N.C.A.A swimming, will require their elite swimmers to have less than 5nmol/L of testosterone for at least 36 months before being eligible to compete in their championships.
So beyond swimming, what does this mean for elite, collegiate, and youth sports as a whole? Most elite sports are currently following the rules drawn up by the International Olympic Committee (IOC) in 2015. The IOC's policy is that transgender women must have a testosterone level of less than 10 nmol/L for at least 12 months prior to competing. Collegiate sports currently go by the policies outlined above for the 2022 Winter Championship season.
The policies for Youth Sports vary by state. Mississippi, for example, has banned transgender female children and adolescents from competing with their identified gender in public school athletics entirely. Currently, the Michigan High School Athletic Association (MHSAA) allows transgender individuals to play sports with their chosen gender. However, Michigan lawmakers have introduced a bill that if passed will force transgender people to play sports with their gender assigned at birth.
Approximately 35 other states have introduced similar bills. It is not unlikely that we will see transgender policies being reviewed and possibly rewritten in the upcoming months and years, with the hope to strike a balance between keeping sporting events fair and maintaining inclusivity of sports.