New Band Marching Onto The Field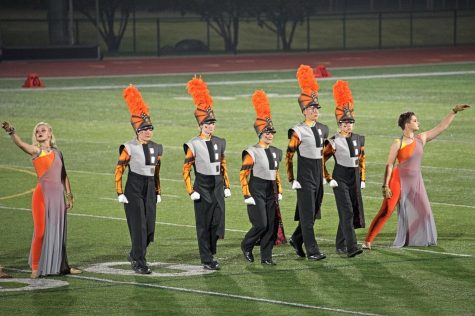 As fans watch the football players leave the field, they hear the drums. The taps start as the marching band assembles along the 50 yard line. Then, all at once, they raise their instruments, take a deep breath, and begin to play. But it's not just the reverberations of the music that grips the listener. The band starts to move to form shapes and tells a story, captivating the audience. This year though, something is different. The Lakeland marching band has combined with Milford's to create an incredible group of musicians.
This is the first year the two rival schools have combined, and so far it seems to have turned out well. Senior Ashley Minard acknowledges that she was apprehensive about it, saying, "It's all right now, it was weird at first though."
Although it was scary to combine the bands, most people think it was a good and possibly necessary decision. "We had a bunch of people quit last year, brass was thin and we only had two colorguard members," Senior Ignatius Godin said.. With color-guard being short on people and there only being a few marchers, Milford was ready to combine. The Milford High School band has proven they can produce some amazing shows alone; however, it will be exciting to see what this new group is capable of and what style changes they will bring to the table. With the additional participants, neither band is limited on creativity, no longer needing to stress over if there are enough people to put on a terrific show.
Molly Weisberg, a Senior who has been in marching band for five years, is especially excited as the newly appointed drum major, the leader that will conduct competitions and football games, while leading her peers outside of competition smoothly.
Combining with Lakeland does have some challenges for the new drum major. "My job is to ensure that everyone is making friends and having a good time," she said. With four drum majors to help with this –two from Lakeland and two from Milford– it seems that the groups have al-most completely forgotten about the rivalry and think of them-selves as one band, not two split bands competing.
Another advantage for the combined band is that they are now in Flight 1. That means they can compete in larger competitions with bigger bands and have a chance to compete in Nationals.
Bob Green is Milford High's marching band director this year, but his responsibilities extend beyond this role. Green also teaches concert bands at Milford, Lakeland, and works with our Huron Valley Marching Band. Green has been working with the marching band students to create a fantastic show with the theme The Beauty of Chaos. The show is difficult this year, but the band is determined to succeed. "I've ran into a couple kids and there's a lot of people on the field, so none of us are used to that but the kids are fun," Minard said.
Everyone is looking forward to competing this year because they could not last year due to COVID concerns. This mix of bands seems to be exciting and full of surprises. "I really enjoy the people that are in Lake-land and I feel like as the years go on, people won't think of it as the combination band, but think of it as Huron Valley march-ing band, as one," says Weisberg.
There was some fear that because of the school rivalry the bands might clash. It turns out there was no need to worry. The band students have become close and strive not to fight with one another, but rather to make the Huron Valley Band a better group of musicians. The marchers even seem happy because they can see their friends and meet up with people that had left the same middle school to go to different high schools. Others are happy about the change because they have made new friends from the opposing school that they would not have otherwise.
This year's competition will see many changes due to the com-bination of the bands, so there are some things that will be missed. "I'm kind of sad we got rid of some traditions that we did at Milford," Minard says. From the uniforms being changed, to the band's command word to lift their instruments, there are many changes going into this program, such as the techs who are the people that work with the band for sound and lighting systems. "The new techs are strict, a lot more strict but more hardworking."
This is a good thing as their routine is quite a bit more complicated than it has been in years past, according to the students. With things such as fancy uniforms that the band is quite excited about ("I have a cape, so I'm really happy about that," Minard exclaims) as well as formations that should have a big impact on the show, the band is thrilled with the outcome as a whole and cannot wait to perform. The mixed bands are ready to show just how far they have come not just in their performance , but as a team who can work together to create the show of a lifetime.
These adjustments have made the band more ready than ever for their competitions coming up and hopefully they will skillfully show the judges how well the band mix has benefitted them. An amazing theme, a new routine, and all new people will be sure to push this team to their limits as they show both the high school students on the field and the judges at competitions just how much they have grown.