Milford wrestling overcomes Covid-19 restrictions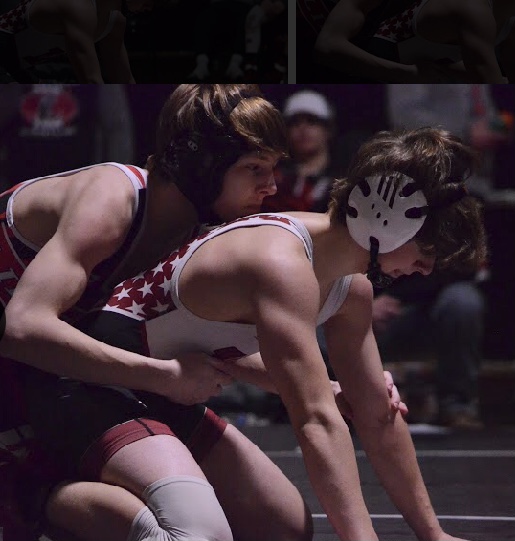 The Milford wrestling team was struggling over the non-contact period. On Jan. 16, 2021, Michigan high school sports started back up. The Michigan Department of Health and Human Services paused all winter sports activity on Nov. 18 to control COVID-19. 
The spread of COVID-19 throughout the state of Michigan has changed the way high school sports experience practices and competitions.
Senior Taryn Lesnew and Freshman Wyatt Lesnew were just a few of the lucky athletes who had each other to lean on during the quarantine period. This year is much different for a contact sport like wrestling. 
Taryn Lesnew has been wrestling through the Milford program for seven years now and has gained a lot of experience from it; Taryn Lesnew shared, "Wrestling has taught me many lessons, it isn't about being better than someone else, it's about being better than you used to be."
Wyatt Lesnew is a freshman at Milford high school and has had a very unique experience. The experience was very strange not having any contact the first half of the season, which was difficult for everyone.
Coach Rhodes taught many of the athletes some easy non-contact moves they could practice at home and some included moves without a partner. " It isn't the experience I was hoping for but the experience has taught me to think outside of the box and to work even harder when the situation gets harder." Lesnew said.
MHSAA is allowing four teams to participate in each event. In order to be eligible to compete, all wrestlers must complete a negative rapid antigen test before the weigh-in on the day of the match. 
All individuals are also subject to contract tracing and close contact protocols when positive cases or tests exist. Wrestling, as is true of any sport, cannot eliminate risks from the training and competitive environment.
The focus for everyone involved in athletics is to manage risks and reduce known factors that increase exposure to risks. By testing and taking all of the safety precautions required, the wrestling community members have implemented COVID-safe changes as much as they can to create a safe environment. 
When school administration signs the weigh-in form, they are also attesting that all participants have passed their rapid tests and can compete.
After thousands of high school athletes protested  the pause of winter sports. A new order came into effect on Feb. 2, 2021. Wrestlers who have been  tested would be able to compete without wearing a mask during the match, but masks would be required of all individuals at other times during meets and practices. 
This year, the Milford wrestling team has two seniors and many underclassmen each carrying a strong skill set to be successful on the mat. Coach Jay Rhodes has been a great influence on all athletes in the wrestling program: "Hard work beats talent when talent doesn't work hard," said Rhodes, The quote in this piece is attributed to Tim Notke, a high school coach. It was popularized by Kevin Durant in 2007 when he was the National College Basketball Player of the Year.
Once the sport resumed, the team has competed frequently. The Milford wrestling team had a meet on Saturday, Feb. 22 at South Lyon East High School, along with many other Michigan high schools.
Milford's rival, the Lakeland Eagles, was a main source of competition for the Milford Mavericks; Milford won 39-33. Freshman Joey Bradshaw had the best match of the season. 
His last match was a tie breaker, which led the team to a huge victory. The Milford wrestling team members focus on why they play and who they play for– this team has many strong athletes that are excited for their best season yet.
The Milford wrestling team has had one of the craziest years, but that isn't stopping them next year. Make sure to follow up with Covid-19 guidelines for the 2020-2021 season on the MHSAA website. Go Mavs!