2021 March Madness Predictions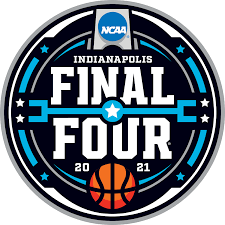 Two years without March Madness is a lot for basketball fans, and many are excited to see what this tournament has in store. Fans everywhere are starting to fill out their brackets, determined to get that one, perfect bracket. Every year, the tournament is filled with excitement and Cinderella stories, this year being no different. This is my projected elite eight and some sleeper teams you may want to look out for. 
Sleepers:
San Diego State is another team to look out for. Ranked 19th, they aren't a deep sleeper, but one that may fly under the radar. They return a very similar team to their top-10 ranked team last year besides top scorer Malachi Flynn. However, they return a lot of upperclassmen that have veteran experience. They rank 8th in defensive efficiency and shoot 38% from three as a team. They are getting hot and on an 11-game winning streak, and any team that plays good D and hits their 3s is destined for a good run in March.
UConn is my last, but not least, of possible sleepers. They finished 15-7, good for 3rd in the Big East. Led by G James Bouknight, they have a top-tier defense and will keep the games close. Bouknight is a terrific scorer and can go off for 25+ on any given night. Guards RJ Cole and Tyrese Martin also add double-digit scoring, but they'll need them to step up in the offense to make a deep run. UConn has a tough round of 64 matchups against Maryland, but watch out for them to make some noise.
West
Onto my Elite 8 predictions; Gonzaga and Iowa will be coming out of the West. As the top two seeds, they are most expected to move on and most definitely have the talent to do so. Gonzaga is led by stars Jalen Suggs, Corey Kispert, and Drew Timme and may have the best and most talented team in college. And although their competition in the WCC is weak, they beat 5 top 15 teams early in the season, including Iowa, and will cruise through to the elite 8. 
The Iowa Hawkeyes are the 2nd seed in the West and have a possible Naismith winner on their team with Luka Garza. Garza is not the only force on this team though, with big contributors in Joe Wieskmap, Jordan Bohanon, and CJ Frederik. This team is deep and has talent everywhere, but they won't have an easy run. They'll possibly have to play Kansas or USC, which won't be a cakewalk, but I think they will do just fine.
East
The East is possibly the most interesting region, with many possibilities like Michigan, Florida State, Texas, Alabama, and other teams that could go far. I'm taking Michigan and Texas. The Wolverines have a chance to make it all the way to the Championship game, but could also lose as early as the second round. Missing a 13ppg scorer in Isaiah Livers (broken foot) is a big loss, but they have more talent that can step up to fill the void. C Hunter Dickinson is a force in the paint and teams will have a tall task at holding him. Michigan may be on upset alert this year, but they're plenty good enough to move on.
Texas has also been a very impressive team this year and won their first Big 12 tournament title in 26 years. They have a team with contributors all over the place. Andrew Jones, Matt Coleman III, and Courtney Ramey make for a great three-headed-monster and forwards, Greg Brown, Jericho Sims, and Kai Jones add a good mix of offense and defense. The Longhorns can go up with the best of the best and can put up big points. Coach Shaka Smart has one of his best teams and has what it takes to go far.
South
From the South, 1st seed Baylor and 3rd seed Arkansas will be going to the Elite 8. Baylor has been a top-ranked team all year and has shown no sign of stopping. They have the 3rd-ranked offense in college and are 1st in 3-pt percentage. Led by guards Jared Butler, MaCio Teague, and Davion Mitchell, the high-scoring offense will be very difficult to stop and the Bears will find themselves as serious contenders to win it all.
The Arkansas Razorbacks started the season unranked and have burst onto the scene as a surprise to many. Standout First-team All-SEC Freshman Moses Moody leads the top-ranked offense in the SEC and has been dominant all year long. They also have a Second-team All-SEC member in F Justin Smith and SEC Sixth Man of the Year G JD Notae. This team can do it on both sides of the ball and is poised for a March Madness run.
Midwest
The Midwest region is filled with potential sleepers like Loyola, Georgia Tech, San Diego St, and more. That being said, I predict Illinois and San Diego St to end up in the Elite 8. The Fighting Illini are one of the best teams in basketball and have a great chance to be making at least the Elite 8. Led by G Ayo Dosunmo and C Kofi Cockburn, they have been arguably the best duo. But that's not all; guards Trent Frazier and Andre Curbelo have had great seasons and stepped up big when Dosunmo was injured. Also, G Adam Miller has been streaky, but can provide big numbers if he gets hot. Illinois has a serious shot at winning their first-ever men's hoops title.
San Diego St was one of my potential sleepers and I think they have a good team and favorable matchups for them to make a run. The Aztecs have an incredible defense that will give any offense fits and ranks top 10 in both opponent scoring and opponent field goal percentage. F Matt Mitchell and G Jordan Schakel are the offensive firepower on this team and are real threats to score 25 on any night. They're efficient on offense and do what any team wants– hit 3s and play D.
This year's tournament will be one to remember and many of these teams I picked could be swapped for different ones, but expect an exciting March Madness filled with upsets and fairy tales.