2021 NCAA Championship Predictions: Alabama vs Ohio State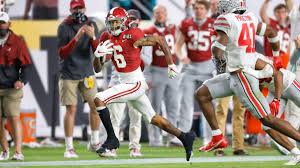 After a crazy and historic season for college football, it now all comes to an end Monday, Jan. 11 at Hard Rock Stadium. A year with many ups and downs that started with not even knowing if there would be a season, a team will be crowned champion. With Alabama and Ohio State dominating their games, fans should be ready for a high-flying, exciting game. The Tide started as a 7.5 point favorite, but have now moved to 8. This matchup will be one for the ages, with big matchups; Alabama's O-Line vs Ohio State's D-Line, Alabama's tremendous WR core vs Ohio State's secondary, the RB battle and so much more. Let's now dissect each team and see how they stack up:
OFFENSE 
Both teams have a tremendous offense, some of the best in football this year. This should result in a high-scoring and fun-to-watch game. Both teams have top tier signal-callers with Mac Jones and Justin Fields. Jones is a Heisman finalist this year, putting up over 4,000 yards, 36 TDs, with only 4 INTs. It also helps that Jones has been in this spot before, so he knows what it takes to win, but some have questions: is Mac Jones really that good or is he just on Alabama? Fields, on the other hand, can blow up at any given time and completely take over the game with his arm and legs. But he also can be unreliable at times, such as when he threw 3 picks against Indiana and 2 vs Northwestern. We all know the talent is there, but will Fields step up when it matters? 
In the run game, again, both teams have big difference-makers. Najee Harris of the Tide has been probably the best in college; with over 1700 yards and 27 total tds, Harris will be a task to stop in the run and pass game. On the Buckeyes, they have a bit of a two-headed monster, Master Teague and Trey Sermon, although Sermon has been the lead back the past few weeks. Sermon has burst onto the scene rushing for over 600 yards and 4 TDs in the last 3 games. He can burst out into big runs at all times and has equal amounts of power and speed. If Sermon can keep the momentum going, he can take a big weight off of Fields' shoulders. 
Now onto the receivers. This may be the Tide's strongest part of their offense. Led by the first WR Heisman-winner since 1991, Devonta Smith, this WR core can hurt in many ways. Smith led the team with over 1600 receiving yards and 20 TDs. John Metchie, Jahleel Billingsley, Miller Forristall, and RB Najee Harris are no bums either. After suffering a big injury early in the year, speedster Jaylen Waddle, who had 550 yards and 4tds through 4 games, will also be returning for the big game. The Buckeye secondary will definitely have their hands full on Monday. Now that we're done talking about Alabama, let's look at Ohio State's receivers, which are nothing to shy over either. Chris Olave and Garret Wilson are two big playmakers that can get open on any play. They both put up almost 700 yards and Olave finished with 7 TDs  and Wilson with 5 in only 8 games. The threat of these two should make Fields' job much easier. Alabama's OLine matched up well against Ohio State, who has been one of the best this year. The big boys up front are Alex Leatherwood, Deonte Brown, Landon Dickerson, Emil Ekiyor, and Evan Neal. They only allowed their QB to get sacked 11 times this year. Because of them, Jones should have all day in the pocket to make things happen. The Buckeyes up front are Thayer Munford, Harry Miller, Josh Meyer, Wyatt Davis, and Nicholas Petit-Frere. If they can open up enough holes for the run game to get going then this offense will be looking good. 
Both these teams are led by their offenses and will be looking to put up big points, but I think the Crimson Tide gets the edge here. Their offensive is just too dynamic, too scary, too deep, and just too good. They have been the best in football and I think the offense shows out big in this game.
DEFENSE
Although this game will be offensively-led, the defense will be what wins the game. Whoever can stop the opposing team's offensive firepower will come out on top. Alabama's DLine is led by LaBryan Ray, Christian Barmore, Phidarian Mathis, and Tim Smithhaven't been top-tier, but that's not to say they aren't talented. If they can contain the run and put pressure on Fields to make decisions, then they are in a great spot to stop this offense. Now for the Buckeyes, who always have a scary DLine and this year is no different. This line is deep and can stop an offense in a multitude of ways. Jonathan Cooper, Tommy Togiai, Zach Harrison, Haskell Garrett, and Tyreke Smith are all a part of what makes this line great. They have to get pressure on Jones, so the receivers won't have time to get open or their secondary is going to pay for it. 
For the linebackers, this is where the Tide's defense thrives. Dylan Moses, Christian Harris, and Will Anderson Jr. lead this defense. They have the ability to stop the run, drop back in coverage, and even get after the quarterback. These three are going to need to be all over the field making plays during this game. Ohio State's linebacking core is led by Pete Warned and Tuf Borland who are tackle machines and defensive leaders. They also have Justin Hilliard and Baron Browning. These four are gonna have to help out the DLine and keep the Alabama offense contained. 
The Alabama secondary has been one of the best pass defenses all year and will have to show that once more. Patrick Surtain II, Josh Jobe, Malachi Moore, Brian Branch, and Jordan Battle make up this core. If they can force Fields to throw interceptions, they can get him off his game. The Buckeye secondary is going to have the biggest task out of any group on either team. They have to stop almost every player on the Crimson Tide offense and if they don't there is a good chance they lose. Doing that will be Shaun Wade, Sevyn Banks, Marcus Williamson, Marcus Hooker, and Josh Proctor. This group is talented enough to do it but will need help from the whole defense to do so. 
Both these defenses have their strengths and weaknesses and enough talent to change this game, but I think that Ohio State beats out Alabama here. I think they are much more well rounded with their terrifying DLine and Linebackers and secondary that is both versatile and fast. 
WINNER
Although the Buckeyes have the better defense, I just think stopping the Alabama offense is way too big of a task for any team, so like I had it all year long, the Tide continues to roll and will win the 2021 College Football Championship. The Nick Saban offense is too good for anyone to stop. I expect them to put up big numbers on the ground and through the air. In what will be a high scoring and exciting game to watch, I have the Crimson Tide winning 42-35.