2020 NBA Mock Draft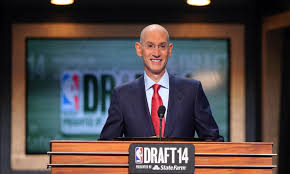 With the season over after the Los Angeles Lakers beat the Miami Heat 4-2 in the NBA Finals, teams are now preparing their draft boards for the draft on November 18.
With some shake ups in the lottery, teams are now stuck in places they didn't want to be and scrambling to make the right choices for their futures.
There are many ways the Timberwolves could go with the team's first pick, whether it be International star Lamelo Ball whose ceiling is unlimited, or perhaps the best fit for its team, Georgia Bulldogs shooting guard Anthony Edwards, who would slide right in next to D'angelo Russell.
No mock draft is ever perfect, but my projections are as follows:
Minnesota Timberwolves: Lamelo Ball, Illawarra Hawks
This pick can be a very high risk/high reward move for the Timberwolves to make. Ball has probably the highest ceiling in the draft, but if his game doesn't translate, he could be the next Anthony Bennett. He averaged 17ppg, 7rpg, and 7apg while playing with the Illawarra Hawks in the Australian National Basketball League. He is a great ball handler and facilitator on offense. His defense is sub-par and his shot selection can be questionable at times, shooting only 25% from three. We know the potential Ball has, but he just has to put the work in.
Golden State Warriors: James Wiseman, Memphis Tigers
The best option for the Warriors if they decide not to trade this pick is to go with the best center in this draft, James Wiseman. He fits the biggest hole the team has unless it wants to go small ball with Draymond Green at center. The biggest question for Wiseman is how good is he really, with a very small sample size playing only three games before being suspended for receiving money from Memphis, there wasn't much we got to see. But in those three games, he showed what he can do, averaging 19.7ppg, 10.7rpg, and 3.0bpg. A seven-foot center who can score well and protect the paint with the best of them. Wiseman would be hard to pass up on.
Charlotte Hornets: Anthony Edwards, Georgia Bulldogs
If Edwards is still here when Charlotte makes its pick, there is no reason that he should not be drafted. He is arguably the best player in the draft and could easily be taken at number one or two. At Georgia, he averaged 19.1ppg, 5.2rpg, and 2.8apg. He is a guard that Charlotte can build its franchise around and might be the best scorer in the draft, being able to do it at all levels. This should be an easy pick for the Hornets.
Chicago Bulls: Deni Avdija, Israel
By picking Avdija, the Bulls can fill two major needs: help on the wing and a desperately needed playmaker. In 33 games, Avdija averaged 12.9ppg, 6.3rpg, 2.7apg. While his stats don't jump off the paper, he is easily the best international prospect in this draft. At 6'9", he has the ability to create his own shot and shoot over defenders, but most of his value will come from his playmaking ability to give his teammates open looks. He is also an above average defender and the Bulls will have a future star here.
Cleveland Cavaliers: Obi Toppin, Dayton Flyers
Although I don't love Toppin as an NBA player, the potential is there. Already being 22 years old, some may say he doesn't have much more room to grow. At Dayton, Toppin averaged 20ppg, 7.5rpg, and 2.2apg. He might be one of the best offensive prospects in this draft. He is a great pick-and-roll option and lob threat for Darius Garland and Collin Sexton. He can also knock down threes quite well, shooting 39% from deep. Toppin lacks on the defensive side and may already have reached his ceiling, but he can still provide Tobias Harris-like numbers for the Cavaliers.
Atlanta Hawks: Onyeka Okongwu, USC Trojans
Okungwu can be the modern day Amar'e Stoudemire. He owns the paint on both sides, is one of the best shot blockers in this draft and can score at the rim at will. At USC, he averaged 16.2ppg,8.6rpg, 2.7bpg, and 1.2spg. He is a defensive beast who will be a great pick and roll option for Trae Young. Okungwu is the type of player who will be the hustle guy and do the dirty work for teams, but at 6'9" he is undersized for the modern big man and needs to develop a better shot outside of the post.
Detroit Pistons: Killian Hayes, France
In the heart of a rebuild, the Pistons should be looking to draft the team's  point guard of the future, and I firmly believe that can be Hayes. In France, he averaged 11.6ppg, 5.3apg, and 1.4spg. He is crafty and can score well in the paint and midrange, and he has great size for a point guard at 6'5" and is an exceptional defender. Only shooting 21.8% from three last year, he desperately needs to develop his shooting to play in today's NBA.
New York Knicks: RJ Hampton, New Zealand Breakers
Being the #1 prospect coming out of highschool, Hampton had all the hype to be the next NBA star until he went to play overseas. There, he only averaged 8.8ppg, 3.9rpg, and 2.4apg. I know these numbers are quite low for someone being drafted at number 10, but he has the potential to be a star. At 6'5" with a 6'7" wingspan, Hampton has the size to play either the one or the two, he can finish tremendously at the rim, and he has the size and athleticism to guard multiple positions; regardless, he needs to improve his jumper and has showed a lack of motor on defense. Hampton is definitely a project, but for a team like the Knicks, I think the risk is worth it.
Washington Wizards: Isaac Okoro, Auburn Tigers
Okoro is one of the top defenders in the draft, and because of that can play right away. At Auburn, he averaged 12.9ppg, 4.4rpg, and 2.0apg. Okoro is physical and can finish easily at the rim, but the rest of his offensive game needs help. He shot only 28% from three and 67% from the free-throw line, but if he can develop a shot, he will be the next best 3&D player.
Phoenix Suns: Devin Vassell, Florida State Seminoles
Devin Vassell is one of my favorite players in this draft. He may not have the star potential many of the players picked before do, but he has a high floor and could be a major contributor on any team. Averaging 12.7ppg, 5.1rpg, 1.6apg, 1.4spg, and 1.0bpg, while shooting an incredible 41.5% from three, he has all the tools any team would want, all while being 6'10". He's an explosive hustle player who will do all the things a coach will ask. Although he could use some improvement creating his own shot, Vassell can start immediately on any team in the lottery. 
San Antonio Spurs: Tyrese Haliburton, Iowa State Cyclones
Haliburton is a tough player who Coach Pop would love to have on his team. He's a lengthy point guard at 6'5", knocks down the three ball, and will give opposing teams  tremendous defense. Pair that with Dejounte Murray and  the team could have one of the scariest defensive backcourts in the league. 
Sacramento Kings: Patrick Williams, Florida State Seminoles
Williams is a similar player to his teammate drafted earlier; he will give you great defense while shooting a high percentage from three. He has the size, athleticism, and strength at 6'8" and 225lbs to guard multiple positions. Williams is young at 19, and his decision-making can be questioned at times, but he is a guy a coach can play immediately and build a future next to De'Aaron Fox.
New Orleans Hornets: Aaron Nesmith, Vanderbilt Commodores
Nesmith is a perfect fit for the Pelicans. He is perhaps the best shooter in the draft, shooting an insane 52% from three last season. Lonzo Ball will be able to get him great shots and he will be the floor spacer and defensive presence the team needs to pair with Zion Williamson. Nesmith could stand to work on his playmaking, but he won't need to with Ball already there. 
Boston Celtics: Kira Lewis Jr, Alabama Crimson Tide
Lewis can do a little bit of everything. He will score well, is exceptional off the dribble, will make plays for his teammates, and play solid defense. Averaging 18.5ppg, 5.2apg, and 4.8rpg, Lewis could easily go higher and be the steal of the draft. In Boston, he can learn well from Kemba Walker and maybe even be his successor one day.
Many of these picks could be interchanged with others. In this draft there may not be many players with superstar potential, outside of the top three, but I see many players with high floors that will be solid starters or all stars in the future.