World mourns death of basketball legend Kobe Bryant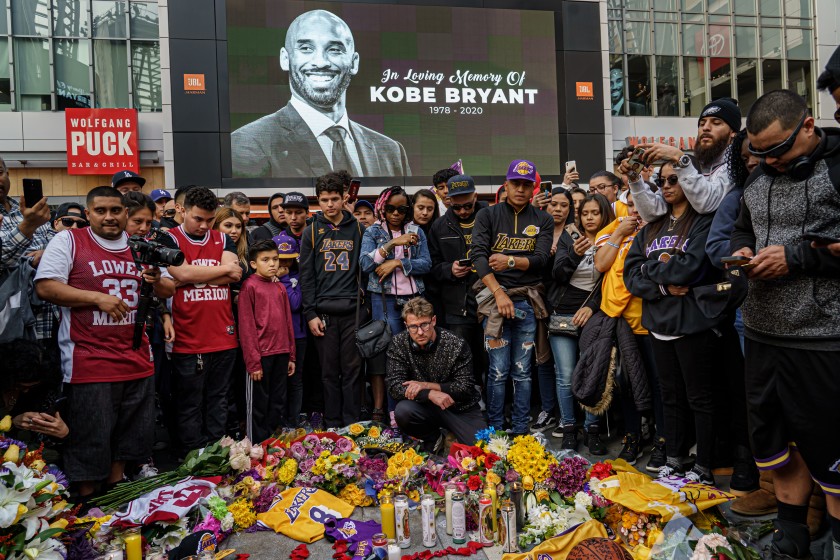 Kobe Bryant was an NBA icon who was prominent in many basketball fans' childhoods. Many students remember yelling "Kobe" as they threw a piece of paper in the trash as a kid. Unfortunately, on Sunday, Jan. 26th, the basketball icon passed away in a horrific helicopter crash along with eight other people.
According to CNN, it started off at 9 a.m. Sunday morning, with the helicopter taking off from John Wayne Airport in Orange County, California. Around 9:21 a.m., the pilot contacted air traffic control requesting clearance to fly through thick fog. The pilot was given clearance around 9:33 a.m. and told to follow the I-5 freeway. The pilot was informed to contact the Van Nuys Tower, which he did, requesting for flight following radar assistance. Air traffic controls alerted the pilot that he was too low, and needed to climb higher for radar assistance. The pilot told air traffic control that he was going to climb higher, but that was the last transmission received from the pilot. At 9:42 a.m., air traffic control attempts to get into contact with the pilot, but there was no response. At 9:45 a.m., the helicopter falls off the radar. And at 9:47 a.m., the Los Angeles Police Department received a call about a helicopter crash near Calabasas, California.
First responders were on the scene within minutes, but it was extremely difficult to reach the crash site due to rugged terrain. Over the course of a few days, nine bodies were recovered and identified. Along with Bryant (41) and his daughter Gianna (13), the bodies of Sarah Chester (45), Peyton Chester (13), John Altobelli (56), Keri Altobelli (46), Alyssa Altobelli (14), Christina Mauser (38), and the pilot, Ara Zobayan (50) were recovered.
This incident stopped the world. People couldn't believe Bryant was gone so soon. "We watched him grow up," said Dave Gilbert, the MHS Varsity boys basketball coach. "When he joined the NBA, he was just 18 years old, but throughout his career, he matured into one of the most iconic players we have seen." Ronnie Savage, a Senior at Milford High School, said, "He was a very influential basketball player, and I watched him a lot growing up."
People everywhere are mourning the loss. The Los Angeles Times reported that there will be a public memorial held at the Staples Center to remember all nine victims of the crash. Reporters also talked to Los Angeles's mayor, Eric Garcetti, who said, "This is not just about a man who was a basketball player, this is about a father, this is about a leader, this is about a filmmaker, this is about an artist, this is about somebody who was so much more than just how he was on the court."
Bryant's legacy was remembered worldwide. In Reiti, Italy, where Kobe grew up, there was a ceremony to retire his and his daughter's jerseys. According to The Washington Post, before the game against Scafati in Italy's second division, a banner was hung reading, "You began to play here, and as an adult you made us dream. Our colors are with you in the sky." Not only that, but his jersey was raised up to the ceiling, while a recording of his lineup introduction was played. It was incredibly emotional for many fans there that day, however, few took this loss harder than fellow basketball legend LeBron James. The night before Bryant died, James overtook him for third on the NBA's all-time scoring list. James responded to the accident on his Instagram account: "My heart goes out to Vanessa and the kids. I promise I'll continue your legacy man."
All in all, this horrible incident affected millions of people all around the world. Kobe Bryant's death was so sudden and so tragic, and it will take time for people to recover from it.