Bowring Leaves his Legacy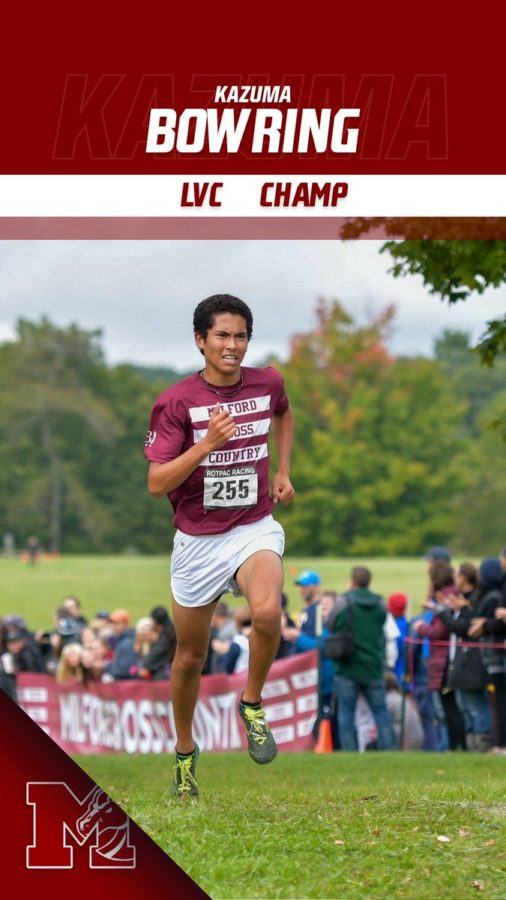 As the years go on, past and present runners continue their journeys to be the best they can be. Milford Cross Country has a history of producing great runners, and Junior Kaz Bowring ranks among them. Each year, a handful of Milford athletes stick out from the rest with their success throughout their season. Very few athletes leave their legacy on their programs, but Bowring is one of them. When it comes to running, it is more than just a hobby for him.
Bowring has been running since sixth grade. During his middle school years, he ran the 3,200 and 1,600 meter events, but started getting into the 800 his freshman year during track.
While in cross country, Bowring was the mile event champ during sixth grade, and in eighth grade the two-mile champ, and as his running career continued, he switched to running a 5k in high school; This longer distance (approximately 3.1 miles) was  tougher than middle school, but he adapted well. As he transitioned into high school, Bowring continued his dedication to the sport.
"I've constantly been within the top three runners for the team since freshman year, which gives me a lot of experience for my senior year," Bowring said. Bowring began running in the sense to create his own path, totally unrelated to what the rest of his family had taken. Bowring's whole family has been based around soccer, like his dad. But he decided he wanted to find something that he would be enjoying while also creating his own legacy in his family. "Ever since then, running has created great friendships and competition for me to stay active in," he said.
Cross Country and Track and Field Coach Brian Salyers has won six state championships, five of those being the boys team, and one of them being the girls team. He has also coached many individual state champions on both the boys and girls side. Salyers was a finalist for the National Coach of the Year award, and has been a seven-time winner of the Michigan Coach of the Year award.
When it comes to Bowring as a runner, Salyers had nothing but positive things to say. "What defines Kaz as a runner is that he is ever-evolving," said Salyers. "Kaz has not come close to his limits as a runner, and is learning every day and that is one of those things that I admire most about him. This year, he challenged himself to work up front in his races, his mental toughness has improved so much this year for him to become so competitive in what he does." He continued, "He's got a good personality, and I mean that.
He's a people person, he likes being a part of the team, standing out, contributing, he likes to enjoy the competition; he's unique that way, and that is why he is so successful." Sal has coached Bowring through three seasons of Cross Country and three seasons of Track and Field, adding up to six seasons spent together. Salyers said that Bowring is a team player. "He takes great pride in wearing the Milford uniform and has a good understanding of where his role is and works hard to deliver in his job," Salyers said. "He is truly growing as a leader. As a junior, a lot of athletes look up to him, and as a senior, he is only setting himself up for success; he will be a valuable leader and captain for the team."
Throughout his season, Bowring faced challenges like any other dedicated athlete.
"I stay motivated by seeing my opponents grow and succeed, which then makes me have the desire to do the same," Bowring said. As a growing athlete, he added, "I've improved over the years with the support from my coaches. Coach Sal, Duke, and Smith have all pushed me to excel in Cross Country and it has shown this year. I still have one more year to show my full potential, and I'm excited to see what my team can do as well." He continued, "Duke has given me confidence and showed me that I have a purpose when it comes to running, he has been my main supporter since freshman year and I'd say I succeeded so much this year because of him.
Not only has Duke impacted me so much, but Mrs. Smith keeps me in shape by helping with workouts and reminding me to drink water daily. She has showed me that I should care for my body to prevent injuries." Junior Shane Siterlet, one of Bowring's fellow teammates said "Kaz is a good leader and a good guy to be around."
As Bowring grows as both a leader and a runner, he has plans to run in his future. With all of his hard work this year, it sure paid off, as he earned All-State Honors during his Cross Country season. As much as Bowring is dedicated to running, during his off-season, students can also catch him on the ice. Not only is Bowring a phenomenal runner, but he is also an outstanding hockey player.
Bowring, a three-year varsity hockey player, has learned to balance the intensity of both running, hockey, and academics. Bowring left with the words, "You can come to all the hockey games, and support me there."