Kennedy sets two pool records at Wayne Memorial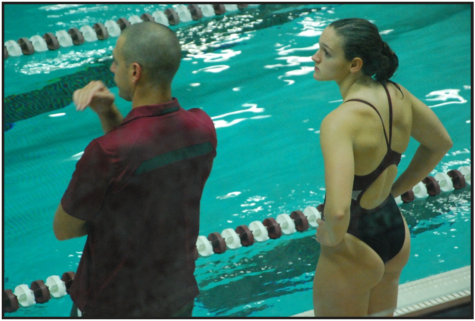 Not all heroes wear capes; some wear goggles, a swim cap, and a Milford High School team suit and parka, ready to sacrifice her aching muscles for the team. Rylie Kennedy, a junior at MHS, broke two pool records at the Wayne Memorial Invitational Meet on Saturday, Sept. 28th: the 50 freestyle, and the 100 backstroke. With hard work and more than 10 years dedicated to the sport, Kennedy pridefully earned another achievement, reminding her that her hours in the pool were worth the time and energy.
Going into the two-day meet, she hadn't expected much; hopeful for improvement and laughter with her teammates, Kennedy just wanted to spend another day doing something that she loves. However, her attitude shifted as soon as she saw the pool records.  "When I saw the record on the board, I knew I was capable of breaking it, but it made me nervous because so was everyone else I was competing with." Despite her anxiety, Kennedy stayed focused on her goals throughout both days of the meet, and put her heart into each race.
After qualifying in the top six spots for both events, Kennedy knew that her team, coach, family, and friends were proud of her already–but she was determined to continue to progress for herself and her fellow swimmers. This is something that Chris Smith, MHS' girls swim coach, found vital to both her success and that of her teammates on Saturday.
Starting her freshman year at MHS, she has wanted to break the 50-free record held at Milford by Rachel Johnson (24.20). Kennedy still pushes for this every day, hopeful for the when it will happen. At Wayne Memorial, she saw that she was getting closer, and felt it was a sign that she could do it. "When I saw I broke the 50-free record, I immediately felt relief," she said. "Seeing as how I'm now that much closer to my own goal, but had also beaten a 14-year record previously held by one of my idols, has restored confidence in myself."
The idol that Kennedy refers to, Alison Schmitt, an eight-time Olympic medalist, held the time Kennedy beat while Schmitt was in high school (24.88). Kennedy finished with a 24.79, adding her name to the board of many other elite high school athletes.
As Smith explained, Kennedy's victory was not just her own–it was one for the team. After the girls celebrated, cheered, and congratulated her, spirits rose to an all-time high; it appeared that the win "lit a flame beneath others for their own races," and fueled them all to outswim their competitors too. The widespread thrill from her 50-free added a significant amount of passion and joy for the group, sport, and fierce competition they faced.
In addition to relief from the 50, she beamed with pride and gratitude toward her team later after beating the previous 100 backstroke time (1:02.57). "It would have been awesome to just come close to that time, but hearing from my teammates and seeing their faces when they told me I broke it, it's just something I'll never forget," she said. Kennedy's record time was an impressive 1:01.73, placing her on top for the second time that afternoon.
The MHS Lady Mavs took home a second-place trophy, missing the top spot by a mere four points–something that pleased the girls, but also added a thirst for improvement among all. More MHS athletes placed in top six than prior years, ensuring more points accumulated from relay and individual events alike for the overall score of 304 to 308 points. Every swimmer contributed to the resilient spirit and point value that ultimately determined the final result. With an expected outcome of a wider point gap, the team felt ready to take on other opponents, and ready to bring home the gold medal next time.
At the end of the day, Kennedy was pleased with her results, as were her teammates, but is ready for what future meets will bring for herself and the other MHS swimmers. "Moving forward, I hope that I can achieve the goals I have set for myself, but also help my teammates achieve theirs in any way I can," she said. "Because without their support and belief in me, I couldn't have achieved what I did on Saturday."