Girls Swim and Dive team plunges into the new season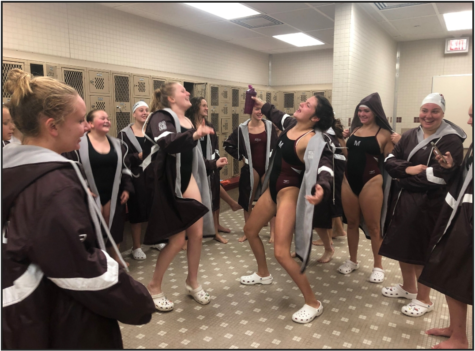 With back-to-school shopping and last-minute summer homework comes the start of a new school year, and the arrival of another season of Milford High School girls swim and dive. Like past years, the family-like bonds of the members of the team have flourished as the team welcomed back experienced Lady Mavs, as well as the addition of incoming freshmen.
Some returning members have committed over a decade to the sport, drawn in by both its challenges and the friendships it builds; most of the girls even said that their teammates have become some of their best friends.
"We're more than a team. We're like a huge family," Cassidy Pakkala, a junior, said. "We're always there for one another." Agreeing with her, Sophomore, Gracie Smetana said, "In and out of the pool, we are one huge family. We always have each other's backs and want the best for everyone."
Others bring excited nervousness with them to practice, as they have little knowledge of the sport. In both circumstances, the team is thrilled to welcome motivated, passionate people to the group.
Though the girls spend a lot of long hours on deck, others mentioned greater gain with one another during other team-bonding experiences away from the chlorine. Claire Adams, a junior who swims and dives for the team, mentions annual team sleepovers as her favorite memories, in addition to Camp Ohiyesa, a multi-day annual retreat for the team.
Others mentioned smaller memories that they cherish, ranging from early-morning practices and getting ready together with laughter and blasting music, pre-meet fire-up parties, and team breakfasts, all contributing to the light-hearted, warm atmosphere among teammates.
Despite the strength the team carries through its tight relationships and defensive nature of one another, the girls' welcomed a new member of their family this August. Hopeful to rejuvenate the team's spirit, morals, and times, Coach Chris Smith took the lead in pursuing a new public opinion of the MHS' Swim and Dive team.
As a coach with 11 years of experience locally and a member of the MHS community for eight years, Smith is driven by his own passion for the sport, as well as the ethics he enriches his teams with. One of his values falls closely in-line with those of past MHS girls swimmers: family.
In addition to encouraging a close-knit environment, Smith discussed his other coaching priorities. "I also believe that preparation and determination go a long way in this sport–setting goals and maintaining a will to win are musts."
With a healthy mix of fun and competition in mind, Smith is optimistic for a new attitude in the MHS Girls Swim and Dive program, adding, "With a new coach/program, there are always growing pains. I hope to bring the team together and start a new era of success at MHS."
With change comes a rekindling of the team's love for the sport, as well as new goals and hopes. Maddy Lankford, a senior and captain of the team, believes this is a positive change.
"We are stronger, happier, and just more excited to swim," she said. Many of her teammates agreed, adding that the atmosphere had evolved completely. Difficult sets of interval training, sprint sets, and distance races have pushed each of them further, inspiring them to do better.
The new leadership has brought a new mindset for each athlete, driving them to connect with one another on a deeper level and to compete and to suffer through challenges together, such as lengthy "Iron Man" sets used to enforce good technique during races.
For this type of training, swimmers begin in lane two on the starting block, where each dives in and swims the first length of the pool. On each end, the girls get out and perform some type of dryland training: pushups, crunches, leg lifts, etc. for a specific number of repetitions.
After, they swim back down the other direction in lane three, and the process continues as they weave back and forth down every lane, getting in and out for addition out-of-water exercises.
Once a swimmer has reached the end of lane eight, she dives down to the bottom of the 14-foot diving well, grabs a 10-pound brick, comes up, and drops it again.
A single "iron man" is exhausting enough; imagine doing five of them for each disqualification in a meet! Overall, the swimmers learned to rethink how they view the sport, their attitudes toward one another and themselves, and rise with a new purpose on the MHS Swim and Dive team.
The girls have a lot to prepare for in the coming weeks: dual meets, multi-team competitions, and eventually conference and state meets. One day, practice, and even stroke at a time, all of them work to improve themselves in order to boost the team as a whole.
While dual and multi-team meets demonstrate gradual achievements gained from long, exhausting practices and few hours of sleep, all are excited for what the two larger meets will bring in November.
Before these, however, comes something far more dreaded: Peak Week. It's brutal reputation spreads not only among the teammates, but within MHS' hallways too.
Peak Week, a week-long, rigorous schedule of morning and evening practices, multiple meets in the evenings, and harsh challenges pushes the athletes to their "peak" condition. In past years, this week alone has offered the girls approximately 30 hours of training in and out of the pool.
From the perspective of returning swimmers, the hardest part was usually mental; everyone involved tries to stay positive and work hard to accomplish their goals, while also working to represent a successful member of the Milford community as a student juggling many responsibilities. However, none of them know exactly what is in store for this year, or how this week will differ from past years–all they know is that Peak Week will live on in some way under Smith's leadership.
Having a new coach hasn't erased every hardship by any means, but it's a good start. Lankford captures this, saying, "Swim to me is a love/hate relationship, as there are days when the last thing I want to do is get in the pool for 2.5 hours, but I still do and it is worth it. I do it because I love the sport, it can be really fun at times, and usually the good outweighs the bad."