Milford Football looking to build a strong future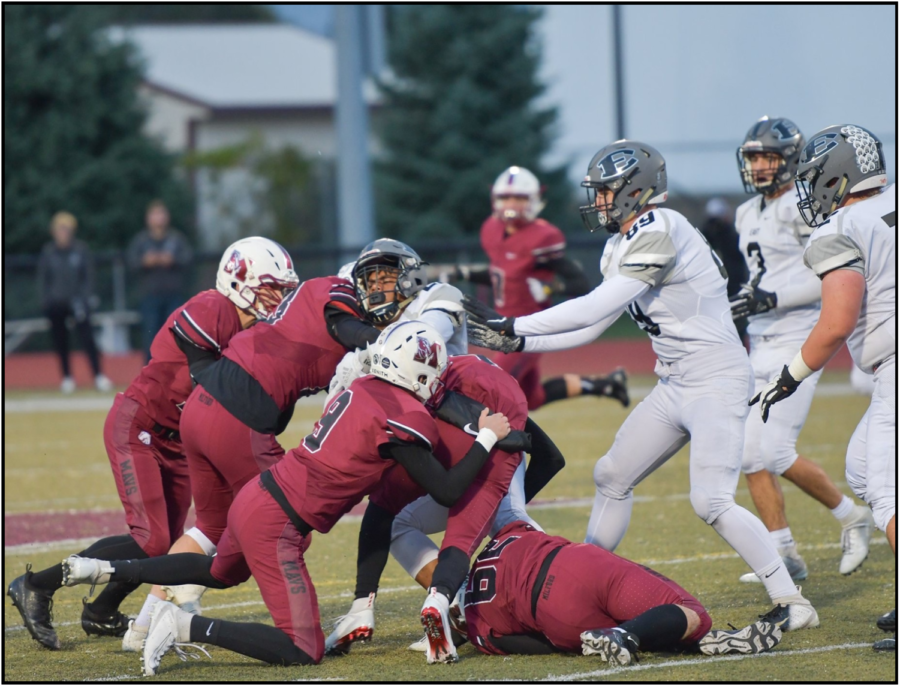 The past years for the Mavericks Football players have been difficult.
The boys have worked hard, but have not reached their goals when it comes to wins and losses. Finishing the season with their heads held high.
This year, they hoped for a much better atmosphere and success than in previous years. Walking into the first day of their 2019-2020 season, The Milford Mavericks varsity football team had two specific words that they started off their season with, and are going to finish it with: "Mount Up." Though not always getting the outcome the boys want, they were sure to fight till the end on September 6th, against Walled Lake Central, winning with a score of 46-21. While this is currently the team's only win, they have seen improvement in both games and practice.
Football players had few days off this summer leading into their season. "We practiced every day of the week, and every day after school now, Sophomore Trey Hayes said "We practice about two to three hours with STS Monday, Tuesday, and Wednesday."
STS is a training program that Milford sports recently became heavily involved in, making our athletes stronger every day.
For some athletes, football has been a big part of their lives and their family.
Junior Alex Hiipakka is in his eighth year of playing football. "The biggest influence of my football career is my dad," he said. " He has been my coach every year I have played; he's taught me how to be a better player and how to encourage my teammates in the correct way. He has helped develop me into the player that I am today."
With inspiration from his dad, he entered his junior season with an open mind, ready for the task at hand.
Coach Garfrey Smith is in his 10th season of coaching high school football, and his second season as Head Coach of the Mavericks alongside fellow coaches Dewayne Jackson, Robert Karagosian, Travis Knapp, Matthew Wasnich, Andrew Micovich, Scott Hiipakka, Richard Traynor, Jake Wittlich, and Chip Mobley.  All these coaches were determined to improve the team they have at hand.
Senior captain Nick Oslin said, "As a team, our main goal is to obviously win, but we made it a point to be more competitive this year in everything we do and I feel like we've done a pretty good job of that."
As a team, another big idea for the Mavericks was the team building throughout the season to build a foundation for the program. From dinners to scrimmages, the boys have spent countless hours together on and off the field and have built a family-like never before.
"The family culture is better than ever before. In the past season, it didn't feel even close to a family,"  Hayes said.
Though the Mavericks may not always come through with the win.
The support they have from their student section is unreal, and motivates the boys to keep their heads up with the positive vibes and family atmosphere.
As the seniors wrap up the season, and watch the Friday night lights fade away,  Senior Nick Oslin left with the words, "Milford can continue to improve throughout the years by learning to be competitive and wanting to win all the time. What sets us apart this year from others is we have become more competitive with each other in games and have begun to surprise teams and play harder."
With the strong future at hand, the Mavericks plan to continue their stride forward, as they have come so far already; there is no turning back with their love for the sport.