College Football playoff predictions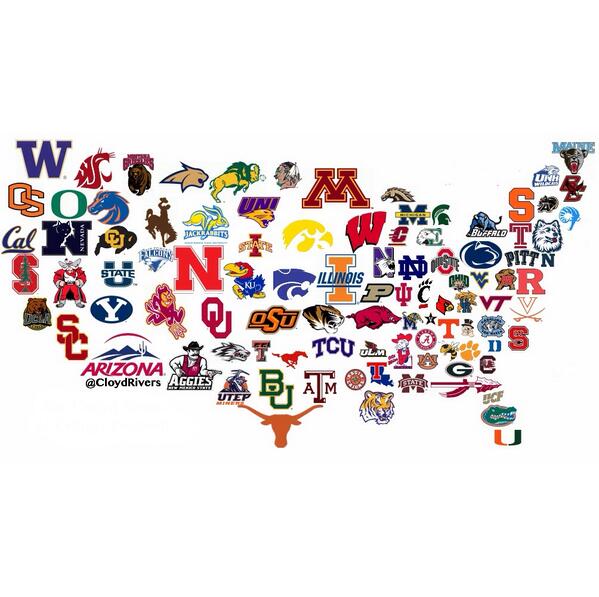 Since the beginning of the College Football Playoffs in 2014, the top four teams in the nation have battled it out to be National Champions. The first College Football Playoff champion was Ohio State University in 2014, and every year since, there has been a heated debate on which teams should be able to play for the championship.
In 2015 Alabama beat Clemson to win the championship, in 2016 Clemson got their revenge and won on a last second touchdown, and in 2017 Alabama came back to beat the Georgia Bulldogs and win their second championship. But this year the playoffs look more heated and  more competitive than ever.
Starting the season Alabama -as usual- was projected as the top team in the nation, followed by the Clemson Tigers, then last year's runner up Georgia and in the fourth spot the  Wisconsin Badgers.
After 11 crazy weeks of football the standings have shaken up and the hopes of teams and their fans have been crushed, while unexpected teams have jumped into possible contention, At this point the playoffs remain a total guess with the regular season winding down and rivalry games starting soon.
The original top 25 has shaken up quite a bit and some teams have fallen off while others have surfaced as a top contender. The original top five,  where they are, and predictions for the college Playoffs.
Every spot is still up for grabs, and teams are looking to capitalize and grab their chance at the Championship.
1.) Alabama
The obvious favorite to enter the playoffs is Nick Saban and his dominant Alabama team led by Heisman favorite Tua Tagovailoa. Alabama has destroyed all of their competition in typical Alabama fashion with their closest game being a 39-10 win over Missouri. The most Alabama has faced was LSU and Alabama easily took care of them. As good as LSU is there isn't much in the world able to stop the Tide.
Auburn had one of the craziest endings in sports history with 2013's  Iron Bowl kick six, anything is possible in a rivalry game, but with a struggling Auburn team and poor coaching, Auburn has a poor matchup against Alabama and the Crimson Tide.
Alabama's biggest competition comes in the SEC championship against the Georgia Bulldogs. Even if Alabama loses in the championship they're still getting in, but Alabama will win and move on with a number one spot to the playoffs.
2.) Clemson
The very consistent Tigers, lead by Dabo Swinney, have had three  straight playoff appearances with two going to the championship game and the 2016 appearance ending in a national championship.
Coming into the season the battle for starting quarterback was between Senior Kelly Bryant, who led them to the playoffs last year, and 5 star recruit true freshman Trevor Lawrence. After Lawrence was named starter in week five, Bryant announced he was transferring.
Without a key component Clemson struggled but pulled through and beat Syracuse. Clemson has since improved continuing to boast an undefeated record  and lead the ACC. Clemson took care of the Golden Eagles 27-7 Clemson. Clemson's biggest opponent is rival South Carolina. Rival games are tough and with an inexperienced quarterback in Trevor Lawrence,  and a tough opponent in the Gamecocks. Clemson is a winning team that knows how to play the game of football. Clemson  beat the Gamecocks and is moving on to face PITT in the ACC title game, but Clemson is a guaranteed lock at the number two seed.
3.) Notre Dame
Notre Dame started the season strong with a convincing win against then rank 14 Michigan. Notre Dame continued to dominate through the season climbing the ranks. Another statement win came in week five against former number 7 Stanford, the Fighting Irish took care of the Cardinals in a 38-17 win. Notre Dame early on in the season struggled at the quarterback position under Brandon Wimbush, who threw for only one touchdown and four interceptions in three weeks. Ian Book has since stepped up and made Notre Dame one of the most efficient offenses in college football, along with their stellar defense Notre Dame has moved to a number three spot and few doubt the fact that Notre Dame is a good football team and deserves the number three spot in the playoffs. An undefeated season is hard to argue with and Notre Dame is locked for the playoffs.
4.) Oklahoma
Many people doubted the Sooners without Heisman Winner Baker Mayfield under center, but Kyler Murray has carried the Sooners to the number five spot and another Big 12 conference championship. With 37 touchdowns in Murrays name, the capability of the Sooners can't be underestimated, with their only loss being to Texas. Oklahoma has been to the playoffs before and knows how to win games. Oklahoma's biggest competition is a very good Texas team in the BIG12 championship, led by quarterback Sam Ehlinger, but a very beatable team who also has two loss. Oklahoma's best chance of getting in is a Georgia loss to Alabama in the SEC championship, which would move them to a number four spot, and any of the other teams losing any of their games. Oklahoma is a good team  and will end up in the playoffs at number four.
Sleeper– Ohio State
Ohio State has a surprising loss to Purdue earlier in the season. But a monumental win over the number  one defense of  Michigan. With a 62-39 win. Ohio  State has proved that even with  some low scoring games and a struggling defense, they can still win  football games and play at an elite  level. Ohio State is currently number six, and with a prediction of a Georgia loss, number five Oklahoma would move up. But Oklahoma is playing a team they have  lost to before  and Texas is out for blood. Oklahoma could very easily lose to the same Texas team and allow for Ohio State to slide back into the playoff picture. Ohio State is the only Big  Ten team with a playoff  hopes.  Ohio State is led by a very good Dwayne  Haskins and the Buckeyes have a very good chance of getting in.
Playoffs are hard to predict with so many moving parts and so much secrecy in the Playoff Committee. But Alabama Clemson and Notre  Dame are a sure lock for the playoffs with the only wiggle room being the number four spot, but Oklahoma will slide in and battle for the championship.
Alabama and Oklahoma will face off and Oklahoma will win. Big 12 doesn't play defense but Oklahoma's high powered offense will overtake the Crimson Tide and move on.
Clemson and Notre Dame will be the closest matchup in the playoffs but Clemson is a better overall team and will beat the Fighting Irish and play Oklahoma.
Oklahoma and Clemson is a matchup few predicted, Oklahoma's high powered offense led by Kyler Murray is very hard to stop and Oklahoma will beat Clemson and win their first College Football Playoff championship.