Boarder cross team looks to become 'King of the Hill'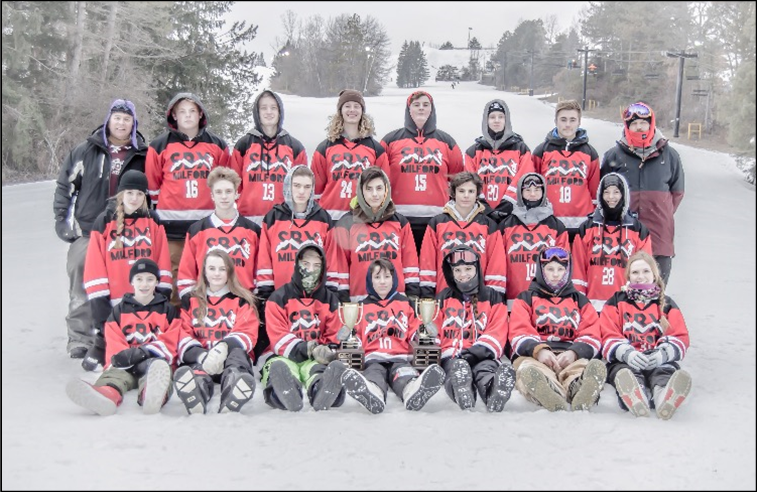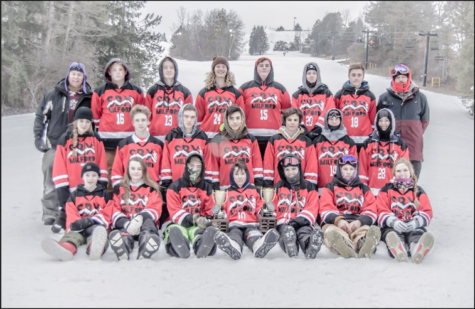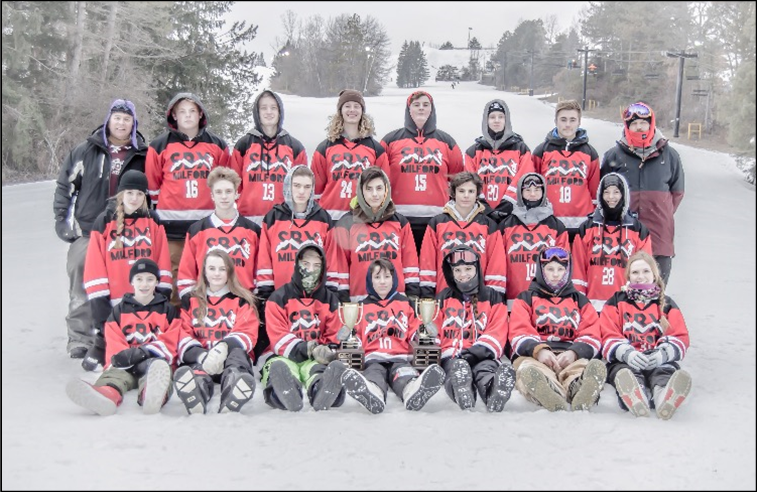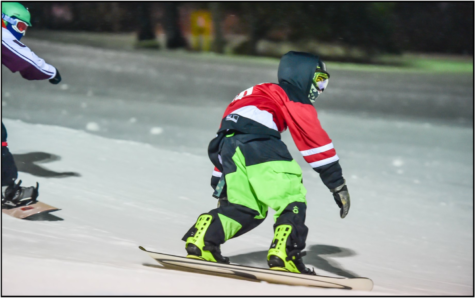 As snow starts to fall and the temperature begins to drop, many students prepare to take a break from sports and stay inside for the winter. But the Milford Boarder Cross team checks into the weather and starts to wax their boards on the first sight of snow to get ready for their season to start! Milford's team had a very successful season last year on both sides, with both the boys and girls teams winning King of the Hill.
King of the Hill is a knockout -style race in which the slower racers in each heat get knocked out and the higher placing racers get to move on. The boys team placed third in the state, and Evan Hughes a Milford junior securing the State Champion title. It wouldn't be too far-off to say Milford dominated the hill all last season.
This 2018-2019 season will be a big one for Milford as many seniors who were key members for other teams have left.
"Looking back last season I didn't win a lot of league races," recalls Evan Hughes, "I got second a lot because of one senior that was really good." Now this year Evan Hughes has her mind set on achieving the same goal. "I'm looking to accomplish winning states again hopefully I can make that happen."
However, for Harper Overall, she's looking for redemption at her previous shot at states. "Hopefully (this year) I will go farther in the rounds because I fell for the first round of states"
Winning races at home is no easy task, due to Alpine Valley's frequent poor conditions. "Every single race I've been in the conditions have been pretty icy. And that always makes it harder. It's terrible at Alpine," Harper comments, "When we go to Brighton and stuff (the hill is) a lot smoother." This poses a challenge every race for Milford having to race at Alpine weekly.
"Sometimes it gets icy, like, really icy," adds Evan Hughes, "And then you get a lot more anxiety because you know you can fall.".
Despite all the stress and poor conditions the hill presents, the team still comes together to enjoy the race. "My favorite part (about racing) is hanging out with everyone and eating a lot of pizza," Evan shares. Harper's sure about her favorite part of racing. "My favorite part about racing would be racing with Evan Hughes, she's my best friend, that's why I came (to Milford)".
In previous years Kyle Seabert has led the boys team to many victories. The impact he had on the team greatly influenced their performance and presence at the hill.
This year the absence of Seabert and Hughes' brother Weston, will be a tough spot to fill. But Milford has many racers that are ready to step up and fill those positions. Both teams have their first league race on January 8th . Qualifiers on February 5th. A crossover race on February 12th . And the state meet on February 16th.