Seniors step up and earn win on Senior Night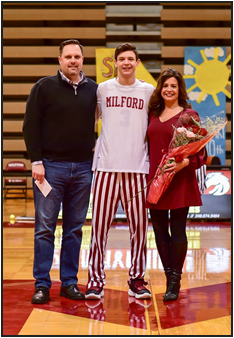 Senior Night is a special tradition throughout high school and college athletics. It is a night in which senior athletes who put in hours of laborious work throughout their entire career for their school are recognized for their achievements.
It's a night that these athletes remember for the rest of their lives.
For five Milford High School students, Guards Aiden Warzecha, J.T. Sarafa, and Bailey Hess, along with Forwards Joey Tyrell and Kyle Soderberg, Tuesday, Feb. 13 was their night to be honored for their longtime dedication to the program.
Four of these five athletes have been a part of this program for the past four years. They've been on the court for hours and hours of practice and in the weight room getting stronger day in and day out, grinding for four seasons in order to get to their senior season and lead the team to success.
Such success is very attainable for them to reach this season, as the Mavs currently have a 13-4 record and an 11-3 record in Lakes Valley Conference play.
The festivities of Senior Night, which featured each player walking out to be recognized with their family, seem to have made them hungrier to accomplish what they've been striving for this entire season — championships.
Coming into this season, the team had big goals. "Our goal is to win a championship, whether that's a district championship or a conference championship," said Warzecha before the start of the season.
After Senior Night, it seems the team hasn't lost sight of the big picture. "We know our goals and we know we're a team that is capable of a championship, so that's what we want to go get," Soderberg proclaimed.
Soderberg has been at Milford since his junior year, and is in his first season playing for the Mavs. However, he appreciated being honored for all the hard work he's put in during these last two years with the team.
"It felt great and I'm honored to be part of such a great program," he said.
The belief that this is a great program is shared among the athletes, and a belief that can be traced to great leadership in the form of Head Coach Dave Gilbert.
Gilbert said he was filled with gratitude for the work ethic and dedication of this group of players.
"It's a unique group that has contributed on many different levels. Individually, they have all left a significant impact in their own way," he said. "They have raised the bar on the floor while keeping the Milford Basketball pillars at the forefront."
All five seniors started the game on the court in a truly heartfelt moment. It was a simple gesture by Gilbert to show his appreciation for each player, no matter if they are the star of the team or a valuable member of the bench.
"I was really happy at the start when all the seniors got put in and got recognized," said Sarafa.
In the end, on top of being honored for their past, Milford got a big win by beating Utica Eisenhower, 57-46, and getting back to their winning ways with the end of the regular season on the horizon and Districts right around the corner.
Despite the success of Senior Night and the rest of the season prior to it, nobody knows what the future may hold. But chances are that these seniors will be at the forefront of whatever that may be.
Hopefully there will be lots of joy and success, preferably, in the form of championships.