Michigan looks to build on its success; MSU hoping to rebound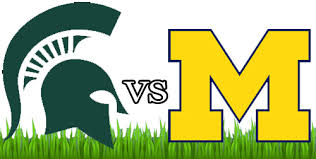 Hang on for a minute...we're trying to find some more stories you might like.
It's finally football season and local college team have started playing with hopes and dreams of a successful season. Some teams are trying to build on the success they've had in 2016, while others are looking to prove doubters wrong. In Michigan, many fans will be rooting for the Wolverines to take the next step towards a national title under former NFL coach and player Jim Harbaugh in his third year with the team. Harbaugh led the team to a 10-3 record last year, but that included losing three of the last four and aa heartbreaker to Florida State in the Orange Bowl.
As for other Michiganders, they will look for the Spartans to recover from their disastrous season where  they went 3-9 with no bowl game at all. The Spartans will look to bounce back and regain their form of 2014 and 2015 seasons, when they were ranked no. 4 and no. 6 respectively in the final polls those seasons. Within that time period, they made trips to the Rose bowl and the Cotton bowl, winning both. Head coach Mark Dantonio has been with the Spartans the last 10 years and has been tremendous prior to last season. "How you handle turmoil will define you," Dantonio told the Detroit Free Press. The Spartans will have a chip on their shoulder for this upcoming season.
As the season gets rolling, a lot of fans think Michigan is better than Michigan State, but some think the Spartans might surprise some people and be a sneaky underdog. Michigan State fan Alex Allen thinks they are both good. "Michigan has a very hardworking and fast defense. I don't really see them losing unless it's to an elite team. MSU on the other hand, has a lot of new players that can play very fast and aggressive, but they're not going to have as good of a year as Michigan," Allen said.
Michigan fan Brent Anderson thinks Michigan's start to the season was alright, but unspectacular. "Michigan has a stellar defense all around. They have two good quarterbacks, but this early in the season their quarterback needs to pick up some slack and stop overthrowing their receivers," Anderson said. So far Michigan is 4-0, but has been a little sloppy so far this season with Quarterback Wilton Speight overthrowing a lot of wide open receivers and their may be a quarterback controversy with QB Brandon Peters looking over Speightś shoulder.
Nationally, Michigan's defense is ranked number 5 and getting better as the season continues, and MSU is ranked near the top 40 this year. Harbaugh is really happy with his defense thus far. "Of course, it wasn't perfect. But the Wolverines showed resilience and our defense was amazing," Harbaugh said in a statement made to the Detroit Free Press.
In 2015, MSU pulled off an amazing blocked punt in the final seconds to win a game against Michigan, but last year Michigan gained revenge with an easy win beating them 32-23 while most of MSU points came during garbage time. It will be interesting to see who comes out on top this year, but Michigan fan Natalie Deland thinks the Wolverines are the best team in Michigan by far. "They're obviously the best and they have an awesome fight song," Deland said.
But Michigan State fan Brian Gorny thinks the team is looking to improve this season, especially on the offensive side of the ball. "They have more experience this year and a better quarterback," Gorny said. With 3rd year QB Speight looking to continue is progress in the league and backup QB Peters who is a freshman trying to get some experience at the college football level.
It seems the Wolverines are the team to beat in Michigan. They have a dominating defense that is looking to do some damage against some of the top teams in the country. They will look to grow on their success from last season and many fans will be rooting for the Wolverines to take the next step towards a national title for the first time since 1997.
The Wolverines will face off against the Spartans on Saturday, Oct. 7th.