Living the double life
Cross Country star Heiligenthal shines on the course and in the classroom
Hang on for a minute...we're trying to find some more stories you might like.
Every student knows the challenge of keeping grades up; it seems like the homework is nonstop and often studying is impossible. And for dedicated athletes, keeping up with classes while maintaining a rigorous sports schedule can cause major conflicts. 
One of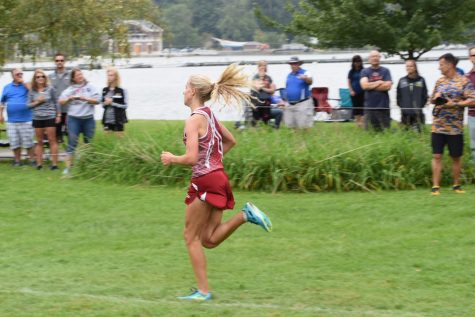 those athletes is Victoria Heiligenthal, a sophomore at Milford High School. Not only is she a phenomenal student, but she doubles as an all-star athlete on the cross country and track teams.
"Running takes a lot of mental and physical strength," Heiligenthal states, "but you just have to push through it because it's always worth it."
Summer for most people is all about enjoying the sunshine and relaxing. For Heiligenthal, summer is a time for training. During the past summer, Heiligenthal ran an approximate 400 miles in her supposed "free time."  She has also had cross country practice and workouts, which would sometimes occur twice a day, once in the morning and then again later in the afternoon.
Although all of this running sounds time consuming, Heiligenthal doesn't mind because her friends are right there running beside her.
"Having her as a teammate and a friend is really fun," said Abby Knapp, best friend of Heiligenthal. "You get to see her serious side and her fun side."
Running is no doubt something Heiligenthal is good at, but she stays humble through all of her success. Back in the summer of 2015, Heiligenthal went to Nationals for track and won the 3,000 meter run and placed second in the 1,500 for her age division.
"She knows she's really good, but she never brags about it" said Paige Saiz, a good friend of Heiligenthal.
Knapp couldn't agree more as she spoke of Heiligenthal having  "a different sense of confidence in the way she doesn't let it change who she is to impress others."
Not only is Heiligenthal an amazing athlete, she's also an outstanding student. "Her dedication to success in both academics and athletics is demonstrative of her excellent character," said Heiligenthal's current Honors English teacher, Mr. McLeod.
Former Spanish teacher and current cross country coach Mrs.Smith has many of the same thoughts.
"She has very strong work ethics and is very focused in class," Smith said, "But she's not too serious; she's still happy and smiley. She's not stressed or anxious."
Heiligenthal is known for her laid-back approach to her  busy life and people take note of that.
"She has the same work ethic, very structured and competitive, but she also knows how to have fun," said Smith, "and that fun between academics and athletics keeps the balance."
Although Heiligenthal has a full plate, she always remembers she's still a teenager and tries to enjoy life as much as she can. "She doesn't make it her life because she's so much more than a runner," said Knapp.