Cross Country wins inside and outside the classroom
Milford's girls cross country team achieved amazing success on the courses this year, ultimately with the girls bringing home the State Championship and the boys finishing fifth. But along with the athletic success,  there were 6 runners, boys and girls, that earned All-State Academics. To earn this award, runners must have over a 3.8 and finish in the top half of the race at the state meet. The team's overall GPA was also 8th on the girls side and 12th on the guys side. 
The six runners who earned the All-State academics were: Jack Aman, Mallory Barrett, Evan White, Natalie Black, Rachel O'Rourke and Victoria Heiligenthal.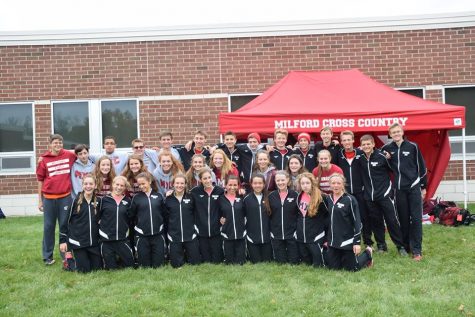 Brian Salyers, the long time coach of both the girls and boys teams, was thrilled that his runners achieved recognition in academics, being that he is a teacher at Milford High School.
"We're here to be students first, being an athlete is an extra activity that will not pay the bills when you are older," said Salyers.
Salyers was strict with both teams and made it a priority that school came first and that students kept up their GPAs.
"It's a point of pride," he said. "I make it a goal at the beginning of the year to stay above a certain GPA."

He has coached for many years and his teams have all been very different. Every year, the GPA that he wants everyone to stay above changes; he knows that all kids are different and he respects that. Salyers sets a reasonable goal for the kids and encourages them to succeed in and out of the classroom.
This is not the first year that Coach Salyers has had a highly-performing team.
"A couple of years ago we had a lot of smart kids, but the lower half of the kids leveled them out. This year we have smart kids and a very smart middle group of kids who work very hard in school too."
Overall, both teams were extremely successful for being in such a big conference with many schools that have double the students than Milford. Even with the difference in size, they pulled through and the Cross Country Program brought home a State Championship.
The most important thing though is that those kids that you see running around the high school every day in every type of weather are also focused during the day in the classroom and they were recognized for doing so.