Ski team is hopeful for the upcoming season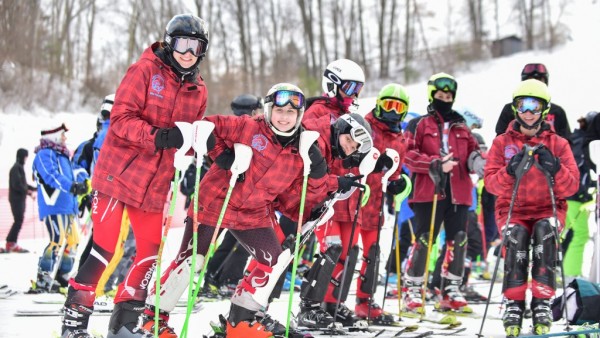 Hang on for a minute...we're trying to find some more stories you might like.
For some, athletics are a way to stay fit and have some fun with friends.  For Milford skiers, their sport is so much more.
"This ski team is more than just a team," said Morgan Watts, a junior and team captain. "We cry together, we sweat together, we laugh together, we fall together, then we rise together."
Coming back from placing fifth at States last year, the girls ski team has high expectations. Watts is excited for the season to come. As a new captain, she has individual and team goals set for the season.
"I want us to live up to how successful we were last year," Watts stated. Last year's finish was the best in team history. Watts hopes to motivate her team alongside her co-captain, Senior Jordan Misaros.
The girls ski-team meets year round and continually has workouts and team-bonding exercises at different team members' homes. They prepare primarily during November for the start of the season.
"I'm most excited to be captain this year because now it is in my hands to motivate our team and bring us to States," Watts smiled, "but I know that this group is talented, on and off the hill."
Coach Marty Neighbors is also ready for the new season, alongside his Assistant Coach Scott Hoose. The coaches coach the boys and girls team together, making the ski program stronger.
This year, both teams are moving to Division 2 due to Milford's drop in student population. Three-year varsity junior Nolan Bailey is conflicted about the new change.
"We have had a rough past couple of years," Bailey said, "but I think this could be just what we need to get where we want to be."
Last year, the boys team did not qualify for states, but this year they are determined to get there. Alex Staman, senior captain, hopes to take them there, with a co-captain who is not determined yet.
The boys team also added new member Blake Kerwin, a freshman, who will be important to the team.
"I really believe that this could be the year for us," Bailey stated. "This group really deserves it."
With high hopes, both teams will kick off the season at their home hill, Alpine Valley, on Jan. 10, 2017. They will face Novi, Marian, and Brother Rice in a quad meet. Come and support your Mavs this winter season; we hope to see you at Alpine!