Mavs football adds new defensive coach
Derek Horne, Staff Writer
The Milford Mavericks name Mike Shada as new defensive line coach for the 2016 season. Shada was officially named as the defensive line coach in early July during summer workouts and two-a-day practices.
Shada works on a variety of defensive line drills at practice, such as pass rush drills and ball movement drills to minimize the amount of encroachment penalties this year.
Shada spent the past couple years coaching at Gabriel Richard as a Defensive Coordinator, leading their team to their first ever postseason victory before falling to Detroit Loyola in the second round.
"Shadda brings a whole new level of enthusiasm to the game!", said senior defensive end Nick Beether.
Along with enthusiasm, Shada also brings a lot of experience to the Mavs. He has coached for more than 30 years and being around football as child following his father, legendary Catholic league coach John Shada, he lived a football-infused childhood.
Shada has many goals and aspirations for the Mavs this season that he hopes he can contribute to with his many years of experience.
"My first goal of the season was to do better than we did last year," Shada Said. Having already blew by that goal, my next goal is to win most of our conference games and win at least 5 games. If we're able to do that then of course I want us to make it to the playoffs and take it one step at a time once at that point."
Shada credits his success and the man he is today all to his father. "My father John Shada was the best Catholic league coach back when I was a kid! He was comparable to Brother Rice's Hall of Fame Coach Al Fracassa! My father's death came at such a surprise and at such a young age of 53 that it really hit me hard and made me realize what a great man he was and inspired me to try and be as great a coach and man as he was."
After only being here a few months the kids have already bought into coach Shada's leadership and advice and love who he is as a man and Coach.
"Shada is always positive and firing us up and helping us out on and off the field!" said Senior defensive end Seth Seeley.
Shada and his Mavs look to shock the KLAA and make it to the playoffs for the first time in 6 years to restore football back to this great Maverick community. The m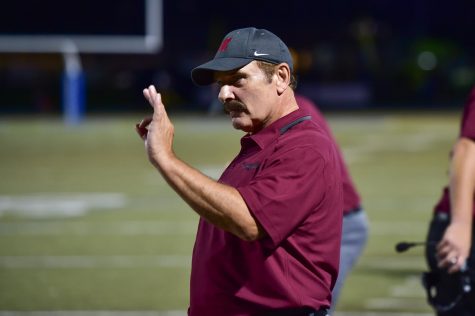 avs next game will be against a very tough top ranked Brighton.
Jerry Rea Photography