Milford pom team dances its way into the season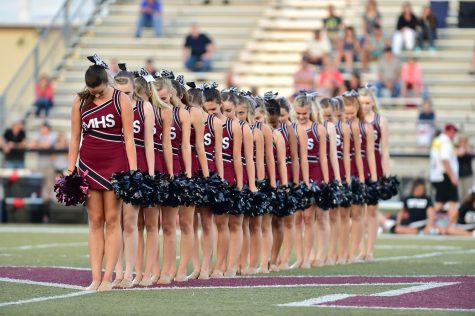 Under the bright beaming lights on the home field of Milford High School, everyone watches the Milford pom team perform their complex routine during half time. What you do not see is the amount of time and work the girls put into their practice to make every performance the best it can be for everyone to watch.
Although the season started this 2016-2017 school year, the pom squad was hand selected last June. Tryouts lasted three hours and consisted of a stretching, a special talent session, and finally a routine performance at the end.
"The judges and I always look for girls with personality and technique while they perform during tryouts," said Coach Ashley McDonald.
Throughout the summer, there were no camps or scheduled practices, which has been the case in past years, but the team did get together for five hours one day out to choreograph and learn two dances.
Afterwards for team bonding, Mackenzie Belanger, the team captain and senior, hosted a pool party. "Although some girls couldn't make it to the pool party, we still had a blast!" said senior Elexa Cary.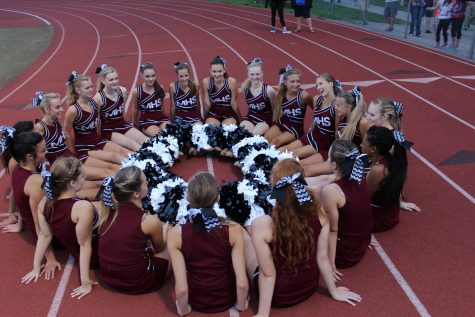 Now that the school year has begun, practices are scheduled twice a week: Mondays and Thursdays from 2-4. During practices on Monday, the coaches and Belanger demonstrate and count the tempo for the routine to the girls, and for the rest of the time, the girls work hard to memorize and perfect the performance. If the girls know the routine perfectly by Thursday, then they are assigned a second performance to learn and practice for the next week.
Before every game, the girls circle up and discuss what they are going to work on to make the performance better than the last, and what they are going to remember each time they strut off the field. After their half time performance, the girls run back into the stands to cheer for the football team. Some girls change into clothes they brought to match the football game clothing theme.
Going into the rest of the season, the girls are thrilled to keep working together and producing amazing routines for the Milford crowd to watch. Within this week, the girls plan to have a pom sleepover at Mackenzie's house.
"The weekend of the sleepover is the night we all look forward to," said Belanger. In the future, the Pom team plans to keep things the same as they have been in the past regarding tryouts and summer activities, and are thrilled to perform under the lights every Friday night.