Henry Continues prolific career at Alma College
Will Quane, Staff Writer
May 22, 2019
Do you have a competitive edge? Do you fight for every chance you get and do everything in your power to win? Well, that is the case for Milford senior Chris Henry, stating "I've always wanted to continue playing I'm pretty competitive, I love soccer, and staying in shape is made easy by continuing to play. To be able to continually play competitive soccer after high school is a dream."
Henry, who was a part of the men's soccer program at Milford for the past three years, has accepted an offer to play Division III soccer at Alma College,a liberal arts college located between Michigan State and Central Michigan along I-75. Alma specializes in business, health professions, education and biomedical and biological sciences. For Henry, Alma enticed him due to multiple factors.
"As a school, it offers small classes with lots of one-on-one help so the teachers actually know you. Also, The small campus, the teachers, class sizes all matter to me, and I've met with the coaches and players, and they've all said that it's a wonderful place to play and to get a good education, "Henry is excited to be a part of Alma and is looking forward to this upcoming year.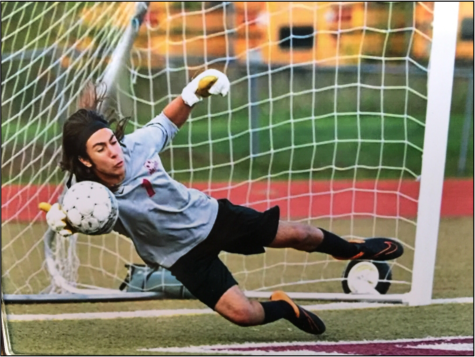 "Athletically it's soccer team is pretty good, and with a great new coach coming in who's very experienced, I'm hoping we can challenge for the league championship this year."
Henry is excited to join but has humility to go along with it. When asking him on how his journey has come about and who inspired him, he said, "Easily my dad. I became a goalkeeper at the beginning of freshman year, which is very late. I basically started from scratch, learning all the basics, step after step. Every day after work, we'd play outside and he'd help me practice and work on my game. I owe him everything for the player and the person I've become."
Alma provides a unique opportunity especially in the biology field, "At Alma you get to work with needles before med school, which for those that are not knowledgeable about the medical field is a really big deal, so that's very cool  to be able to do that at a young age. Plus I want to major in Biology, and while I'm there I'd like to figure out if I want to go down the medical road, public health, or maybe even something totally different.
For a small school to have that, it's really unique," states Henry.
Having supportive friends, teammates and coaches can go along way into developing as a person and a player, "I can't wait to see what Chris does in his college career. As a person he has to battle the balance between academics and athletics. If he can do that at a high level he'll be an exceptional student and an outstanding athlete." states Coach Tommy Hipple. When looking at his future Henry really did want to play at the next level due for his love of the game and his desire to win but also have a quality education and become his own person. "Every small D-III school I looked at offered small classes and a small campus with a good Bio department. Alma, however, accepted me on the team, as I really wanted to play in college, and they really went out of their way to make it affordable. Just on my campus visit through some small talk, I found out I was eligible for a $2,000 a year scholarship just for my grandparents. Plus, the campus was beautiful and the athletes were really nice and helpful and it felt like I could really see myself spending my collegiate career at Alma," says Henry.
Having a competitive edge, love for the game and a will to win fuels people to continue to play out their careers at the next level, and it is no different for Chris Henry. He will take his talents to Alma College in the fall and begin the most exciting time in his life.