Would free lunch benefit students?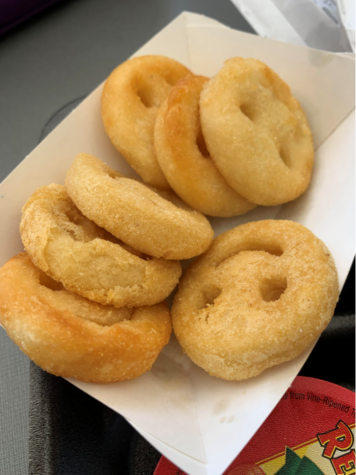 Although schools invest large sums of money towards our education each year, serving daily lunches with proper nutrition is often overlooked when budgeting. According to Wonderopolis, (The National Center for Families Learning organization), over 31 million lunches are served in the lunchroom each day. With each school lunch costing anywhere from $1-5 per day, it's estimated that the average student spends around $450 on lunch every year.
If schools were to factor free lunches into their budget, students would no longer be burdened with the cost of a meal every day. During the Covid-19 pandemic in 2020, students received free lunches throughout Michigan. Unfortunately, this opportunity ended in June of 2022.
A solution to this issue may be found soon for Michigan students with Governor Gretchen Whitmer's proposed executive budget recommendation.
Gov. Whitmer is expected to recommend spending an estimated $160 million from the state's School Aid Fund to go toward the program. "That's expected to impact 1.4 million children in-state, with the administration indicating the move could save families at least $850 a year," MLive News stated. If schools take the targeted budget out for lunches, it may encourage more students to get school lunches.
Proper nutrition should be a priority in every school. "Kids need good food to learn and grow, so providing it to them for free in our schools just makes sense," said Tricia Phelps, CEO of Taste the Local Difference, in an interview with mlive.  
   Hundreds of students line up to buy lunch each day, freshman Rachel Johnson being one of them. Johnson averages spending about $3.75 each day and up to $19 weekly. With approximately 36 weeks in a school year, that means she spends around $675 on lunches every year. This hefty amount could be lowered if the change was made for lunches to be free. "It would be really beneficial to kids who are struggling financially at home," Johnson stated. 
One way our school provides help to struggling families is by offering discounted lunches or even free lunches to those without the funds for food. However, not every district in the state does this since the loosened rules after the Covid-19 pandemic. Having a program like this is extremely beneficial to students in the Huron Valley School District as well as other districts that do the same.
  An issue with this program is that it doesn't help all students who struggle to get lunch. The program is designed to provide lunches to students struggling with income. However, according to education data, "Many of those children who owe school meal debt are part of families who earn too much to be considered for free or reduced lunch, but also earn too little to afford regular school meals." This causes an issue for those who cannot afford lunch, but don't meet the income requirement to receive discounted or free lunch.
  HVS food and nutrition supervisor Sara Simmerman pointed out a few flaws within this program, "Students do not want to be identified as free or reduced and many think other students will know their status. Our department never identifies these students, but there is still a stigma."
  Many school districts throughout Michigan began recharging lunches after the pandemic died down. Simmerman explained the increase in breakfast and lunch purchased when it was offered for free. "When we offered free meals during the pandemic and last year, our meal participation went from 29% to 50%." This trend shows that students are more likely to buy a meal when it's offered for free.
  Some Michigan school districts already receive free lunches, however, not all do. Owosso Public School is one of the districts that offer lunches to students free of charge.
  Owosso High School student Paxson Tyrrell noticed some of the benefits of free lunch. "Receiving school food at a free charge is not only making sure kids have a healthy lunch but is also better for students who may need assistance when it comes to paying for their food," Tyrrell said.
  A survey conducted by education data displayed the severity of a common issue among all schools. The findings revealed the national public school meal debt to be over 260 million dollars every year, with the average debt per child being $170. Out of the surveyed schools, 75.1% reported having students in debt to lunches and 43% of schools reported an annual increase in lunch debt each year.
  The earlier stated proposal by Whitmer could go into effect as early as next school year. Some have hope that this may not only provide students with free breakfast and lunch, but also pay for any existing lunch debt..
  Superintendent Wanda Cook-Robinson of Oakland Schools agreed with Whitmer's proposal in an interview with MLive, who said the funding would "ensure no kid goes hungry at school". She added, "Kids should be focused on learning and growing in school, and for too long, too many children in Michigan have skipped meals or gone hungry".
  It's estimated that $160 million in funding would allow free lunches to continue to be open for all Michigan students. Schools should consider reducing the cost of lunches to zero to not only ensure the proper nutrition of their students, but also benefit all families that may be unable to afford the costs of lunches stacking up each year.