Ketanji Brown Jackson is the first African American, female justice confirmed to the Supreme Court
Carved into the entrance of the Supreme Court building in Washington D.C., "Equal justice under the law" has been the guiding motto of the Supreme Court of the United States from its creation in 1790. Its 232-year history has seen the lows of Plessy v. Ferguson which upheld Jim Crow laws and segregation and the highs of Brown v. the Board of Education decision that outlawed segregation in public schools. After a tense confirmation, Justice Ketanji Brown Jackson joined the Supreme Court as its first female, African American justice on the bench, but one can not turn a blind eye to the politics that marred the process.
115 associate justices and chief justices have donned the black robes of Supreme Court justices according to the Supreme Court. Yet only two had been African American, and five had been women before Justice Jackson's confirmation.
After the retirement of Justice Stephen Breyer, President Joe Biden looked to nominate the first Black woman to the Supreme Court, a promise he made on the campaign trail. Justice Jackson, was at the top of his shortlist having served as a judge of the U.S. Court of Appeals and U.S. District Court for Washington D.C. as well as a law clerk for Justice Breyer himself.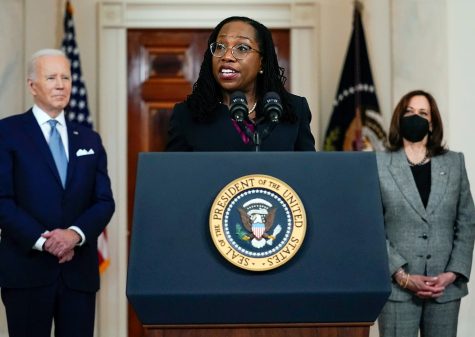 Justice Jackson grew up in Miami, Florida and attended Miami Palmetto Senior High School. She later graduated from Harvard University and Harvard Law School. Justice Jackson's law experience includes writing for the Harvard Law review, law clerking at every level of the federal court, serving in the U.S. Sentencing Commission and working both in private practice and as a public defender. Despite being highly qualified for the position, much of Justice Jackson's confirmation process was inherently fraught with political posturing. On April 8, Justice Jackson was confirmed by the Senate to the Supreme Court, 53-47, according to the White House.
A lengthy confirmation process was atypical until the nomination of Louis D. Brandeis in 1916, according to the Washington Post. In addition to criticism for his support of social reform and worker's rights, Brandeis's Jewish faith was also viewed negatively by some legislators. At the time, fitting the mold of a white, Christian, male was more important to some legislators than other qualifications. Over a century later, the confirmation process has yet to completely shed such prejudices.
A significant amount of time was spent analyzing Justice Jackson's prior rulings in cases involving child sex offenders. Justice Jackson was painted as soft on crime, but analysts agreed that her rulings were on par with the typical sentencing lengths for these criminals according to the Washington Post.
When Republican Senator Marsha Blackburn asked, "Can you provide a definition for the word 'woman?'" Justice Jackson responded by stating that she could not provide a definition, and yet Senator Blackburn was quick to blame "progressive education" and ridicule Justice Jackson for her lack of a response. Senator Blackburn's question on women is far more convoluted in nature. By defining gender based on biology, one dismisses and disregards those who identify as transgender.
Not even Republicans themselves can agree on a suitable answer to this question. Representative Marjorie Taylor Greene defined a woman at a GOP event as "We came from Adam's rib. God created us with his hands. We may be the weaker sex — we are the weaker sex — but we are our partner — we are our husband's wife." Would any parent reasonably tell their daughters they are weaker than their sons? Young women today should look up to pioneers for our gender like Justice Jackson, rather than illogic that suggests women are subordinate to men.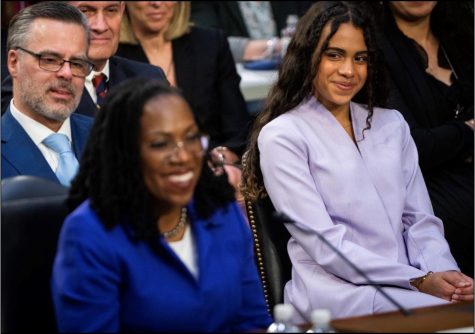 As a mother and a judge, Justice Jackson opened up about balancing a career and motherhood as a woman. "I'm saving a special moment in this introduction for my daughters, Talia and Leila," according to Justice Jackson, "Girls, I know it has not been easy as I've tried to navigate the challenges of juggling my career and motherhood, and I fully admit that I did not always get the balance right. But I hope that you've seen with hard work, determination, and love, it can be done." As Justice Jackson's daughter Leila Jackson gazed at her mother with pride, one could feel the palpable sense of love between mother and daughter.
Senator Cory Booker, an African American legislator from New Jersey, detailed the importance of Justice Jackson's confirmation for the African American community. "And I want to tell you, when I look at you, this is why I get emotional," according to Senator Booker. "It's hard for me not to look at you and not see my mom, not to see my cousins, one of them who had to come here and sit behind you. She had to have your back. I see my ancestors and yours."
The Supreme Court is no stranger to controversy, but the recent polarization of politics has bred a deep mistrust in the legitimacy of the Court today. If Justice Jackson's confirmation hearing showed us anything, it's that Justice Jackson's resilience and poise will be indicative of her time on the Supreme Court. Senator Booker stated during the confirmation hearing, "You have earned this spot. You are worthy. You are a great American." For every woman and person of color in America, Justice Jackson is a beacon of hope and inspiration — an American of grace and extraordinary talent.