Why the world knows Gabby Petito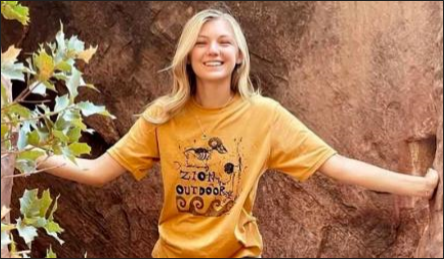 Among the list of atrocities that take place in the United States every day, week, and year, domestic violence has become a greater concern as higher numbers of women come forward with their experiences.
To look at it on a broader scale, crimes against women have been progressing at a rate that not many people want to acknowledge. These crimes include sexual assault, physical abuse, kidnapping, and murder done by significant others, family, friends, and strangers. In 2020 nearly 210,000 women under the age of 21 and almost 60,000 women over the age of 21 have been reported missing in the United States.
According to RAINN, one in four women experience violent domestic abuse and currently it can be expected that every day four women are killed by an intimate partner.
While there are many organizations out there fighting to end this violence, it is still happening behind closed doors at every moment of the day, all around the world.
Many abused women never get a chance to have their story told to the world; they have either been killed or not enough people care to listen. When a voice can finally push past the silence, it calls into question why one name can outshine all of the others. If it is the same story told thousands of different ways, then why does only one make the top headlines?
The story of Gabby Petito caught fire in early September after videos surfaced on TikTok of her going missing. Suddenly the case of Gabby became a murder mystery on social media where everyone was obsessed with solving the question of "who done it?"
With people of all ages from all over the world trying to find the missing piece to the puzzle, Gabby Petito soon became a name so many people could recognize.
As time goes on the surfacing of pictures, videos, and evidence has increased greatly due to social media and the internet. Gabby Petito was just 22 years old when she decided to go on a four-month long van road trip in June of 2021 with her fiancé Brian Laundrie.
A portion of the journey was documented, and posted to Gabby's YouTube and Instagram accounts. As Gabby portrayed the trip in a positive light, evidence shows that the trip was much more distressing than it appeared. Throughout the month of August, video after video surfaced of interactions between the couple and police after physical and verbal altercations.
New posts by Gabby were also being published and communication between her family and her continued until Aug. 30 when "Gabby's" last text was sent to her family, "No service in Yosemite."
After Laundrie returned home alone at the beginning of the month, the Petito family reported Gabby as missing on Sept. 11. On Sept. 19, her body was found in Moab, Utah. It has been ruled as of Oct. 12. that she died from strangulation and had passed three to four weeks prior to being found.
The attention this girl received was at a magnitude unheard of in recent years. Within a day, the case of a missing girl was the story no one could stop talking about and researching. Gabby became that one in a thousand whose story is not only heard, but amplified.
She was the real-life mystery everyone was dying to solve. However, with the enthusiasm to bring Gabby home or at least bring her justice, there was also negative feedback that followed her story. According to The New York Times, over the course of a decade, 700 indigenous women and children went missing and had bodies recovered in the same state that Gabby was found.
A spark of unrest was born over the fact that one girl was getting more attention than hundreds of people that came before her. It became telling of how the media picks and chooses who is worthy of getting their story out to the public.
It has become severe enough that the phrase "Missing White Woman Syndrome" now circulates in the media when a white woman is reported on before ten people of color.
People tend to only care about a woman going missing and being killed if the gruesomeness of the situation is shoved in their face, so they can not look away, or if the way she looks invokes a feeling of sympathy. Not every woman can meet society's standards to check off those boxes.
The horrific story of what happened to Gabby Petito became so popular because it was a game for people. This poor girl was so well known because everyone was obsessed with finding answers. It is sad to know that if this story wasn't as confusing and attention grabbing, Gabby's name would fade away just as thousands of others had before her.
With new discoveries being made currently, there has been more talk of the effects and magnitude of domestic violence and crimes against women. While what happened to Gabby Petito is a fate that no individual deserves to suffer from, her story has allowed for the beginning of important conversations.
It isn't until something big is shared online for everyone to see that change takes place. Maybe Gabby was the big push society needed to start spreading awareness of the continual abuse and kidnappings that take place far too often. Maybe the next time a woman of color disappears, people will care just as much to solve that mystery.