Thomas Rhett's most Unforgettable albums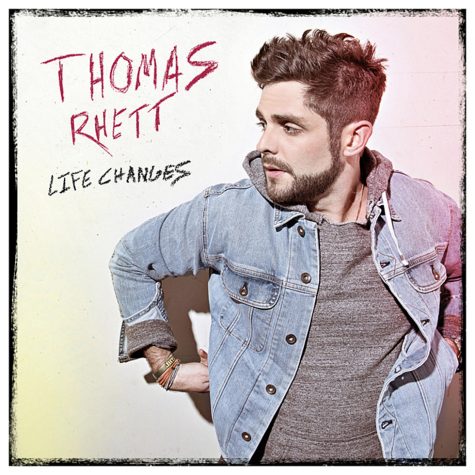 After already experiencing success for nearly a decade, Thomas Rhett just won the Academy of Country Music Award Male Artist of the Year. He is one of the most well known male country artists in the United States and has some of the most popular albums and songs.
Rhett released his very first album in 2012, and since then, he has created many more top hits. His albums continue to grow in popularity as he releases more music.
In the past 11 years, Rhett has had 14 number one signals and eight other charted songs. Rhett's most popular song of all time is "Die a Happy Man" from his album Tangled Up. His top three albums, though, are It Goes Like This, Center Point Road, and Life Changes, respectively.

Rhett's #3 Album: It Goes Like This
This is one of Rhett's earliest albums, released in 2013. His first song on his album, "It Goes Like This" was his first hit single. After some busts, he finally hit the charts and made his debut at the number one spot.
Some of the other popular songs on this album are "Whatcha Got in that Cup", "It Goes Like This", "Call Me Up", and "Get me Some of That". This album has a diverse range of music and speaks to many new country music fans. This album has a wide variety of themes and "It Goes Like This" was written by Rhett as well as his father.
Most of Rhett's music in this album is about his early life. "Call Me Up" is about Rhett trying to impress a girl in college and end up making a fool of himself. Many love to sing along to this song because it's fun but also very relatable for its listeners.
However, "Whatcha Got in that Cup" is more country and pop and different then most songs in his album. Most songs in this album are upbeat but  "Whatcha Got in that Cup" is more party music rather than traditional country. But still, after all of these years, It Goes Like This is still a very popular option with great music. 

Rhett's #2 Album: Center Point Road
Center Point Road is one of Rhett's newer albums, as it was released in 2019 and has a total of 16 songs on it. This album ranges from party music all the way to wedding songs.
This was Rhett's fourth studio album and is mostly about his life. In this album, Rhett partnered with fellow country star Kelsea Ballerini. Rhett filled this album with emotional lyrics but also some less serious songs.
Most of Rhett's albums consist of slower, more traditional country songs, but in this album, he added more upbeat and party music which is why it was such a hit amongst the music community. For example, "Look What God Gave Her" was written about his wife and how she is perfect and beautiful inside and out. Rhett also sang about how she is an amazing mom and wife. This was one of the most popular songs on the album and his fans loved how he praised how amazing his wife is in "Look What God Gave Her". However, "Beer Can't Fix" is less serious and how beer can "solve" your problems. Some of the other hits in this album were "VHS" and "That Old Truck".
This successful album was also nominated for Best Country Album in the 62nd annual Grammy Awards. Center Point Road sold over 101,600 copies in the United States.

Rhett's #1 Album: Life Changes 
Life Changes is Rhett's most popular and well-loved album yet. Life Changes was a life-changing release for Rhett and some of his top hits were "Craving You" featuring Maren Morris and "Unforgettable". These two songs take a more modern and pop approach to country which is one of the reasons why it was so popular. The lyrics are easy to sing along to and are upbeat, making it a huge hit across the United States.
Most people aren't a huge fan of classic country songs which is why this album spoke to fans of pop and country. A majority of Life Changes also contained events in Rhett's own life, making it a hit. Rhett sang true stories about his life and discovered that his fans loved this.
From here on, he wants to make all of his songs very personal and relatable, so his following albums contain stories about himself. "Unforgettable" was about the first time Rhett met his wife and "Life Changes" is about getting married to his wife Lauren Akins and adopting their first daughter.
This album was released in 2017 and was the first country album to be on the Billboard 200 chart. It sold 94,000 copies in the first week alone. The other top hits in his unforgettable album are "Sixteen", "Marry Me", "Life Changes", and "Drink a Little Beer", all of which are some of Rhett's best and most popular songs of all time.
Overall, Rhett has many successful albums and releases. Many country artists are ecstatic to see what Rhett is going to come out with in the future. Recently, Rhett released an album, Point A, and many fans believe this is the continuation of Rhett's already successful country music career. Fans are eager to see what Rhett's future in country music holds for him.