President Bidens first two weeks in office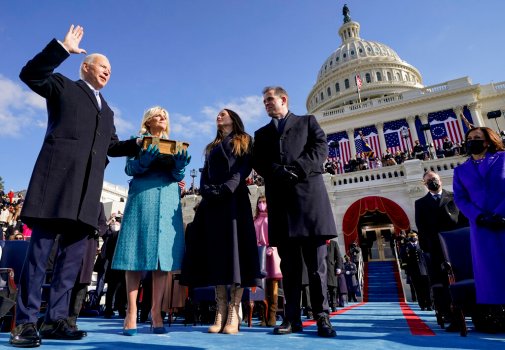 In an attempt to return America to a state of normalcy, President Joseph R. Biden has hit the ground running during his first two weeks as president. 
Biden made numerous promises to the American public about what his first days in office would entail, including plans to tackle issues such as COVID-19, the climate crisis, and the rights of transgender Americans. 
Biden's COVID promises included the re-entry of the United States into the World Health Organization, as well as nationwide encouragement to wear a mask. On his first day as president, both of these things were accomplished. While there is no formal mask mandate, Biden has asked the American public to "mask up" in the form of a "100 day masking challenge." If followed, this challenge would put the end of the pandemic in sight, as masks are scientifically proven to be one of the most effective aids in fighting COVID-19. Additionally, Biden kept his promise about WHO, with America back in the organization as of Jan. 20, 2021. By rejoining the WHO, America has put science back in the front seat. Biden also introduced a 1.9 trillion dollar COVID relief package, including $1,400 stimulus checks for those who qualify, as well as nationwide restrictions on eviction. This package recently made its way through the Senate, approved after a 50-50 tie that was broken by Vice President Kamala Harris. So far, Biden has kept his promises in regards to the pandemic as he leads the country closer to the end of these unprecedented times. 
The climate crisis has been a looming danger for many years now, threatening irreversible consequences to the Earth if not acted upon soon. The previous administration did not acknowledge, nor appease the issue, as the 44th President did not believe in climate change. In a stark comparison, while on the campaign trail, Biden pledged if he were elected environmental safety would be on the top of his agenda. As a part of this, Biden promised that The  United States would rejoin the Paris Climate Accord. This promise was fulfilled as one of Biden's first executive orders passed in office, however, it will not take full effect until Feb. 19th. Many of Biden's climate aspirations, such as  a 100% clean energy economy and net-zero emissions by 2050, seem to be long-term goals. Biden has begun the groundwork for this during his first 14 days by no longer allowing drilling in the arctic refuge, halting construction of the border wall (which has been very harmful to the environment), and suspending the use of public land and water for fossil fuel development.  This issue will take years of work to fix, but so far, Biden has kept his promise to the public that climate restoration will be a focal part of his administration. 
In another first day executive order, President Biden rolled back the previous administration's transgender military ban. This statement was met with the full support of Defense Secretary LLoyd J. Austin, who believes it is "not only the right thing to do, but the smart thing to do," stating that, "we [the US Military] would be rendering ourselves less fit to the task if we excluded from our ranks people who meet our standards and who have the skills and the devotion to serve in uniform." Biden also plans to restore Obama-era protection over transgender kids in schools, such as securing their freedom to play on the sports team that aligns with the gender they identify with, as well as the ability to  use the bathroom that aligns with their prefered gender. It is hard to see a real negative to this, as it has not proven to be a public safety risk. The Biden Administration has already made history for the transgender community by nominating Rachel Levine as the assistant health secretary. If confirmed, Levine will be the first openly transgender indiviual to be part of a presidential cabinet. 
Rounding out his first two weeks in office, Biden has settled into a 61% COVID response approval rating and a 57% overall approval rating. Off to a refreshing start, only time will tell how this fresh administration will respond to the whirlwind of problems currently plaguing the country.