5 best and worst outfits of the Grammys
Noah Cyrus
If you have recently lost your duvet cover, look no further. Noah Cyrus wore it to the Grammys. Cyrus was dressed in an off-white poofy, voluminous gown made by Schiaparelli Couture. Schiaparelli is quoted by InStyle: "Noah is a cool kid, I wanted to capture that." You either loved or hated Cyrus' gown and while it was fun and unique, it lacked a sense of elegance for me.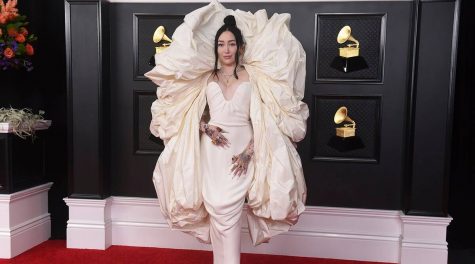 2. Lizzo 
Singer and songwriter Lizzo wore two different dresses to the Grammys and still managed to resemble Ariel from The Little Mermaid both times. The first was a short seafoam green dress and the second was a pink dress. She looked beautiful in her pastel ruched dresses by Bailman, but they lacked maturity for the Grammys. Her hairstylist told Insider that Lizzo bought $2 hair clips to wear that night from the mall the morning of the Grammys, and that "she will wear something that's two dollars but it will never look like it's two dollars." We respect Lizzo for her 'person of the people' hair choice but are holding her to a higher expectation for next year's outfit.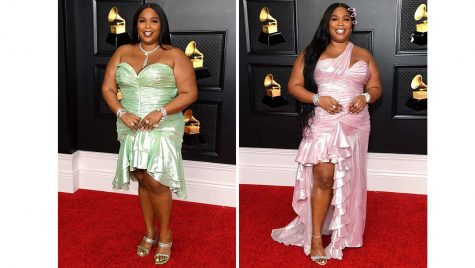 3. DaBaby
The rapper that goes by the name of DaBaby hit the carpet in a colorful floral suit by Dolce & Gabbana. He paired his suit with a green and red hat, and matching loafers. DaBaby brought a sense of sophistication and grace in his suit, which is something you stereotypically see when it comes to the outfits of rappers. Dababy accessorized with rings, layered tennis necklaces and two Dolce & Gabbana logo brooches. His daughter also had a custom gown made, but she wasn't able to wear it since COVID-19 restrictions did not allow children to attend the event. DaBaby set up a 'red carpet' at his house so two-year-old Renny could wear her Alani Taylor custom dress. DaBaby dressed to impress as he was nominated for four categories.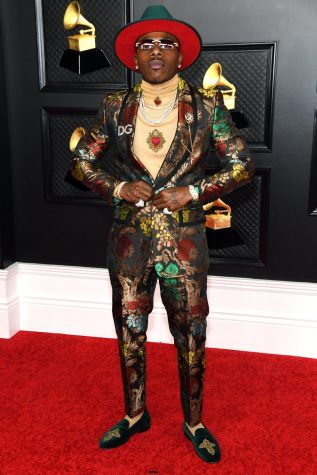 4. Doja Cat
In case you needed a nostalgic experience reliving childhood TV shows, just look at Doja Cat's feathered dress that strongly echoed Big Bird from Sesame Street. Roberto Cavalli and Lorraine Schwartz dressed her in a black and cream leather plunge dress with black and green feathers on the skirt and train. Despite the singer's usual fun and youthful outfits, I wish she changed it up for such a high profile event. 
5. Harry Styles 
My personal favorite outfit was by none other than Harry Styles. He was dressed in an open black leather suit, perfectly paired with a pickle-colored green boa by Gucci. Styles wowed the crowd during his performance with his simple yet chic outfit and his music abilities. It was a successful night for Styles, as he won Best Pop Solo Performance and looked beautiful doing it.