The best podcasts of 2020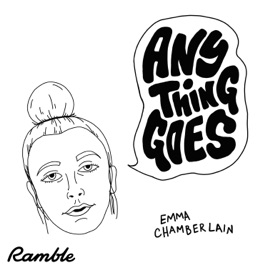 This past year has forced me to incorporate a lot of new things into my schedule in order to change and add variety to my daily routine. Something that I have found that I enjoy is listening to a podcast, which I usually do when I am cleaning my room or working out. It feels as though you are having a one-way conversation that you do not have to contribute to, and it is a nice way to change my mindset on an issue or at least think on a deeper level. 
The first podcast that I started listening to weekly is 'Anything Goes,' which is hosted by social media influencer Emma Chamberlain. This podcast is my all-time favorite. Chamberlain shares her own personal day-to-day experiences and offers advice to her listeners pertaining to the Twitter questions that they send in. Even with all of her fame and wealth (estimates of her net worth are as high as $8 million), Chamberlain still has a degree of relatability that many influencers have become out of touch with upon their rise to fame. She shares the struggles of being a teenage girl and describes her personal experiences that most girls in their mid-to-late teens have experienced or will experience in the future. Personally, this podcast has helped in improving my mental health and confidence due to Chamberlain's advice and personal anecdotes. I would recommend this podcast to any girl who is in need of advice or would simply like to be entertained
The other podcast that I have occasionally been listening to when I would like to stay up to date on news is 'The Daily' by The New York Times' Michael Barbaro. Despite its intense subject matter, this podcast is shorter in length, averaging around thirty minutes per episode. The New York Times has a strong reputation for being unbiased while discussing current events. I believe this to be crucial to prevent political polarization from both sides of American politics. 'The Daily' interviews experts in their respective fields in order to increase the credibility of the subject matter that the podcasters discuss. This podcast is a great way to stay updated on current events in the intense world of politics that we are currently living in.
Podcasts are a great way to have something constructive or interesting to listen to while performing other tasks. One has the ability to be fully updated on the news in the course of his/her drive to work or his/her run on the treadmill. 'The Daily' and 'Anything Goes' have extremely different subject matters, but are both very well done and have great messages. There are also many other options for those who have different interests. There are popular crime podcasts such as 'My Favorite Murder' and 'Crime Junkie.' There are also a number of comedy podcasts such as 'The Joe Rogan Experience' and 'SmartLess.' If anyone is looking into becoming a podcast listener, it is a great idea to research other shows that fit the genre that one is interested in. Podcasts are a great way to become more aware of the current state of the world or just simply be entertained while performing other tasks.