The 10 Best Holiday Cookies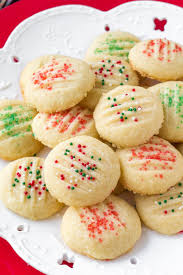 Every year, many Americans  engage in the holiday tradition of making Christmas cookies. Give your friends and family their first gift by giving them the treat of trying your amazing cookies. Here are the best 10 Holiday Cookie recipes to make: 
Whipped Shortbread 
With only five ingredients, this is a super easy dessert! Enjoy a light and fluffy cookie that melts in your mouth! Plan accordingly, as there is a 50prep time and 20-minute bake time per batch The best part of this cookie: no need to frost it–what a time saver! 
2. Poinsettia Pinwheel Cookies 
Don't panic; I know these cookies look intimidating to make, but if you add cream cheese in the cookie dough, it creates the perfect ,so creating the designs is all the fun and none of the hassle. Adding green, red or white sugar will take these cookies to the next level, creating a beautiful platter!
Poinsettia Pinwheel Cookies Recipe | Food Network Kitchen
3. Sugar Cookies
Sugar cookies are a classic staple at every holiday party, and a good sugar cookie can beat out a crazy new holiday cookie as long as it's made to perfection. A perfect sugar cookie has crispy edges with a fluffy middle; adding superfine sugar is the trick to get the job done. Step up your basic sugar cookie recipe with this one: Classic Sugar Cookies Recipe | Food Network Kitchen
4. Gingerbread Cookie 
Gingerbread cookies are the cutest cookie, no question. This recipe has been tested and tested until it was deemed perfect, so even if you are not a gingerbread cookie fan, I would still give them a shot. Remember, the type of molasses you use can make or break the dessert, so follow the recipe! Best Gingerbread Cookies Recipe – Easy Christmas Gingerbread Men Cookies
5. Santa's Trash Cookies
Santa was really naughty with his diet when he made these, and you will be too when you eat them! These cookies are the definition of sweet and salty. There's chocolate chips and sprinkles for the sweet, and pretzels and potato chips for the salty. Potato chips in a cookie is definitely a first, but it is one of Santa's many tricks he has up his sleeve. 
Best Santas Trash Cookies Recipe — How To Make Santas Trash Cookies—Delish.com
6. Peppermint Patty Stuffed Chocolate Cookies
Enjoy a warm, chocolatey cookie with a festive treat inside! These cookies actually aren't even made of cookie dough–it is made of box cake mix. Making these cookies is fast and easy with a total cook and prep time of only 20 minutes. This is the perfect recipe for when you are in a rush off to a last-minute holiday party. 
Best Peppermint Patty-Stuffed Chocolate Cookies Recipe – How to Make Stuffed Peppermint Pattie Cookies
7. Mrs. Sigg's Snickerdoodles 
We have all had an absolutely mouthwatering snickerdoodle before, and we have all had a subpar snickerdoodle too. So what makes the difference? Cream of tartar! Make sure not to skip that on this recipe, as it's the most important step and crucial for the flavor and texture. Mrs. Sigg's Snickerdoodles Recipe
8. Chocolate Crinkles ll
Picture a warm, soft, chocolatey cookie with almond bites covered in powdered sugar, and you've got the chocolate crinkles cookie. Only a recipe as good as this one could create the huge, fluffy "crinkles" that make your mouth water. 
9. Vegan Chocolate Chip Cookie
Chocolate chip cookies have been a staple for all gatherings for years. The recipe is also super easy to modify for food/dietary restrictions. Here is a scrumptious vegan chocolate chip cookie recipe that will make anyone –not only vegans–come back for more. 
Best Vegan Chocolate Chip Cookies Recipe – How to Make Vegan Chocolate Chip Cookies
10. Christmas "Candy" Bars 
They aren't kidding when they call this the Christmas "Candy" Bar. These cookies include a shortbread cookie base and are topped with pretzels, coconut, toffee, chocolate and carmel. With so many distinct and delicious flavors in each cookie, every taste bud is satisfied!