"The Charli" Dunkin Donuts coffee review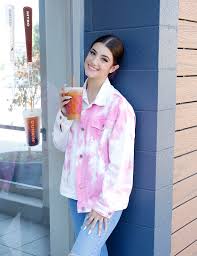 For an audience of nearly 100 million people, TikToker Charli D'Amelio creates content that has shaped the media for young adults worldwide. The star has influenced the culture in which teens are represented, partaking in brand deals, collaborations, and sponsorships that have led to her making thousands of dollars for every post she uploads. At just sixteen years old, Charli D'Amelio, dubbed the "Queen of TikTok," is an idol for many aspiring social media influencers and internet entrepreneurs attempting to prove their worth to the watchful eyes of global youths. Between the TikTok trends and dances she choreographed and her partnerships with popular brands such as Hollister and Morphe, both D'Amelio sisters have emerged as favorites in the virtual world. Another highly-anticipated collaboration, however, was Charli's signature Dunkin Donuts drink order: a medium cold brew with whole milk and three pumps of caramel swirl. 
The beverage made its debut at Dunkin Donuts locations on Sept. 2, 2020 and brought staggering success to the company right from the start. On its initial launch date, the chain's app downloads spiked by 57%, and cold brew sales of all types increased by 20% on the first day, and 45% the day after its release, according to TMZ. Additionally, within the first five days of the product's release, hundreds of thousands were sold to eager customers nationally; that's a lot of coffee! 
For just $3.19, anyone can purchase a medium-sized "The Charli" drink to enjoy. As a coffee fanatic and caffeine enthusiast, I fell in love with this beverage from the first sip. The coffee itself has a light yet impactful taste that is not too bitter or unpleasantly sweet, as some coffees are. The whole milk helps to make the drink feel more refreshing and filling rather than watered-down, and the caramel swirl mixed in offers the perfect balance of sugary flavor with the caffeinated base. The price also complements the appeal of the product; it is a cheaper alternative to many common coffee chains or fast-food restaurants that would offer a similar product, and the quality is superior, paired with the pleasant taste. The primary suggestion I would have to improve this drink would be to include more of the actual beverage rather than weighing it down with ice; as the ice melted, the flavor changed to be less desirable, but still good nonetheless–thus, I would suggest ordering it with lite ice for an improved experience. 
Because the coffee flavor itself is not extremely strong, I would recommend "The Charli" to anyone seeking a quick (but not crazy) caffeine boost, as well as those who are just beginning to taste-test coffee in general and may not appreciate or be adapted to a more bitter, stronger, and smokier aroma. Visit your local Dunkin Donuts today to try it for yourself!