Who are the leaders of Milford High School?
"The key to successful leadership is influence, not authority" -Ken Blanchard.
Although this is a simple idea, it holds very true with the students involved in Milford High School's Leadership class.
Before I joined our school's Leadership class (taught by Dave Gilbert), I was not your typical 'Leadership kid.' My main goal was to blend into the masses as much as possible and I lacked a lot of self-confidence. Like many others, I believed the rumors that all Leadership students were just the loud, outgoing, popular kids that all fell into the same social category.
Junior Jack Chisik also shared these initial beliefs. As a new member of Leadership this year, Chisik has taken on the important role of creating videos and other forms of creative media for the school. "I totally expected Leadership to be a tight, cliquey group of people," Chisik remarked, "I only really joined Leadership because Gilbert reached out to me and told me I should join the class."
Like many students that originally had a more negative perception of Leadership, his view on the class has changed drastically.
"The thing I didn't really notice about Leadership before I was in the class is how much of a family it is. There will always be some kids that stick to their own 'groups', but for 90 percent of the class, it's all different people working together," Chisik highlighted.
Chisik also emphasized that the bonds formed through work done in Leadership are not just exclusive to the time spent in class.
"I remember one Friday night when I was down in front of the student section filming a football game. I was talking to new friends I met through Leadership, and talking to friends I have in the band, and talking to my friends that I've always been close with. That moment was so awesome because it was the first time I realized how many different people I've been able to meet and surround myself with," Chisik revealed.
Another Leadership student that was hesitant prior to taking the class is Emily McQuillan.
"I had a relatively positive perception [of Leadership] before I took the class. I wouldn't say that it was like, 'oh Leadership is stupid,' but I definitely didn't really care about what they did. I just thought 'whatever, it's just the popular kids running around,'" McQuillan admitted.
Like Chisik, McQuillan sees Leadership in a whole new light. When asked what she would say to her freshman-year self, McQuillan stressed, "Don't be afraid to get involved. With Leadership and Yearbook and how heavily involved I am, I'm so much happier now than I was before."
A common misinterpretation of Leadership is that only the "cool" and "most popular" kids get into the class, but I actually believe it's the other way around. Students that are involved in the Leadership class are presented with countless opportunities to do amazing things for our school and that's what gives them popularity. One of the numerous posters in Mr. Gilbert's room reads, "Make leading the cool thing to do." Students in Leadership receive recognition and attention for the contributions they make at Milford, like running assemblies and organizing spirit days, and that makes them well-known among their peers.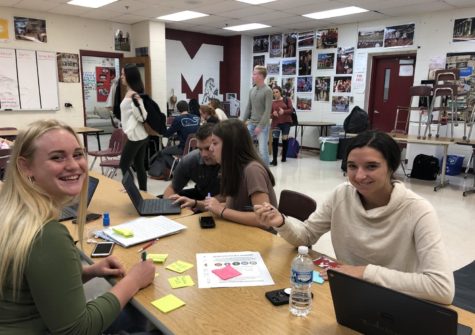 Junior Marc Carney, a recognizable face for many around the halls, is a member of the Leadership class and is also a part of the swim team, the baseball team, and the theater department. From being involved in a variety of activities, some more popular than others, Carney definitely brings many different perspectives to Leadership.
"I think that because I do lots of different things within the school, I have connections with a lot of different people.
You don't usually think about the sports jocks coming together with the theater kids; in a way it almost seems like they're two separate social worlds. However, everyone [in 5th hour Leadership] has been able to come together to promote the fall musical and it's really cool to see," said Carney.
Regardless of your opinion on the demographics of the Leadership class, it's hard to deny that the class does amazing things for our school. Homecoming, one of Leadership's biggest undertakings, is an immense amount of work. With Homecoming falling so early this school year, Leadership had only two weeks of school to prepare for the week-long event. This required students to come to the school during the summer to prepare before classes began, on top of the usual summer Leadership duties like working freshman/upperclassman orientation and prepping the school for the new year.
Reflecting on Homecoming in retrospect, there's no doubt that these events (along with many others) would not have been possible without Jack's creative videography skills, Marc's unique social perspective, or Emily's amazing organizational capabilities.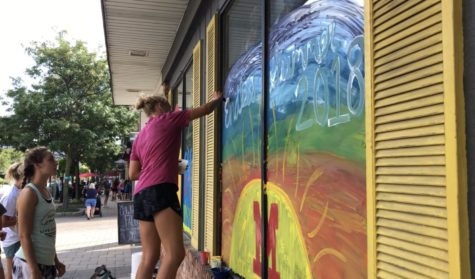 By the nature of the class, those who don't see themselves as a traditional leader might be hesitant to join Leadership, but diversity is what makes the class so amazing and gives us the opportunity to make events and all aspects of our school the best they can be.
Sure, there may be a lot of Gilbert's 'basketball boys' in Leadership, but with over 90 different students enrolled in the class between the two semesters this year, there's also a lot of cross country runners, soccer players, swimmers, artists, actors, and most importantly leaders.
Gilbert stressed, "The reason why we expanded to two classes a few years ago was to get more kids involved and get outside the stereotype that's out there. To anyone who's on the fence about whether or not to take the class, fill out an application! I think we've had great success showing kids in the class that it's not the stereotype it's made out to be."
Being a part of Leadership has been one of the most memorable parts of my high school experience. I highly urge anyone who wants to be a part of the class to apply. I guarantee you will not regret your decision.