Where should you shop on Black Friday?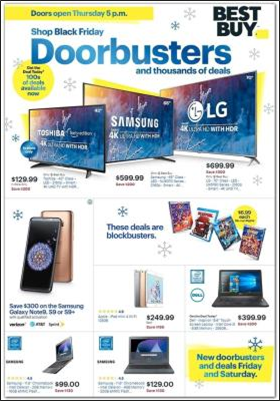 As the spooky season draws to a close, attentions turn to Thanksgiving, and of course, Christmas. As lights begin to appear on houses and the holly is hauled out, preparations of other sorts commence as well. These preparations involve a favorite activity of mine: shopping.
With Christmas approaching nearer by the minute, gifts start to enter the conscious mind. Although personal desires are also present, I am referring to gifts for others.
If the question of what to give and how much the budget will allow is a stressor, fear no more. There is a holiday of sorts situated between the former and the latter that can help solve this issue. It is Black Friday.
It takes place on the Friday after Thanksgiving and is known as a day of deals. Many stores go all out with their discounts, but many also lean toward the conservative side. Somerset Mall in Troy, for example, is not one (as a whole, functioning unit) to give out any major discounts. Although the occasional steal may be there to be had, through personal experience I must say that patrons on the day leave feeling underwhelmed.
Great Lakes Crossing in Auburn Hills, on the other hand, is known for their incredible Black Friday prices. It is an outlet mall, so sales make products even more affordable to the average consumer.
The mall is filled with great stores like Kate Spade, Coach, and Nike, who have all partaken in the tradition in years past. I cannot promise the same will be true this year, but last year all of Kate Spade was 70 percent off!
Somewhere between the two lies Twelve Oaks in Novi. Their sales tend to be moderate. It is the closest mall to many and is therefore more convenient, which might compensate for the lower discounts. I would only warn that finding parking at Twelve Oaks on Black Friday is a nightmare of epic proportions.
The deals for this year are, for the most part, not yet published, so sadly I cannot share that information with you at this time.
No matter what mall you choose to go to, or if you forgo malls altogether, I have one piece of advice: Get up early. I know that waking up early on break is not alluring, but I believe that it is worth it. Many sales end at noon, so it will allow you to peruse a larger selection of stores. It will also alleviate the parking dilemma, albeit there are no guarantees a spot will be available.
Also, remember that small business Saturday takes place in Milford on the day following Black Friday. This year small business Saturday will not only include deals, but there will also be a Santa House in Downtown Milford from 10:30am to 4:30pm. At 11 a.m., Santa and Mrs. Claus will arrive on a firetruck!
Shoppers will have an opportunity to win a gift card ranging from $25 to $100 while there as well. It will cost $1.00 to pop a balloon and possibly win a certificate that can be used to shop or dine at over 15 local Milford businesses.
If you are not yet convinced to make the trip downtown, it might be of interest to know that free gift wrapping is also being offered. All local purchases are eligible for this service ,as long as you keep the receipt.In any case, whether you decide to shop at all, the holidays are time for enjoyment. Soak in the serenity and merriment that ensues, for it is the most wonderful time of year.
Also, always remember that if you miss Black Friday and small business Saturday in Milford, Cyber Monday is a great options. As sophomore Molli Langolf said, "My advice would be to go to a mall, but also its really smart to shop online so you don't have to go out!"