Grab a bite to eat in downtown Milford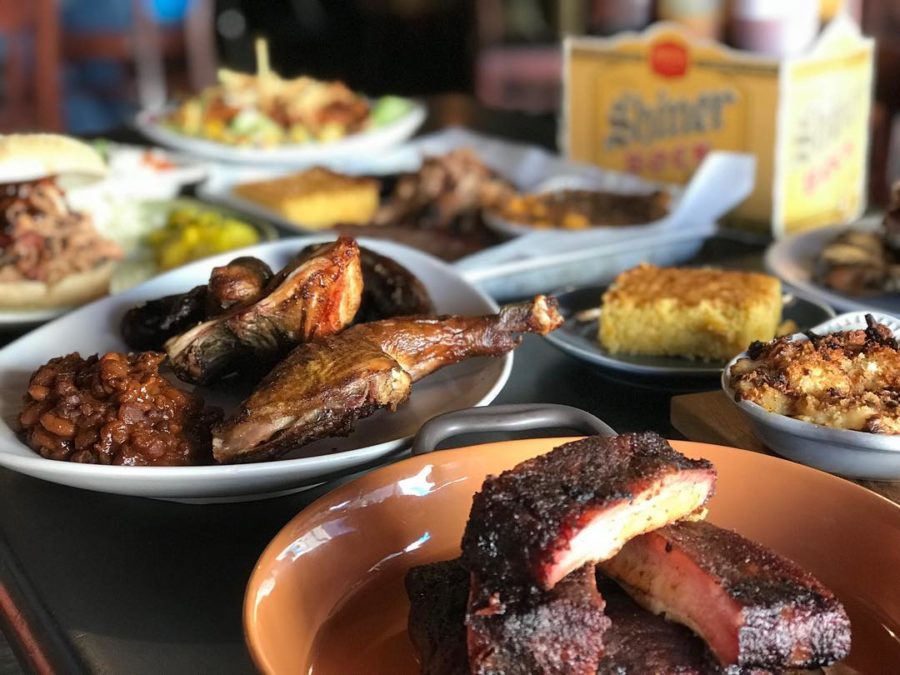 According to the Milford Downtown Development authority, Milford has 28 restaurants located within its borders.  With so many options, students may have a hard time deciding where to eat when going out with friends or family. Here is a quick guide to my top 5 choices in Milford, with suggestions for what to order.

Smoke Street
Home to the best barbecue in the area, Smoke Street is an essential Milford restaurant. With their meat smoked in-house for up to 12 hours, it is known that anyone can walk in the door and have a well cooked barbecue meal. Home to many different barbecue sauce flavors, ranging anywhere from spicy to sweet, any person can be satisfied! The Killer Mac N' Cheese is one of the best meals to get, with bacon and breadcrumbs sprinkled throughout the creamy cheese and macaroni. If you are looking for a killer combo, the Boss Hog Combo may be what fulfills that occasional hunger. With this meal, one can eat pulled pork, sliced brisket, a sausage link, as well as delicious sweet cornbread and two sides all for a great price!

Palate
Across the street from Smoke Street, The Palate provides a broad range of general American style foods that Milford residents love. One of the best appetizers in the area, is their Steak Bites, which can then be found present again when ordering another fan favorite, the Beef Stroganoff Mac N' Cheese, made with the perfectly cooked tenderloin steak tips and a different take on mac n' cheese, using farfalle pasta and a garlic cream sauce. If you want to go there for brunch, there are many great options.
Baker Jim's Cinnamon Swirl French Toast is one of the best breakfast items in the area, soaked in maple syrup with sweet berries on top. Palate is also the host of many live music events around town, so it also offers a chance to listen to some of the best local musicians around.

Gravity Bar & Grill
While it may be the most expensive option on this list, one is certain to get some of the best bite for your buck around at Gravity Bar and Grill, home to a combination of Italian, Asian, and Mediterranean-style meals. Gravity is a great option for special occasions or a place to go for a date, as it is home to a refined, sophisticated menu.
Seafood options are plentiful and the Jumbo Lump Crab and Shrimp Cakes will make anybody want to come back for more. For those who like a little bit of bite in their meals, the Jerk Spiced Salmon is an essential with the sweet additions of pineapple and mango contrasting with the spicy jerk seasoning and habanero salsa. For those who aren't a fan of seafood, the Filet Mignon can be relied upon to always be cooked perfectly to the exact amount of rarity over creamy whipped potatoes.

Czapski's Kitchen
Many people may not have heard of this restaurant yet, as it was opened for business in June of this year; it will certainly be a Milford staple in the community for years to come. With a blend of Polish and Mexican style meals along with a few vintage American dishes, Czapski's brings a different element to the Milford food scene. A classic family atmosphere will make anyone feel at home while eating a lovely meal. One of the favorites so far has been the Kielbasa and Kraut, a genuine Polish dish that is served with mashed potatoes and green beans. The City Chicken is also beloved and was a common bite to eat during Milford Memories in August. On the Mexican side of the menu, the Burritos are served with a brisket that is cooked for ten hours along with rice and refried beans.

Milford House Bar & Grill
The restaurant at the center of downtown Milford may be one of the best places for a bite to eat as well. With all types of common American cuisine as well as some Italian offerings, Milford House is your quintessential dining spot and the slogan seen on their website, "On the corner where friends gather!" could not be more true. With outdoor seating, you can actually sit on the corner, gathered with a group of friends for a great meal. One cannot go wrong with the Meatball Sub, made with a house-made roll and Italian meatballs covered in a delicious marinara. The MacDaddy Pizza embodies America as a whole while showing the creativity of the Milford House menu, with a take on McDonald's Big Mac turned into a pizza with ground beef, lettuce, tomatoes, and thousand island dressing.
Overall, Milford is home to many delicious restaurants that are family-owned and operated and these are just a few of the best options. Driving through downtown on a Friday night, it is certain that any restaurant will leave everybody satisfied and full after a tasty meal.