Expression Through Music; Tyler, The Creator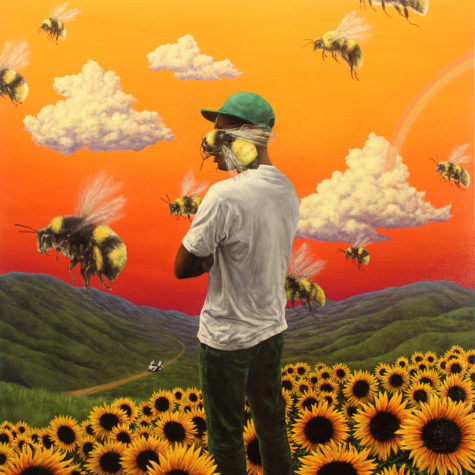 By Niklas Hegg
The controversial award winning rapper who has eaten roaches, been banned from countries, and ignored by rap blogs, is back with an all new album. Flower Boy will have long time fans pleased and  bring in plenty of new ones. The Odd Future founder's past albums might have you expect to hear foul mouthed and edgy lines on top of loud, sharp beats. While some of that is still sprinkled throughout Flower Boy, it is his most sincere and gentle project yet.
With the first single being WHO DAT BOY featuring Lord Pretty Flocko Joyde himself, ASAP Rocky, the signature loud beats of Tyler made another appearance. While I don't see it as being a great single since it doesn't express how the rest of the album is, I still see it as a good song overall. Produced by Tyler himself, the beat, while being simple hits hard when it drops and it makes for a good track for Rocky to go on top of.  Following the much more soothing See You Again featuring Kali Uchis, the contrast between the two can seem a bit jarring but I see it as a good segway to Potholes featuring Jaden Smith. They both are songs that are little more on the light hearted side and they both have solid hard beats.
The second single to drop featured another Odd Future member, grammy award winner, and a personal favorite of mine, Frank Ocean. Dropping on the same day, 911/Mr. Lonely immediately had me more impressed than WHO DAT BOY. Again produced by Tyler, the song has a beautiful groove that changes throughout the duration. The first half, 911, keeps the beat a little more upbeat but still the lyrics are saddening. It hits at the loneliness many of us can feel and Tyler explains the depth of his loneliness. While being sad the lyrics are also clever as any good rap lyrics should be. For example one line goes, "My thirst levels are infinity and beyond. Sippin' on that lemonade, I need a Beyonce." Frank's part is quick and catchy but the length is more than made up for on the beautiful Where This Flower Blooms, where he is also featured.
The second half, Mr. Lonely, keeps the darker lyrics but the beat gets darker with it. The lyrics immediately tell you the meaning the song is getting at. Schoolboy Q, ASAP Rocky, and Tyler are all singing together, "I can't even lie, I've been lonely as f*ck." When the beat drops Tyler comes in hard with a fast flow filled with lines explaining the depth of his loneliness. It's one of my favorite verses by Tyler because it is so catchy and can be relatable.
The last single was Boredom featuring Anna of the North and Rex Orange County who is sprinkled throughout the album. At surface level the song is about being bored and alone. But if you dig deeper you might find that lyrics hint at something greater. The album as a whole has been seen as many as Tyler's coming out album. With other projects you might think anything is to be taken with a grain of salt but like I said this is easily Tyler's most real album. When the lyrics leaked before the initial release everyone jumped to the conclusion that Tyler is gay, and while he still hasn't really confirmed anything, his lyrics do hint at that.
So, when I hear Boredom I initially think it's about boredom. But if the lyrics are giving us something bigger I feel they could be telling about the reality where Tyler has told his friends his sexual orientation and they stop talking to him. As he's left with no one he loses his mind sitting in his bedroom begging for anything to do. And I think seeing the song from this point of view it only elevates it.
Garden Shed featuring Estelle is the main track that critics believed was his main coming out song. The song starts slow with a serious tone but is kept groovy and gets you swaying. Estelle's vocals are absolutely beautiful as she sings "Fly, baby, fly out the cocoon."  When Tyler's verse finally comes in with his verse and instantly they give you something about. He starts with, "Garden shed for the garden. That was where I was hiding. That was real love I was in, ain't no reason to pretend." I see the garden shed as the closet he is hiding in. But, when he falls in love he realizes there's no reason to keep pretending. The lyrics keep going to tell about a forbidden love and how he was hoping it was all just a phase but he decided it was worth accepting.
In the end, I love this album. It tells a story, and it gives you plenty to indulge yourself into. The production is brilliant as well as the lyrics. The features are simply amazing and I really don't want to spoil all the highlights because It's something you truly have to experience for yourself. Give it a listen.